Kudos to Chase For Their Response To Hurricane Sandy
11/14/2012
Those of you who have been following us for a while know that I live in Philadelphia. And our family went through Hurricane Sandy. In our area, we were relatively OK. But many folks in New Jersey took the brunt of the storm in terms of damages etc. Throughout this period, I have received various emails from Chase (as we are Freedom and Sapphire Preferred card members) telling us how they are responding to their customer in the NorthEast region. And I must say that I am really impressed. We have quite a few credit cards and we have only really heard from Chase.
Here is a recap of the emails we received and what Chase said they would do to help their customers. On 2nd November 2012, they sent out an email saying that they will be waiving fees for consumers and small business customers in Connecticut, Delaware, Maryland, Massachusetts, New Hampshire, New Jersey, New York, Pennsylvania, Rhode Island, Virginia, and Washington, DC. This will give customers until the end of business on Monday, November 5th to make a deposit or a payment to bring their account current and avoid fees. Fees that they are waiving include overdraft protection transfer fees and credit card late payment fees.
Chase also mentioned their donation efforts to various organizations involved in Hurricane Sandy. For example, they are donating $5 million to various organizations including the Red Cross and United Way.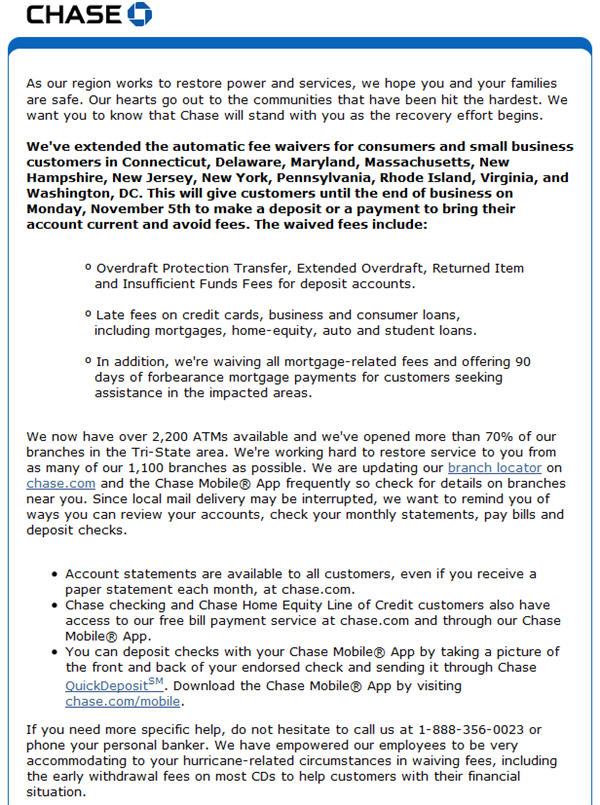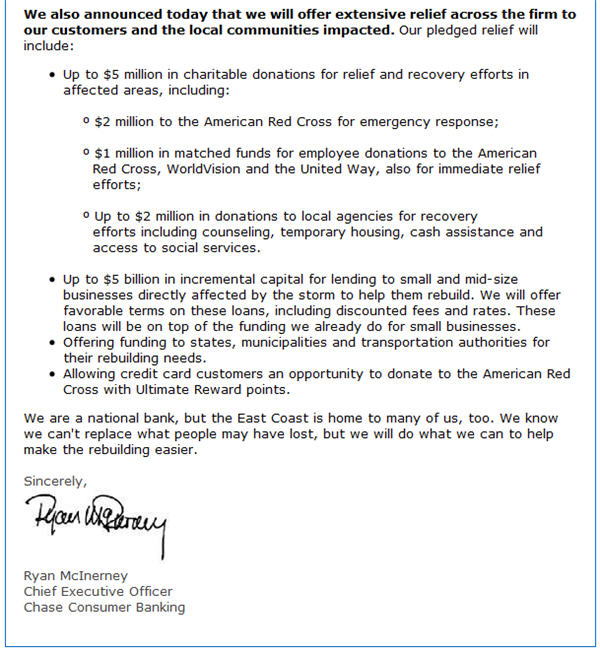 On November 8th 2012, Chase sent out another email. This time they mentioned additional measures that they were taking to help their customers. They include working with their customers if they cannot make payments on time and even increasing credit lines. Chase has even said in the email that they have committed $5 billion in making loans to small businesses impacted by the storm.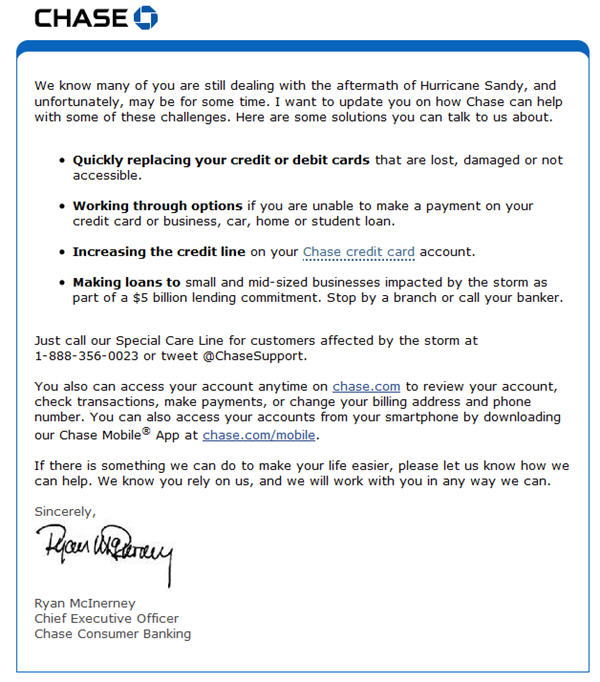 To be honest, I am really impressed with this. I have several American Express cards and have not gotten a single email with regards to Hurricane Sandy. This is really good PR for Chase if nothing else. But as millions of people lost their power and many folks are still not allowed into their homes in New Jersey, these measures taken by Chase will help folks to some degree.
I personally have the Chase Freedom&#174 Visa and Mrs Credit Card has the Chase Sapphire(SM) Preferred Card and we have absolutely no hesitation to recommending these cards and any Chase card given the improvements they have made on their reward program over the last 2 years. And with them being what I would consider responsible corporate citizens in the wake of the Sandy devastation in the North East, Chase has gotten a double thumbs up from me.