Garden of Laughs Presale Tickets for Chase Card Members
10/15/2012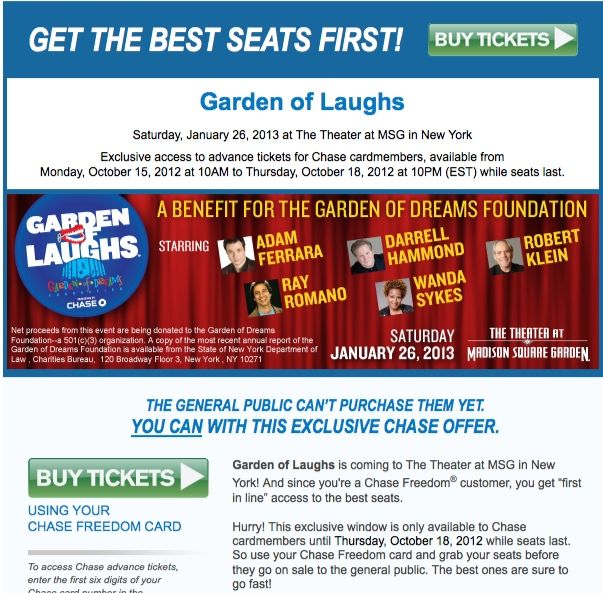 Just checked my email a while ago and found the following message from my Chase Freedom&#174 Visa card. From today until Thursday 18th October 2012), Chase card members have exclusive access to pre-sale tickets for the Musical Garden of Laughs at the Madison Square Gardens 26th January 2013 8:00pm.
The show is produced by Emmy Award-winner, Rory Rosegarten. This event will be a one-night only event featuring the best known names in stand up comedy. They include Adam Ferrara, Darrell Hammond, Robert Klein, Ray Romano and Wanda Sykes, with more comedians to be announced. This event is being put together to benefit the Garden of Dreams Foundation, which is a non-profit charity that works with all areas of The Madison Square Garden Company, including MSG Entertainment, Rangers, Knicks, Liberty, MSG Networks and Fuse.
This presale is available to all Chase card members (not just the Freedom card). You have to use the first six digits of your card number to gain access to the available seats.
For those of you who are fan of any of these comedians and who live in the North East Area, you might just want to get some good seats within these couple of days.