Radio City Christmas Spectacular Tickets Through Chase
10/12/2012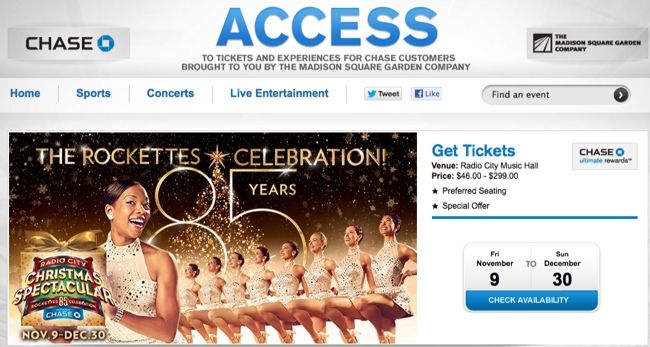 Mrs Credit Card and myself just got another email yesterday from Chase about a few events where preferred tickets are available through them. One of them is the Radio City Spectacular.
Radio City Spectacular Show – The dates available for booking are from 9th November to 30th December 2012. The tickets available through Chase range from $49 to $299. What is more interesting is the packages that are available for Chase card members.
For example, you can purchase a VIP experience. With this package, you and up to three guest will have a special private VIP entrance to the Radio City Hall and you will be given a tour of the venue. You will also have group pictures taken and also get a pop corn and drinks voucher.
There is also a Elite Moments package where you have to arrive early through a private entrance. There will be a concierge team that will escort you to a Roxy Suite where for a pre-show holiday season reception. There will be a buffet, open bar and a visit from Santa and two Rockettes!
The VIP Experience and Elite Moments require that you use your Ultimate Reward points to redeem for them. You can log into your UR account directly and you actually have to bid on an auction for these two experiences. The number of points required, date availability and your actual seats are all spelled out clearly. Below is a screenshot.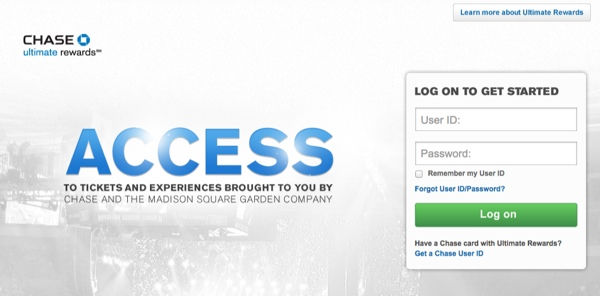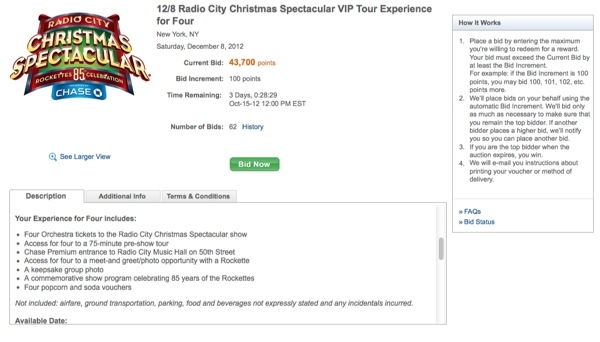 Preferred Seating is also now available (while they last). To verify that you are a Chase card member, you will have to enter your first six digits of your card number under the promo code box on the website.
30% discounts are also available. The promo code is CHASE.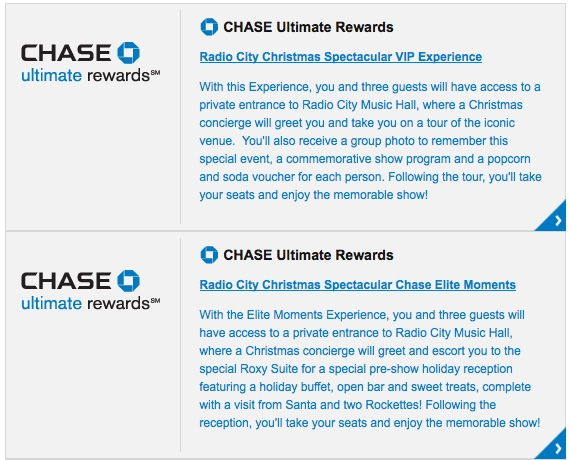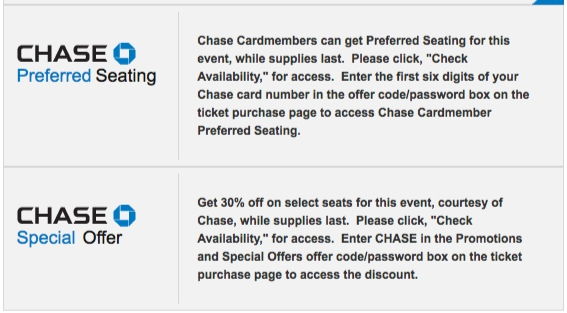 Demonstration of how to book – I'll now take you to the actual screenshots and explain how you should book your tickets. The screen below shows how the page will look like when you select a date that you are interested in seeing. Notice that on the top left there is a promo code box. You have to either enter the first six digits of your credit card number to see the preferred seating availability or the promo code CHASE to get the discounted tickets. In this example below, I entered my first six digits of my Chase Freedom Visa&#174. You could also use any other Chase cards you have like the Chase Sapphire Preferred(SM) Card. It will tell you that your code is valid and you will be taken to a screen that shows you available tickets. As you can see below, most of the Orchestra Seats are available (as of now!).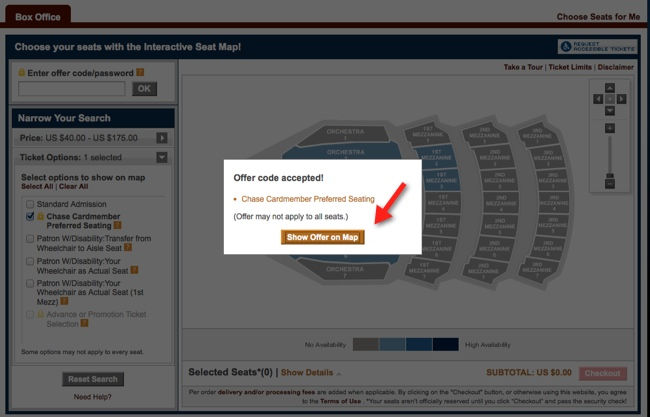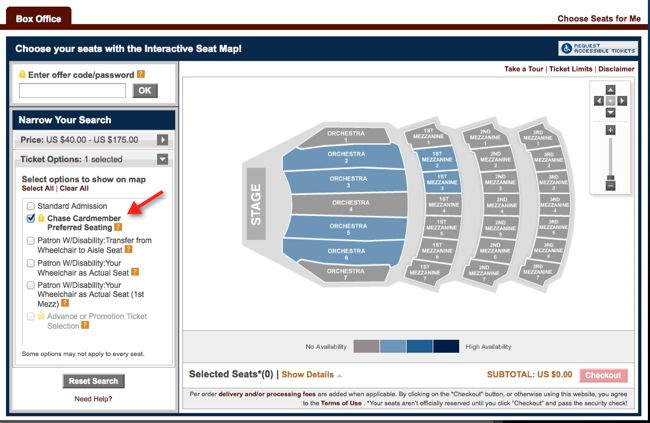 If either preferred seating or advanced/discount tickets are not available for that particular time and date, then you will not informed of the situation and not be able to proceed to buy any tickets under that promotion code.
I have been to the Radio City Spectacular with my family and it is simply a great show. Back then, Chase was not offering any preferred seating of any sort. If I were to go this year, you bet that that I will be using my Chase card to get the discounts or preferred seating. Here is t the link to this offering page.