The Bartlett by PEHR Tech Review
08/05/2010
The Bartlett by PEHR Tech is another service for Personal Health Records which allows management of health information in a safe and secure place in case of emergency or if you need to share it with a doctor or medical facility.
How it Works
The Bartlett is a 1 GB USB flash drive in which customers connect to their pc and upload medical information onto. It is not web based, so the information is said to be safe from hackers.The Bartlett holds scanned documents like X-Rays and EKGs and is easy to use.
Here is an example of what you will see on The Bartlett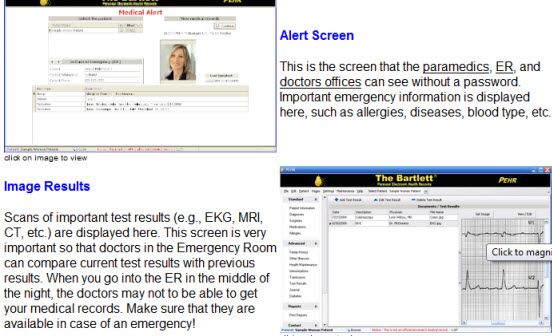 Information that can be included on the Bartlett:
Medical Alert page with allergies and critical info, you decide what goes there. This page is not password protected, so that emergency personal can have quick access to it.
Patient Information
Family History
Diagnoses
Surgeries
Other Illnesses
Medications
Allergies
Health Maintenance
Immunizations
Transfusions
Documents/Test Results
Journal/Filing Cabinet
Diabetes
Print Reports
Internet Links
Fees
The Bartlett flash drive is $39.95 and is silver with the PEHR logo on one side and the red EMS logo (Emergency Medical Systems) on the other side, thus making it highly visible for the emergency services.
If you prefer something different than the flash drive, you can also order the credit card version which fits in your wallet for $49.95 or the fashionable Jewelry Bartlett for $69.95 which can hang around  your neck like a pendant.
Verdict
The Bartlett includes a few differences than other PHR services we have looked at. One is that there is no monthly or annual fee, nor is there any membership fees. All you pay is the fee for The Bartlett that you prefer. The other difference, of course is the opportunity to purchase The Bartlett as a flash drive, credit card style or jewelry pendent as well. The Bartlett would be worth checking into by those that prefer to not have their information online, or do not have internet access to manage it.