PeopleChart Review
08/06/2010
PeopleChart is the next review of Personal Health Records services but is unique in many ways when compared. Specifically, PeopleChart includes almost all of the legwork that is required in collecting, adding and updating medical information.
How Does It Work?
The process of gathering and updating medical information requires very little work by the member. There is a 5 step process in collecting the information which includes the following:
Members request the records collection service online and fill in the provider address and information.
Peoplechart uses the Dr. Sleuth research service to verify the location of the medical record.
Peoplechart follows up with providers by phone and correspondence.
Peoplechart checks the national and state laws on 'reasonable' fees that are providers sometimes charge for photocopying medical records and on maximum allowable time for record delivery.
Peoplechart keeps you informed through the process and awaits your approval for any provider fees.
PeopleChart will also capture and read data electronically from various health care providers.
Next, PeopleChart organizes the records with medical record specialists that work on scanning, tagging, and categorizing the records. These tasks require knowledge of over 75 categories of medical records and expert assessment of each page. Then there is another process of quality-checking for accuracy. Each page is indexed and recorded along five categories, Record Provider, Author Date, Author Name, Specialization and Record Type.
After the information is collected and organized you decide which portion of your information you would like to share and with whom. You are able to grant access privileges for viewing, editing, and assigning information to others and what information you would like to share or keep private.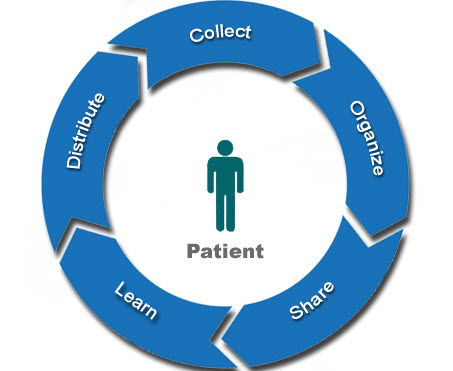 Other Benefits of PeopleChart
Members also have access to A.D.A.M. Health Encyclopedia for credible information about specific conditions, diseases, medications. The Call Center gives you and any authorized user 24×7 access to your medical records by phone. The Call Center will also distribute medical records.
Fees and Pricing Plans
There are two plans to choose from, the Individual Plan which is $24.95 per month and the Family Plan, which you can register up to 4 members for $64.95 per month. PeopleChart also offers a guarantee if you are not satisfied with the membership you can receive your money back within 90 days.
See the chart for Plan Features.
Verdict
PeopleChart is probably one of the easiest PHR services to use and practically does everything from collecting the medical information to distributing it to doctors and medical facilities. This is especially convenient for those that don't want to deal with computers at all as well as those that don't want the inconvenience of having to collect all of the medical records and information themselves.