Access My Records Review
08/04/2010
Continuing with the reviews of Personal Health Records services with Access My Records which differs from the other PHR services as it is an electronic storage and retrieval service for medical and legal records . Medical records and legal information can be accessed from anywhere in the world online, through a phone call to one of the customer service operators that are available 24/7 or via fax.
How it Works
Members of Access My Records create a personal healthcare profile and are able to store, organize and update the records. Members are provided a password protected area in the website where they can add, update, delete and organize their personal and medical information. For members that do not have a computer or access to a computer there is the option of mailing updated information or calling one of the customer service operators to update the information. Records are stored in a 128-bit SSL database that offers the highest level of encryption security and cannot be altered by anyone other than the member that is logged in. The information is then available to doctors, hospitals and emergency personnel.
Additionally, there is an Emergency Medical Records login section which includes a personal identification photo; Emergency Contacts; Family Physicians; Allergies and Medications; Medical Conditions; Past Surgeries; Healthcare Insurance Providers; Healthcare Power of Attorney and Living Will.
Besides medical records, members are able to upload important documents such as a Will or Trust, Passport, Driver's License, birth certificate and many other documents. Contact information for professional advisors such as attorneys and bankers can also be added. This information is kept in a separate area than the Emergency Medical Records file and can only be viewed by the member when they have entered their password and access ID code.
Members of Access My Records receive a membership card and key tag which includes the member's name and ID code. There are also window decals for your car and home to alert and notify emergency personnel that you are a member of this service.
Information that can be included:
• Allergies
• Medical conditions
• Medications
• Immunizations
• Medical imaging reports
• Lab reports
• Past medical procedures
• Emergency contacts
• Family medical history
• Insurance information
• Medical directives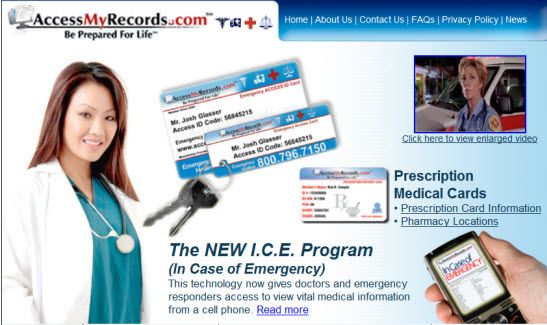 Fees
Members of Access My Records pay an annual fee of $30 for a single membership, $50 for a couple's membership and $20 for children or family members living in the same household tied to a primary account.
Verdict
Access My Records is probably the service to choose for PHR if you are not able to access a computer as most of the other services involve USB Flash Drives. It is possible to update your information by means of the telephone and fax instead. This service will also benefit those that find it easier to store their information somewhere other than a flash drive or on paper. There is also the additional benefit of being able to upload almost any of your important documents that aren't related to medical records as most other PHR services don't provide this benefit. The annual fees for the service also end up being less than many of the other services for health records as well.