Starwood Around The World In 5 Meals Sweepstake
04/05/2012
Starwood is now conducting an "Around the World In 5 Meals" sweepstakes. This is how it works.
To enter the contest, you have to pick 5 SPG restaurants that you would love to have your meals at (if you win the prize). You will choose the 5 restaurants from www.spgaroundtheworld.com/map. After you have chosen the your 5 dream restaurants, you will then register online at www.spgaroundtheworld.com. There are a couple of other ways to get more additional entries. You could
Dine at a participating SPG restaurant and each time you dine, you will be given another entry in the sweepstakes.
Each month, you would also register by sending an email with your name, email address, phone number and spg number to restaurant@starwoodpromotion.eu. You can only do this once a month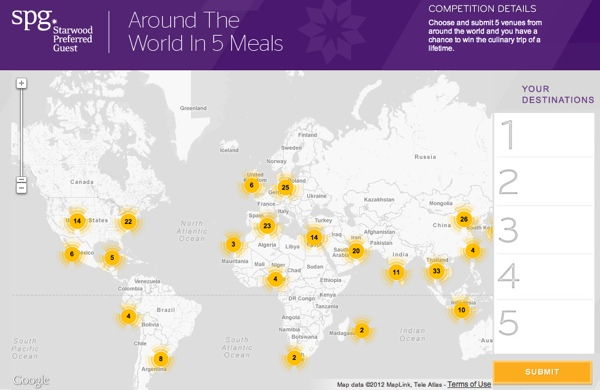 The entry period for the contest ends at 29th June 2012 and winners of the draw will be informed on 13th July 2012. Winners will be contacted by email and must respond within 5 days.
What is the prize? You will get a 10 day rountrip coach tickets for you and a partner to the 5 restaurants destinations that you have chosen. You will get 2 nights standard double bed room at that Starwood Hotel and you will also get complimentary breakfast (up to $20 each). The retail value of the prize is $23,000. The guest you bring must be above 18 years old (can't bring your little one).
So if you are SPG member, remember to sign up for it. And if you are an Amex Platinum card member, remember to sign up for the SPG membership if you have not already (and get your Platinum Status). Then sign up for this sweepstake. You might as well get one entry in.
Tip: Best now to choose restaurants that require long travels because you'll be totally wiped out if you do win this prize. You want to spend a nice 2 days in the hotel and not too many hours in the plane!