George Strait Farewell Concert PreSale Ticket Starting 10/16/2012 For American Express Card Members
10/16/2012
Presale tickets for the George Straits: Cowboy Rides Away at the Power Balance Pavillion in Sacremento in California New Orleans Arena (also in CA) are now available to American Express Gold, Platinum and Centurion members. Card members of the Delta Platinum and Reserve Cards can also book these presale tickets.
Fans of George Strait would know that he announced his first 20 dates of the Farewell Tour for 2013 and 2014. The tickets for his concert in Oklahoma City sold out within a few hours! Since his debut in 1981 where his single "Unwound" became a top ten hit, George has gone on to record 59 number one singles and winning awards after awards (last count was 60).
Below are the presale ticket details.
Sleep Train Arena (formerly Power Balance Pavillon)
1 Sports Parkway
Sacramento, CA 95834
Date: 31st January 2013, 7:30pm
New Orleans Arena
1501 Dave Dixon Drive
New Orleans, LA 70113
Date: 13th April 2013, 7:30pm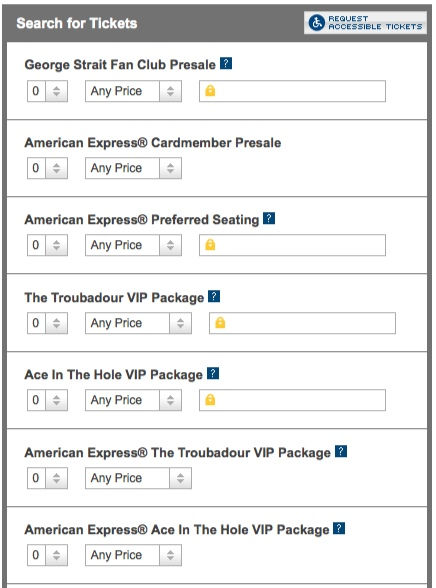 There are several ticket options for Amex card members. You can simply get presale tickets, or go look for preferred seating tickets if you want to get better seats. There are also a couple of interesting packages available if you want to get a better experience.
The Troubadour VIP Package – This package includes one front row ticket (awesome!), one George Strait signed guitar (mega awesome!), VIP parking pass, one VIP laminate, invitation to pre-show party in "The King's Tavern Lounge" w/ complimentary food and cash bar. You can also see "The Kings Exhibit", which is a private exhibit of George Strait memorabilia that travels with the tour. This is only available to VIP guests and guests of George Strait. The package also includes one VIP limited George Strait merchandise gift, private merchandise shopping and on site event host.
Ace In the Hole VIP Package – This package has all the features of the above one except that rather than being guaranteed a front row seat, you will get a seat anywhere from row 1 to 10.
For Amex card holders, you have to enter the customer service number that is printed at the back of your credit card to "unlock" the seats available for you to book.
Like we have mentioned before, these tickets will sell out quickly. Having an eligible Amex card will help you get better seats. So check your calendar and book them now if you are a fan of George Straits.