Repairing Your Credit After Bankruptcy Part 1
10/08/2008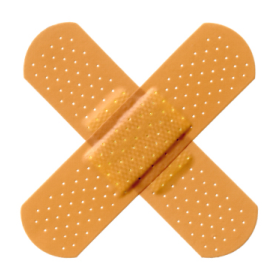 After we declared bankruptcy, our credit was understandably in shambles. I searched all over the internet for tips and tricks that would help me rebuild my credit quickly but the fact is, it takes time to build a great credit score. It takes even more time if you are rebuilding after something as disastrous as a bankruptcy!
It can be done though, and my husband and I are about halfway through the process. Our bankruptcy was three years ago, and we have done everything we could each and every month to raise our scores back up. Here's the shortlist of ways we raised our credit score after bankruptcy. As always, I love your questions! So if you have any, just drop me a note in the comments below, and I will be happy to answer them for you.
How we rebuilt our credit after bankruptcy:

1) We challenged items on our credit report – You can challenge both incorrect and correct items on your credit reports. I am well aware that it's unethical to challenge correct items. Frankly, declaring bankruptcy was one of the most unethical things I've ever done, and I am certainly not losing sleep over the few correct items I was able to have removed from my own credit reports.
Everything about the bankruptcy was done to give my family a future, including the credit report challenges. If you are going to challenge items on your own credit report, you can read more about how to do that in our article "How To Dispute An Item On Your Credit Report" There is a step-by-step downloadable guide at the end that will walk you through the entire process.
2) We contacted any creditors that were still reporting open accounts, and gave them our bankruptcy information – We had a lot of open accounts because of our medical bills. Every time a collection company sold our debt, the new owner of the debt would list another delinquent account on our credit reports. So even though the person who owned the debt at the time of our bankruptcy was contacted, no one else was.
This meant we had to back-track our debts (using our credit reports) and contact the people who used to own the accounts too. Not everyone was cooperative, but in the end we did get most of the old medical accounts to show up as closed w/ bankruptcy rather than still open and delinquent.
3) We opened up two credit card accounts each – The sad fact is, you have to have and use credit in order to build your credit score. A lot of people come off of a bankruptcy and swear off credit cards forever. If this is what they must do do manage their finances, then more power to them! However, my husband and I recognized that restoring our credit was the only way we would ever own a home someday. So, we applied for, and got, two cards each.
Which credit cards did we use after bankruptcy?
The Orchard Bank Secured MasterCard – I opened this account up by sending in $300 to HSBC bank. In return, I got a $300 credit limit, and the deposit that I left with them earns a small amount of interest. I will eventually get that deposit back when I upgrade the account.

My Orchard Bank card also has a very low interest rate compared to the other credit offers available to me. It's only 9.99%. Now, I realize that most people out there with great credit will not think this is a good interest rate! But for someone fresh out of bankruptcy, it's a dream come true. It also has no annual fees, and no application fees. I highly recommend this card in particular to anyone who is looking to rebuild their credit. It is far and away the best of the bunch. They do report to all three credit bureaus each month, and so far I have been very happy with them. Update – Orchard Bank has now been acquired by Capital One and the card to look for now is the Cap One Secured Card.

The Rewards 660 Visa – Ok, so I'm really not sure why this is called a rewards card at all, because there are no rewards! It does have a few benefits though. The main reason I chose to open up this account is because I was afraid that my Orchard Bank card would report as a "secured card" to the credit bureaus. (Which it does not – I just didn't know that at the time. It works like any normal credit account as far as the credit bureaus are concerned)

So, the terms on this card were not so sweet a deal at all! But darned if they aren't still better than the First Premier Cards (That is a terrible company! Only work with them if you have NO other option, seriously)

The Rewards 660 Visa charged $250 to the card in fees, up front. They called me at work to verify my income, and the starting credit limit was $300. They only report to two of the three major credit bureaus (Equifax and Experian, but not TransUnion).

The one redeeming feature of this card in my opinion is that they give you an automatic credit limit increase of $75 every three months that you pay on time. They have been having website difficulties recently, and it has been hard to log on and see my account. Last time I looked though, it seemed like everything was back to normal.

All in all, if I had it to do over, I would just get two secured credit card accounts. I mean, with the secured cards, at least you get your money back at the end. With the unsecured credit cards for people with bad credit, you pay a ton of money in fees, and you never get it back.
Those are the first three steps we used to repair our credit after bankruptcy. I will cover the other steps in part two of this guide. If you have questions or comments about any of these techniques, please let me know. You can use the comments form below.

Keep Reading: