Flying From Minneapolis Domestically And To Mexico – Which Card To Get?
01/06/2012
Which is the best card to get when you live in Minneapolis and want to fly to Mexico as well as domestically? Well, we had a reader ask this question and so here is the question and my thoughts on this.
Dear Mr. Credit Card,

I buy, renovate and sell homes for my business. I spend a lot of money each year for materials etc. ($60k plus). Do you have a recommendation of which card would get me the most miles for travel?

Thank you.
Mr Credit Card (me): I need to know :
where do you buy your materials from?
do you mind paying an annual fee for the card?
are you travels mainly domestic?
what is the average cost of your ticket?
any airline that you prefer?
Mr. Credit Card,

My purchases are typically from Home Depot & Menards.

I don't mind paying an annual fee if the benefits are worth it.

I mainly travel domestic or Mexico.

My tickets for travel are usually under $400.

I usually fly Delta as they are our main carrier in Minneapolis.

Thank you.
Answer: – Your flights to Mexico and around the US from Minneapolis cost you less than $400. That means if you spend $60,000 on a typical 1% cash back or rewards card, you will be able to get at least one ticket to Mexico a year, and maybe two depending on the price. But let us now look at a couple of alternatives.
Delta Credit Card – Since you mostly fly Delta, let's see how many Delta Skymiles are needed for your Mexico trip. To do that, let's look at the Delta Ticket Award chart.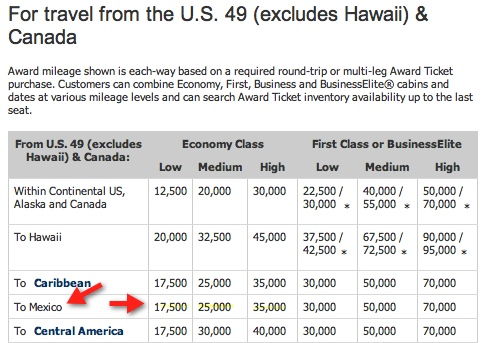 As you can see from the chart above, an economy class "low" ticket award is 17,500 one-way, which makes it 35,000 for a roundtrip to Mexico. The "middle" award requires 50,000 miles for a round trip and a "high" economy award requires 70,000 miles for a round trip.
For domestic round trips, a round trip on the "low" economy requires 25,000 skymiles. You need 40,000 skymiles for the "medium" economy and 60,000 skymiles for the "high" economy.
If you use your "low" award, you could possibly get two tickets a year (either domestic or to Mexico). Otherwise, you will only be able to redeem for one ticket a year. With Delta Skymiles, you could also use some points and pay the rest with cash as well.
Home Depot Credit Card – Since you shop at home depot, we will also look at the Home Depot credit card since you can actually use points for travel. Below is the chart.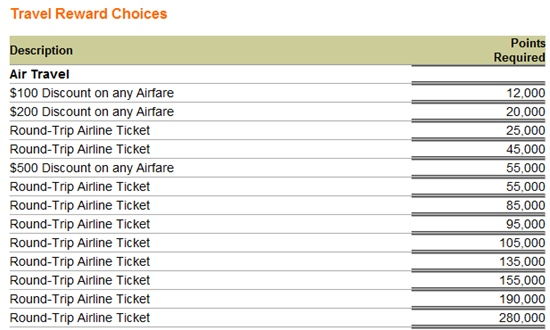 With the home depot rewards, you are getting about one percent rebate or less. For example, you can use 20,000 points to get $200 discount. Do that twice and that is $400 (about the price of your ticket). That means you will be able to redeem one ticket a year and maybe two if you get two really cheap tickets.
Regular Reward Cards – Aside from these two cards, one can also use regular rewards card. There are two types, the ones with no annual fee and the ones that come with annual fees.
The ones without annual fee typically let you earn one point for every dollar that you spend on the card. Example of such cards include the Chase Freedom, Chase Sapphire, Discover Miles Card. What you get is typically 1% return because you either have to use your points to book your travel with their portal or in the case of Discover Miles, you simply book with whoever you want and you will get back a statement credit (worth 1%). The Chase Freedom allows you to earn more than 1% rebate in a variety of ways so you might end up with slightly more than 60,000 points if you use it wisely.
There are a couple of travel reward cards with annual fee that are worth considering. For example, the Discover Escape Card. It has a $60 annual fee, but you earn double miles on every $1 of purchase on the card. That means that you will get 120,000 miles in your account – which will be worth $1200 in tickets to Mexico. That means you could get three tickets in a year based on a $400 prices (which obviously varies). There is also no foreign transaction fee with this card. You can also earn double miles when you shop online at HomeDepot.com from your Discover account.
Recommendations – Based on the above analysis, I would recommend getting the Discover Escape Card because with the ability to earn double miles, you can earn more than 120,000 miles based on your annual spend of $60,000. At a 1% return, that is worth $1,200 in airline ticket value. Based on your average ticket price of $400 and less, it means you can get three round trips to Mexico.
The other cards like the like Delta and Home Depot will get you at most two tickets a year. And for Delta Skymiles, that means being very flexible on your departure dates as you will be using the most flexible "low" economy award tickets. The other no annual cards also will get you at most two tickets a year.