Don't Care How, I Want It Now
09/13/2008
Happy Weekend Everyone!
I was visiting Get Rich Slowly this weekend, and I watched a fun little video from 1948 on thrift habits and building a budget. It really started me thinking about how fast times are changing. All around us, the world that our grandparents knew has all but disappeared. Personally, I think that's not all bad, but there sure are some real gems of wisdom that are next up on the extinction list.
Patience, I think would have to rank highest on this list. Today so many of us (and I regrettably include myself here) we just want things now. Save? Save? Why? I can just toss it on a credit card and get it now. See, this is where the trouble starts. Because as soon as we let that "now" impulse take over and convince us to charge too much we are committing to two things:
1) Being In Debt
2) Letting compound interest work for someone else, instead of us. That's the same as having our money work for someone else, instead of us. Time is on their side now, not ours.
The true secret to credit cards is that they benefit you tremendously if you pay them off each month, and they benefit Visa, MasterCard, Discover, and American Express tremendously if you do not.
So how do we beat the "Now Monster?" Well, if I had that answer…. 🙂 What I can do though, is include a fun little visual representation. The next time I am tempted to put something on my credit card that I can't pay off at the end of the month, I am going to focus on this instead:

One of my very favorite quotes goes something along the lines of "The secret to happiness is wanting what you have."
In honor of that, here are some fresh new articles from around the blog-o-sphere. They each, in their own way, caused me to think about what is really "enough." I do hope that you will enjoy them as much as I did.


When Is Enough "Enough?"




The Future's So Bright I Gotta Wear…Night Vision Goggles??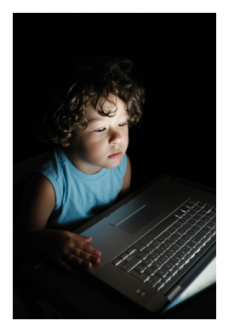 My good friend Dave Taylor at Real Life Debt has a series of excellent posts on Teaching Your Kids Some Cents. My favorite quote from the series was


There is only one difference between the rich and the poor.

Walk into a trailer and then a mansion back to back and that one difference will be readily apparent.

The poor stuff, but the rich only things which serve a purpose.

I thought this was a really smart perspective on the difference between excellent spending habits and poor money management. Dave has a five part series going on, and it's definitely worth a look.

Wealth and Wisdom wonders, "What's Luck Got To Do With It?" (Say that five times fast!) Brandt at W&W takes full credit for his well-adjusted children, and his success in sales. Luck, he says, is not the same thing as chance – and there is a lot we can do to influence our own "luck".
Trent at The Simple Dollar is rethinking retirement. While he is rethinking how he defines retirement (for him it's more of a working retirement) he is not going to change the amount of money he's putting away. That's a pretty wise choice since none of us really knows what the future holds.
MiB Money is systematically debunking the 25 most outrageous money myths. This is a serious must read. I'll bet you find at least one of the twenty-five that you didn't know about! Assimilate the knowledge, go forward empowered.

Carnivals, Festivals and Celebrations:
Thanks to these carnivals who featured our posts this week:

That's it for today. Sincerely wishing you enough.



Did you like this post? You can get our future articles for free! (Click Here)

Keep Reading: