Credit Card Car Rental Rewards
04/30/2009
This is a car rental rewards question from a reader :
I am looking for a card that has car rental rewards similar to airline rewards – e.g. accrue 25k points and get $500 applied to car rental. What cards offer car rental rewards??

Toni Bradley
Answer – Toni, most credit card reward programs have car rental rewards. So here is a run down and comparison among all of them.
American Express Membership Rewards – The Membership Rewards Program from Amex has got 3 car rental partnerships (used to be six!). Their partners are Avis, Hertz and Enterprise Rent A Car. The way the reward program works is that you can exchange Membership Reward Points for gift cards for either one of them. You can obviously use these cards when you rent a car from them and also enjoy special upgrades.
Aside from that, certain American Express Cards offer extra perks. For example, the American Express Platinum Card offers complimentary premium memberships with Avis, Hertz and Enterprise Rent A Car so that you can bypass lines when you rent a car.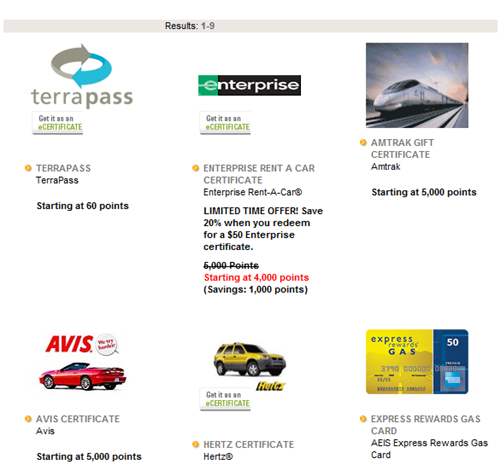 Citi ThankYou Network – The ThankYou Redemption Network is Citicards' reward program. There are two ways to use their program for auto rentals. You can redeem points you have earned for Avis gift cards.
Alternatively, you can use points and book car rentals through Expedia.com. Every $1 in travel expenses requires 100 points to offset it.
An example of the travel rewards card from Citi with the ThankYou program is the Citi PremierPass(SM) Card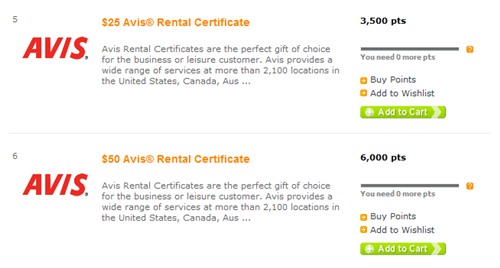 Chase Flexible Rewards – The Chase Flexible Rewards Program allows you to exchange reward points for gift cards in Avis and Hertz. They also have this feature called TravelCredit where you can book your car rental and use the points you have earned to offset it. You will need to use a minimum of 15,000 points (to offset $150 in travel expenses including car rental).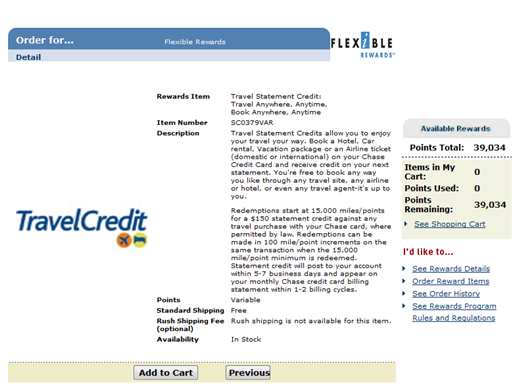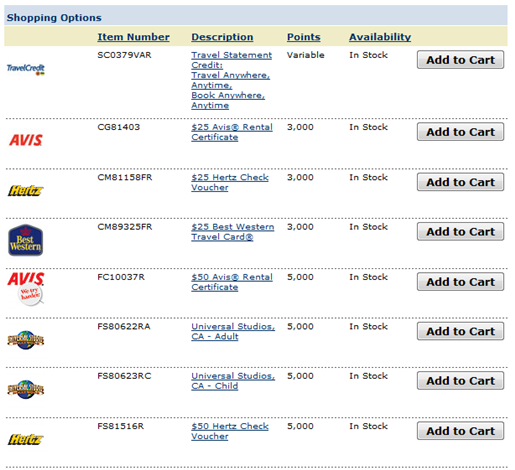 WorldPoints – WorldPoints (reward program of Bank of America's credit cards) have partnerships with Avis and Hertz. You can exchange points for gift cards of these two car rental companies.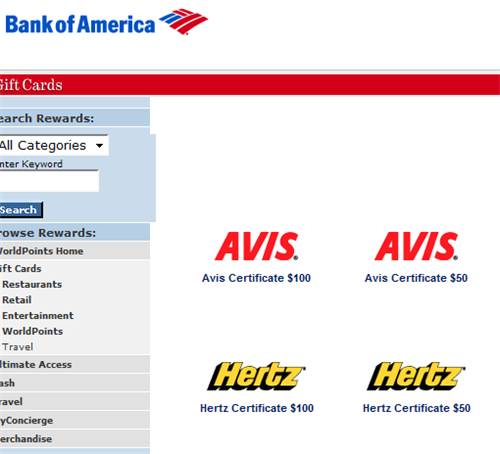 Capital One Rewards – If you have a Capital One rewards card with their No Hassle Miles or Points program, you can exchange points for an Avis gift card. However, it takes more points to redeem for a fixed value in gift cards compared to other programs. For example, if you look at the screenshot below, you will find that it takes 20,000 miles or points to redeem for a $100 Avis gift card. For other programs, see the screen shots, it only takes on average 10,000 points to redeem for a $100 gift card.
Capital One also allows you to book your own travel expenses and use their points to offset what you have paid. 10,000 points or miles are required to offset $100 in travel spending.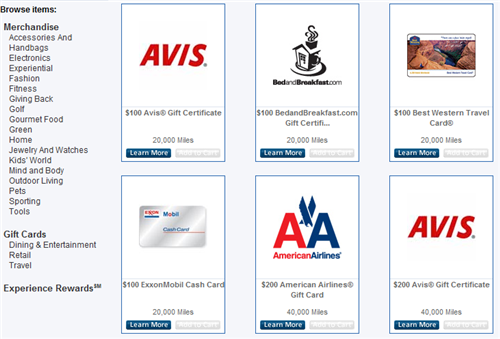 Discover Card – If you have the Discover® More(SM) Card, you can exchange the cash rebates you have earned on the card for gift cards with Alamo, Enterprise Rent A Car and National. The great thing is that Discover allows you to double the value of the rebates you have earned if you redeem for these car rental companies gift cards.
Discover also allows you to earn 5% cash back bonus for Travel from January to March every year.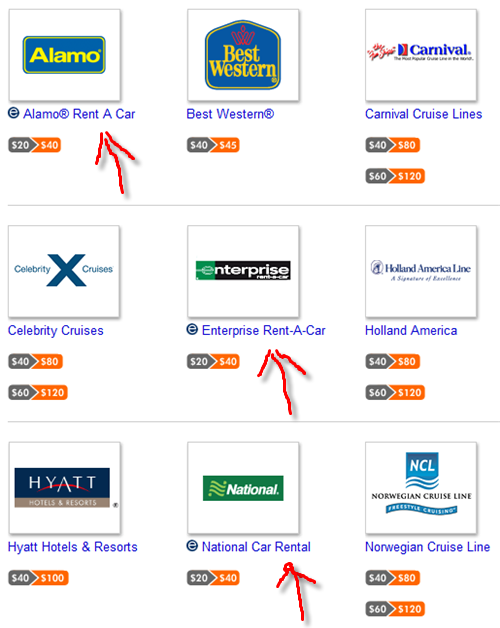 Summary – So that's it. These are all the major card issuers and their auto rental rewards. Most offer auto collision insurance when you rent a car using their card so you do not have to pay extra for that. The card you choose for car rental rewards really depends on which rental company you use and how you want to redeem your points.