Citi Bonus Cash Center Review
02/05/2012
Citi Bonus Cash Center is the online shopping portal for Citibank. In this post, we will review this shopping portal. The Citi Bonus Cash Center has existed for many years for cardholders of the Citi Dividend Platinum Select Card. Back in 2006, the Citi Dividend paid 5% rebates on "everyday purchase" like gasoline, supermarket and drugstore spending but capped the annual rebates to $300. However, folks who shopped on Citi Bonus Cash Center could earn unlimited rebates. But then, the number of merchant partners was limited. But it has steadily grown and today, they have the most number of merchant partners compared to other online shopping portals.
Let's look at how one can access the portal.
As you can see in the screen shot, you can search merchants by type, browse every merchant or go by alphabetical order.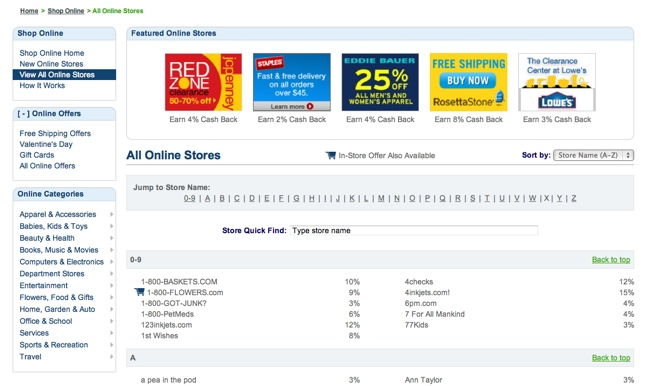 Citi Bonus Cash not only has online merchant partners, but they also have off line in store partners where you can get rebates if you use your Citi Dividend Card at the stores. Quite often, the in store partner also has partnership with Citi for their online store. Some stores allow you to call them to order stuff and as long as you pay with your Citi Dividend card, you will get your extra rebates. There are stores where you can also earn extra rebates if you buy from their catalog or even if you call them and order by phone. There are also special coupon codes you can use for certain merchants.
If you look at the screen shot below, you will see the in store page. You can search for by phone and catalog offers, by cash rebates, and even by coupons. You can also search for stores within your zip code and you can specify by how many miles from your home should the search begin.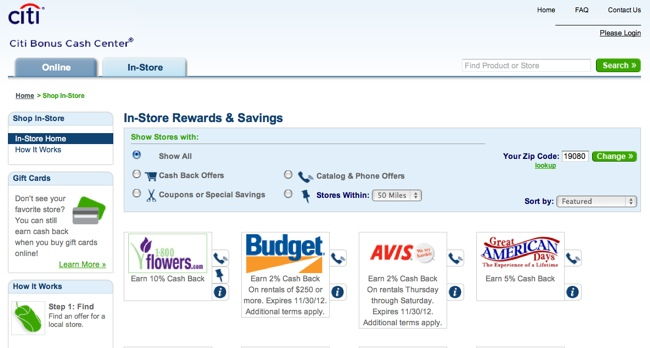 Comparison with other shopping portals – After having completed our recent survey on credit card reward programs shopping portal, the one thing that stands out for the Citi Bonus Cash Center is that they have more merchant partners than all other portals. At the time of the survey (January 2012), they had 594 online merchant partners (we did not even bother with the off line stores because most other portals do not have off line partners). Of the 594 partners, 207 of them had the highest rebates among other portals (if the merchants were also on other portals). Among the 207 merchants, some were also exclusive merchants with Citi. One of the reasons that Citi had so many partners was because they have many boutique online partners. That means that aside from the usual GAP, Best Buy partners, they have many other unique online stores.
The advantage that they have over other online portals is that they also have off line partners. And some of their off line partners allow you to shop via phone or through their catalogs. This is very unique and stands in contrast with a portal like the shopdiscover which only has online partners.
One of the things you have to be aware of is that we started doing our survey in December. And during that time (with the exception of Discover), other online shopping portals were changing partners and having also changing the rebates they pay. Hence, you have to be aware that a merchant may be Citi's partner now, but later switch to another credit card issuer.
Cards Which Has Citi Bonus Cash Center Feature – The Citi Dividend Card and their student version (which incidentally are both cash back cards) can be used at Citi Bonus Cash Center. All you have to do is to log into the site using your credit card account login credentials.
Verdict and Opinion – The Citi Bonus Cash Center stands out among its competitors by having the most number of merchant partners and also giving cardholders the option of shopping via catalog, phone or in store for some of their partners. In our opinion, this portal loses out only slightly to Discover's shopdiscover portal because Discover's minimum rebate rate is 5% (a pretty high bar that no other portals can match). But in terms of sheer number of partners, no one comes even close.