Household Bank Credit Card Review
03/04/2009

Summary – The Household Bank Platinum MasterCards is one of the better credit cards for those who have fair credit or even poor credit. Household Bank is actually owned by HSBC Bank, one of the largest bank in the world and Household Bank is one of the biggest players in the sub-prime space. Let us look at this card in further detail.
How it works – Unlike most other credit card offers, Household Bank actually has 5 card offerings. You will be offered one of the four cards based on your credit worthiness. Below are details of the five cards taken from their website.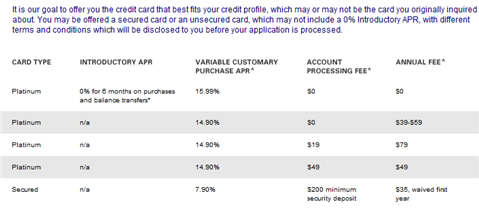 Card Details – If you have no credit history or if your credit is poor, chances are that you will be offered a secured credit card. It has a very low APR at 7.90%, a $35 annual fee (which is waived for the first year). You have to deposit a minimum of $200 to get going for the secured credit card.
If your credit is better, you may get a Platinum card with different fee structures. At the higher end, you may get a card with no annual fee and a 0% balance transfer offer.
Verdict – If you have no credit or poor credit, then I think the Household Bank Platinum MasterCards is perhaps one of the best credit card to get. Most issuers who target at this segment charge outrageous fees and have ridiculously high APR. As an example, the tribute credit card from Compucredit has annual fees and monthly maintenance fees that exceed $200! And an APR of 25%!
The Household Credit Card has reasonable fees and APR because they offer a variety of cards with different fees and APR (including a secured credit card), you are highly unlikely to be turned down for this card. This card gets my thumbs up.
Household Bank MasterCard
Credit Limits
100% of bank deposit, $100-$15,000 – for secured card
Credit Agency Reporting
Reports to 3 agencies
Card Benefits
Free Online Bill Pay
24 hour online access to account
Cost/Fees/Interest rates
Annual Fees
$0 to $79
Application Fees
$0 to $49 depending on the card
Purchase APR
7.90% to 15.90%
Grace Period
25 days
Balance Calculation Method
Average Daily Balance (including new purchases)
Cash Advance fee
5% min $5.00 for Orchard Bank Cards
3%, min $15.00 for
Orchard Bank Prime Master Card
Over-the-credit-limit fee
$29.00
Late Payment fee
$29.00



Apply for the Household Bank Platinum MasterCards