Charity Credit Cards – An Introduction and Survey
04/09/2009
Here is an introduction and thorough review of charity credit cards. I've been meaning to write this up for a while and the following question from a reader has got me going.
Question from Reader :I would appreciate any information you could give me about which credit card companies allow cardholders to donate rewards to charitable organizations. Also, could tell me anything you might know about how a charitable organization can qualify as a recipient of such donations. I would appreciate any help you
could give.
Edward Mikesell
First, let's tackle the second question.
How does a charitable organization qualify as a recipient of such donations?
Well, the organization has to qualify as a non-profit organization under IRS tax code 501(c)3. Aside from charities, non-profit education organizations for example can also qualify.
Charity Specific Credit Cards – There are two types of credit cards that allow you to donate rewards or cash to charities. The first type is charity specific credit cards. For example, you can get an Anne Geddes credit card and a portion of every dollar you charge to the card is donated to the Anne Geddes Foundation. The good feature of these cards is that charity giving (from your credit card spending) is automatic and to your favorite charity (presumably that is why you got your card). The downside to such charity specific cards is that you can only contribute to one charity.
Charity Partners of Reward Programs – Another way of donating rewards or cash to charity via your credit card is through a reward program. Most credit card reward programs allow you to donate points to charities. Some have more partners than others so the key to choosing a card for such purposes is to actually look at the charity partners of the reward programs. So let's do that right now.
Membership Rewards – Membership Rewards is the reward program for American Express. This reward program probably has over a million charity partners through a program called Giving Express Online. There are a few ways to give. For example, you can
Give to one or more charities and nonprofit organizations
Donate dollars with your American Express Card
Redeem Membership Rewards® points to make a donation
Set up recurring donations
Spread your donation out over the year
You can even earn points for giving in dollars! Plus your giving records are stored in a password protected Giving History website.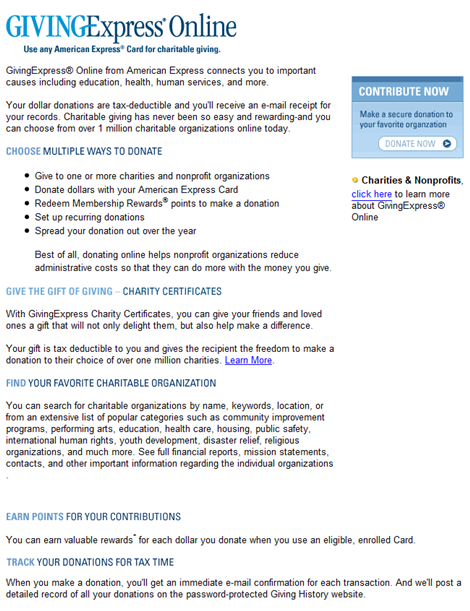 Citi ThankYou Network – This is Citicards' reward program. The following partners are on their program – American Heart Association, American Iinstitute for Cancer Research, American Lung Association, American Red Cross Charitable Contribution, American Red Cross Disaster Relief Fund Contribution, Rainforest Alliance, Intrepid Fallen Heroes Donation, March of Dimes Charitable Contribution, Proliteracy Worldwide, Arthritis Foundation, JA Worldwide, Plan USA.
With the Thank You Network, you are basically redeeming points which translate to a monetary value and donating the cash to the charities.
The Thank You Network also allows you to redeem points for a "GiftBack" gift card which you can donate to any charity of your choice.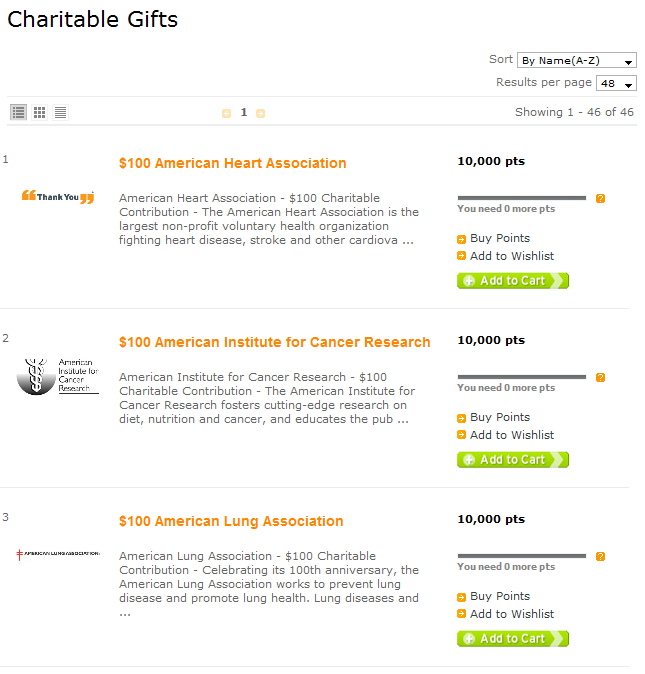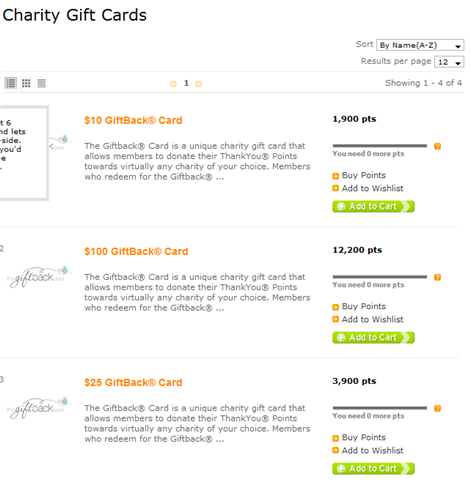 WordPoints – WorldPoints is the reward program for Bank of America (formerly MBNA). Their charity partners include Brighter Planet, Make-A-Wish, Make a Charity Choicer (which has over 100 charities), Ducks Unlimited, The Humane Society, Juinior Achievement, National WildLife Federation, Working Assets.
With the worldpoints program, you are also redeeming points for a monetary value to be donated to charities.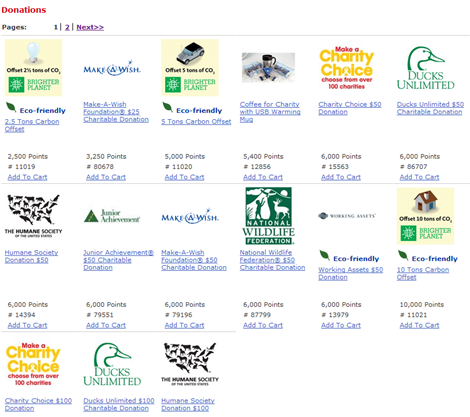 No Hassle Miles – The Capital One No Hassle Rewards Program has partners with over 1.2 million charities. So it is likely that you will find your favorite charity in their program. The great aspect of Capital One is that they will cover all transaction fee so that every dollar that you give actually goes to the charities. You can choose to donate cash or use your reward points.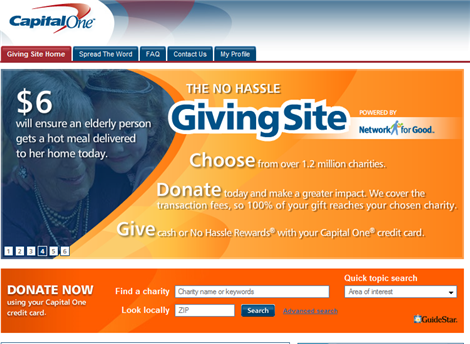 Chase Rewards – I logged on into my Chase Flexible Rewards account and couldn't find any rewards in it. So I guess Chase is not such a good card for charity giving.
Conclusion – So there you go – the major credit card reward programs and their charity rewards. From my perspective, I like the American Express Membership Rewards best for the number of charity partners and the flexibility of giving and the ability to set up "automatic giving". Capital One's program looks to be good as well.