| | | | |
| --- | --- | --- | --- |
| Intro Purchase APR | Regular APR | Annual Fee | Credit Needed |
| N.A. | 24.50% | $0 | Poor |
Executive Summary -
Unlike most store cards, Macy's actually split up their store cards into different colors and levels - Red, Gold, Platinum (some call it silver) and Black. The each represent different spending levels.
Fans of Macy's department stores looking for great deals and even those who just want to receive some kind of reward for small visits, like school shopping, are often perplexed by the many types of cards that Macy's offers. As someone who carries the Macy's store card and uses it occasionally, I have found a few benefits to keeping it. However, as you will read, the downfall of the Macy's credit cards is the interest rate, so you will need to pay your balance in full each month to take full advantage of the cards.

The differences between the red, gold, platinum and black Macy's cards may seem subtle, but if you're considering a Macy's credit card, you may want to look into the details. Make sure you go for the card that is best for you and your shopping habits to take full advantage of the benefits of being a Macy's card holder.

The Basics - Whether you choose the Macy's Red Card, the Macy's Gold, Macy's Platinum, Macy's Black or Macy's American Express, the terms are basically the same. The APR is 24.5% and there is no annual fee for any of the cards. The main differences between the Macy's cards are the benefits and rewards.

Rewards - Although there are no rewards for the "regular" Macy's store cards, I do receive coupons every month for 20% and 25% off of Macy's purchases. There are also always in-store discounts of at least 15% for cardholders. If you shop often to frequently at Macy's, you will end up saving quite a bit of money just using the monthly coupons and in-store discounts. And of course, birthday and holiday discounts.

See What Cardholders Have To Say About This Card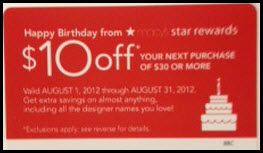 Macy's Red Card - The red store card is the basic card. Don't fret if you have the basic card though, because you still receive the coupons and discounts for being a card holder. This card is for shoppers that spend between 0 and $499.99 per year.

Macy's Gold Card - For shoppers that spend $500.00 to $999.99 per year at Macy's.

Macy's Platinum Card - For those that spend $1000.00 to $2499.99 per year at Macy's.

Macy's Elite Card (or Macy's Black Card) - This card is for shoppers that spend $2500.00 and more at Macy's stores in a year. Macy's Elite cardholders also receive priority customer service.




To be honest, there appears to be no difference between the regular cards except that they are based on your spending. If you spend more, you will be upgraded to the next level; if you spend less you could possibly be moved down. Cardholders of the higher colored cards may receive more dollars off coupons and more discounts.

I did receive an offer to join the Star Rewards program from September 12, 2012 to December 31, 2012 (for holiday shopping, no doubt) and receive 10% in rewards on Macy's purchases. This special offer actually costs $25 which is billed to the card. I am certain I would not spend enough from September through December to make up the $25. However, if most of your shopping during this season is at Macy's, and it's worth the $25, then you may want to consider it.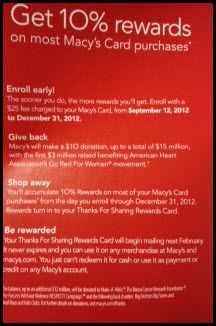 Table Of Contents