Here's a little interaction with a reader recently:
Steve Broom wrote:
Oh Mr. Credit Card, do you recommend a particular Business Credit Card that earns air miles? I don't want a card that limits the airmiles to 100k or so, as we will be earning them rather quickly and do not want to "use them or lose them". USBank Business Card? AlasaAir Business Card? Oh, the decisions! Oh, the stress!
I asked Steve a few more questions:
what airlines do you fly?
How often?
which class?
and how much do you intend to charge to the card?
Here was his reply:
Which class? Usually coach, but I am 6'3″ and really, really need 1st class on the return leg.

How much charged to card? Within a year it should be about $800,000 per year. Really, really.

I spoke with an AlaskaAir rep today and they said they have no limit to the amount of miles and that the miles do not expire.

Is that normal or something special?
Answer – Steve, this is how I look at it. There are several issues and constraints.
You will charge a lot to your card – Implications are that you need a card to no preset spending limit
You spoke to Alaska Airlines – so presumably, you do fly with them at least once in a while
You want your miles not to expire and are not in a hurry to use them
Based on these constraints, I think you probably need to get a couple of cards. For example, I think a business charge cards would suit you, especially the Amex business charge cards. You can earn unlimited points, and there is no pre-set spending limits. The membership rewards program also has partnerships with many airlines and you could transfer points to these airlines (mostly on one for one ratio – see screen shot below). The best of the bunch to get is probably the The Gold Card from American Express OPEN.
However, at the same time, you also are not in a hurry to use your miles. As a safety precaution, I would suggest you get another card where you can earn "actual miles" rather than reward points. The difference is this. If you earn points, where it is Membership Rewards, Citi ThankYou, Capital One's No Hassle Miles, you could lose your points if you cancel your card without using them (yes, it happens more often than you think) or if your card is canceled by the issuer. But if you get an actual frequent flyer or frequent guest card, your points are automatically transferred to those programs and you will never lose them.
I would suggest that you get either (or both) the Alaska Airlines Credit Card if you would like to earn their airline miles. Another possible card is the Starwood Preferred Guest&#174 Business Credit Card from American Express OPEN because you can transfer points to 30 airline partners (including Alaska Airlines) and if you transfer 20,000 points, you will get an additional 5,000 bonus miles. An additional benefit of this card is that there is no fee for employee cards (see screen shot below).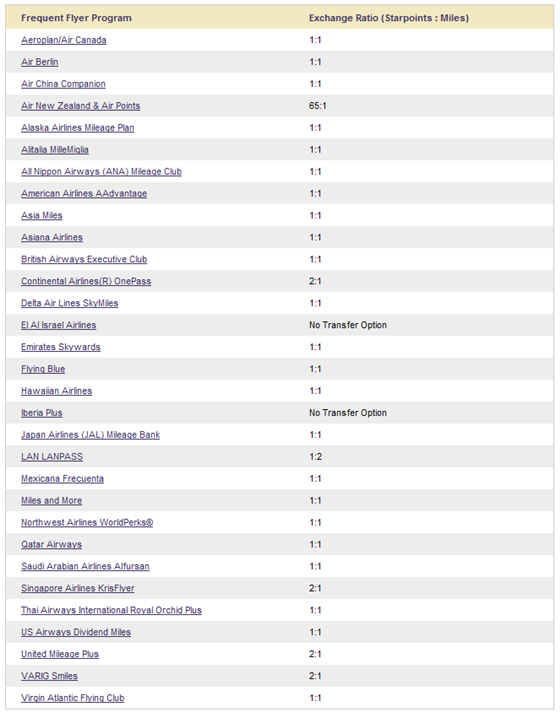 Related Posts: