We are starting a series of reviews of online shopping portals that are offered by credit card issuers. In this episode, we will be looking at Discover's online shopping portal called shopdiscover.com. What shopdiscover.com offers Discover cardholders is a chance to save money when they shop online with their merchant partners. In this review, we will look at how you actually use the portal. We will also be looking at certain statistics like how many merchant partners is participating in the portal, what rebates can you earn and more importantly, how does it compare with other credit card online shopping portals?
How to access shopdiscover.com? – To access shopdiscover.com, you would first have to log into your Discover account. Do do that, just go to www.discovercard.com.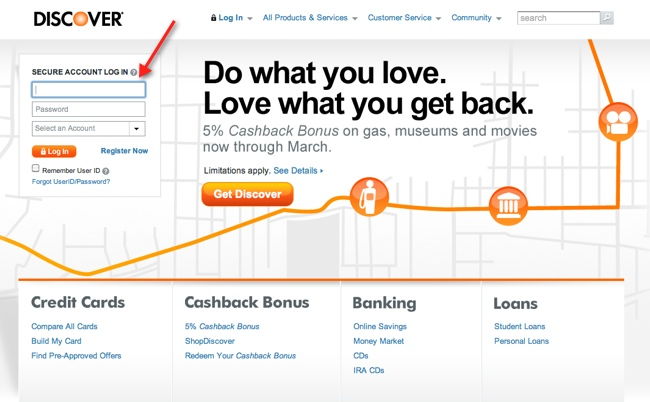 After you have logged into your account, this is how it will look like. You have a couple of ways to get to the shopdiscover site (indicated by the arrows).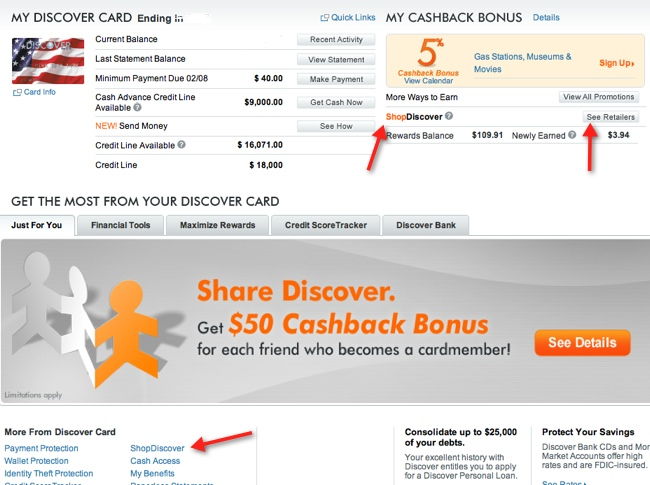 Once you get into the shopdiscover site, you can browse by retailers, travel deals etc. For demonstration purposes, I clicked on the browse retailer tab at the top navigation and it took me to the following page.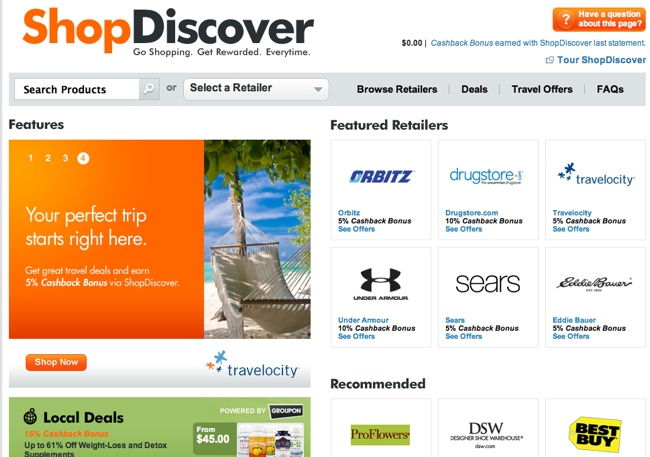 As you can see, this page list all the retailers that are on shopdiscover. You can also narrow it down by search for the level of rebate. For example, if you look at the left navigation, there is a button for 5% rebates merchants, 10% ones etc. You can also search via categories (ie type of retailers). There is also a navigation that takes you to retailers who offer free shipping.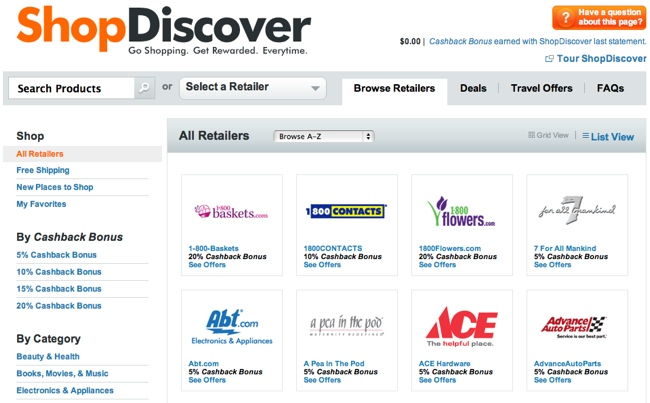 For this review, I'll pick Advanced Auto Parts as an example of a retailer that I would like to shop from. So I clicked on "Advanced Auto Parts" icon and it takes me to the terms and conditions page. For this retailer, you can get free shipping if you spend $75 or more and the free shipping applies to both your home or to a local store for pickup. You'll also see that you do not earn the 5% cash back on things like taxes etc (only on the purchase price).
But what I like about this page is that at the bottom, there are coupon codes specifically for Discover Card holders that you can use to save even more money. When you click the "start shopping button", you will be taken to the retailer's website, which would be the same as if you went to your browser directly. But by going through Discover and using your Discover More Card, your purchases can be tracked and you can earn 5% rebates.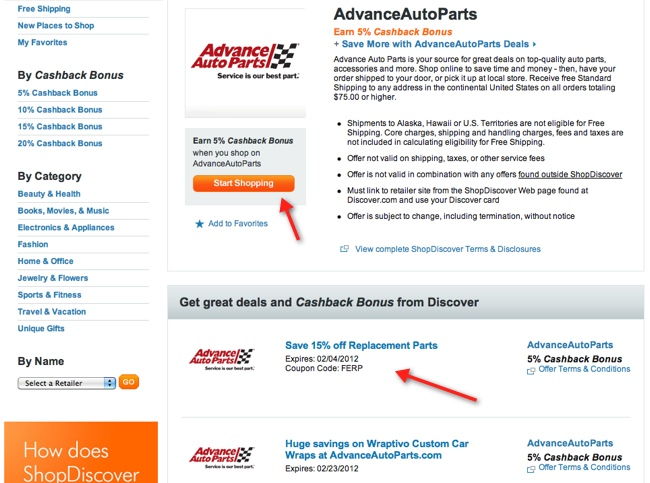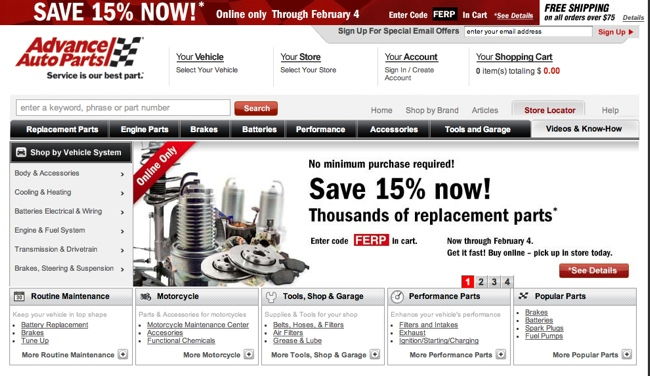 Basic Statistics – We just finished conducting a survey of online shopping portals and here are some basic stats on shopdiscover. As of January 2012, they have 207 merchant partners. Compared to other shopping portals from Chase, Citi, BOA and Capital One, Discover has the least number of merchants. But out of the 207 merchants partners that they have, 166 of them (in total) was either an exclusive merchant, had the highest rebate among all other portals or matched the highest rebate paid. That means for Discover Card holders, you can almost be assured that you will be earning the most rebates for the majority of your purchases here.
Another observation is that the minimum rebate that Discover pays is 5%. Other portals start their rebates at 1%. Hence, with Discover, you can be assured that you will earn at least 5% rebates when you shop with their partners.
In terms of type of partners, ShopDiscover probably has the best relationship with mainstream fortune 500 retailers. Hence if you shop at apple.com, GAP.com, Walmart.com etc, you will be getting the best rebates with Discover compared to other portals. The reason why other portals may have more merchant partners is because most of them are boutique online stores that are not really "mainstream" or well known.
Verdict and Opinion – In our opinion, shopdiscover is probably the best online shopping portal among the major credit card issuers. The reason is because they pay a minimum of 5% rebates (compared to 1% for other portals). Secondly, among the partners they have, shopping with the bulk of them gets you the most rebates compared to other portals. Most of their partners are mainstream fortune 500 type retailers and so consumers will be very familiar with them.
The only quibble I have with the program is that their competitors have more merchant partners. But that is probably due to the face that Discover insists on paying their cardholders at least 5% rebates and potential partners might actually balk at supporting that payout structure (I suspect that is the main reason).
Otherwise, shopdiscover gets Ask Mr Credit Card's shopping portal of the year award.
Cards that have shopdisover ShopDiscover is available on Discover More Card, Discover OpenRoad Card and the Discover More Student Card.
Related Posts: