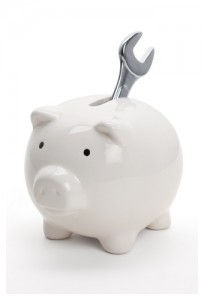 We tend to think of credit cards as a tool to bust our personal budgets. After all, it's tempting to use plastic to that fast-food lunch or morning coffee even when we don't have any cash on hand. And those kind of discretionary purchases are a sure way to ruin even the most meticulous personal budget.
But it's possible, too, to rely on credit cards to keep your spending on track. Several of the major credit card issuers — companies such as Discover, Chase and American Express — offer their own online budgeting tools. Members can access these tools, at no cost, to manage their own personal or family budgets.
These tools are usually easy to use. And because they are free, they remain some of the best credit card perks that many consumers have never heard of.
Discover's Spend Analyzer Tool
Discover has a few of the highest rated rewards credit cards for 2011 in the industry, notably the Discover More card. Discover Card members can access the company's online Spend Analyzer Tool. This online service helps customers track how they're spending their money, how many purchases they've made with their Discover card in any given month and whether they're overspending at grocery stores, gas stations, fast-food restaurants or any other type of retailer.
The site comes with a pie chart that shows you visually how much you've spent in such financial categories as supermarkets, medical services, gasoline, restaurants and retailers. There's also a bar graph showing how much you charged during a given month. By holding the mouse over one of the months, you can instantly see how much you've spent in that month, the largest transaction you charged during it, the average transaction size and the total number of Discover card transactions that you made in those 30 or 31 days.
Finally, the site comes with a transactions list that shows your individual Discover Card transactions for the month.
Citi Forward Spend Tracker
It's not nearly as comprehensive as the budgeting tool that Discover offers, but the Citi Forward Card Spend Tracker does have its uses. This online tool allows you to track your spending in as many as five categories that you input into the system. The neatest part? It shows you how your spending habits compare to consumers in a similar age bracket and income level.
On the down side? This tool doesn't link to your credit card account. You'll have to input your best estimates for how much you spend in each category every month.
Mint.com
Mint.com isn't affiliated with any one credit card company. Instead, it allows you to track your spending across all of your credit cards and bank accounts. The biggest challenge with this tool is that it can take some time and effort to link your credit card and bank accounts to the online site. This is especially true if you have numerous accounts.
But once your accounts are linked, Mint.com proves to be a powerful budgeting tool. Not only does the site automatically track your spending, it will also send you e-mail warnings if your accounts are getting low. And if a payment due date is nearing, Mint.com will remind you of this, too.
Best of all, Mint.com is free.
American Express Money Manager
It's no surprise that American Express, one of the industry's credit giants, offers its own free online budgeting tool, too. Like the service offered by Mint.com, the American Express Money Manager program links to all of your accounts. When you access your personal Money Manager site, you'll be able to view the balances in your bank accounts, on your credit cards and in your investment vehicles. The site also tracks the number of rewards points that you've earned from your various credit cards.
You an also use the site to track how you're spending your money. You might find, for instance, that in one month alone you withdrew $2,000 from ATMs. By seeing clearly on the screen where you're spending the most, you might be receiving the inspiration you need to change your negative spending habits.
Chase Blueprint
Chase's Blueprint, the financial institution's free online financial management program, not only allows you to view your monthly spending patterns, it assists you in paying off your debt. You simply enter either a date by which you want to eliminate a certain debt, and Blueprint will tell you how much you'll have to spend each month to hit your target date. You can also tell Blueprint how much you want to pay each month to cut down on a specific date. The program will then tell you exactly when that particular debt will disappear.
Related Posts: