The WorldPoints reward program was originally MBNA's, until they got taken over by Bank of America. Like most other credit card reward programs, the WorldPoints program allows credit card holders to earn points and then exchange them for rewards like travel rewards, merchandise and gift cards. We will now look at each of these component rewards.
Travel Rewards
There are two ways to redeem airline rewards for the WorldPoints program. The first way is to exchange a fixed set of points for a particular destination. Below is a table that highlights the point requirements (you cannot get this information on WorldPoints site without having a card and being able to log in).
| | |
| --- | --- |
| 25,000 Pts | Continental US (roundtrip) – up to $400 |
| 35,000 pts | Canada, Mexico, Panama – up to $600 |
| 45,000 pts | Alaska, Hawaii, Caribbean, Bermuda, Bahamas – up to $600 |
| 60,000 pts | Europe – up to $800 |
| 85,000 pts | International – up to $1150 |
| – | 100,000 additional pts for First Class Upgrade |
WorldPoints also has another program called the Flex Air where you can book your own flights (through WorldPoints) and use points for your purchase (100 points for $1). This is slightly more flexible than the above method where you are subject to the availability of WorldPoints "in house" travel agents.
Restrictions – Though there are "no blackout dates", there are a couple of restrictions for the WorldPoints program. Air travel reservations must be made at least 21 days in advance and include a Saturday night stay. Car rental and hotel reservations must be made at least 7 days in advance.
The number to call for reservations is 1.800.433.5662 and select option 2, 24 hours a day, 7 days a week. You can also redeem points online.
Merchandise
Like other credit card reward programs, WorldPoints also allow you to redeem points for merchandise rewards. Brand names include Sony® and Bose® electronics, KitchenAid® appliances, Callaway®, Ping®, and Taylor Made® golf equipment, Waterford® crystal, Nikon® cameras, Coach® and Dooney & Burke® purses, Black and Decker® tools. Your orders will be shipped within 48 hours of the orders being processes and with free standard shipping.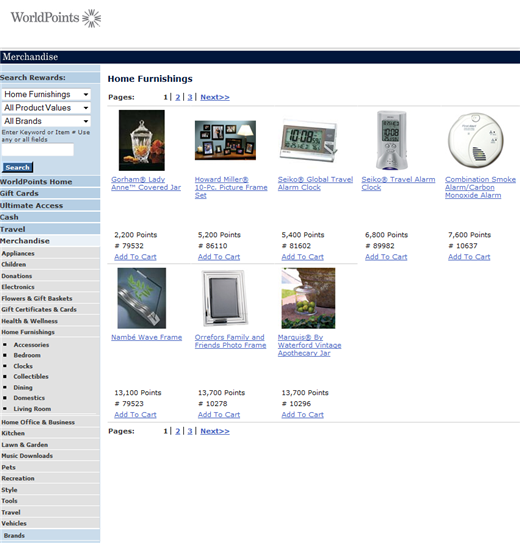 Gift Cards and Certificates
WorldPoints also allow you to redeem points for gift cards. Their merchant partners include retailers such as J. Crew, Pottery Barn, Pottery Barn for Kids, Eddie Bauer, T.G.I. Fridays, The Sharper Image, Barnes and Noble. You need 3,250 points to redeem for a $25 gift card (12,500 for a $100 gift card). This does not compare well with other programs like the American Express Membership Rewards which requires 2,500 points for a $25 gift card, 5,000 points for a $50 gift card and 10,000 points for a $100 gift card.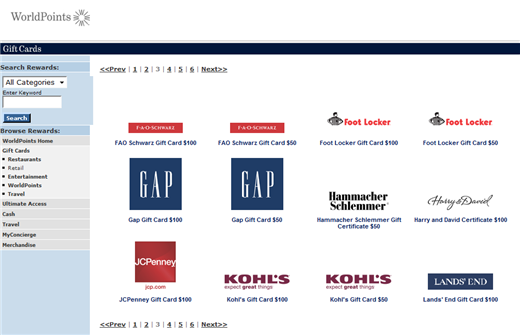 Cash Rebates
You can also redeem points for cash. But I would advice against it because you would get less than 1% cash back (2,500 points for $12.50!). It is only when you get to 25,000 points that the rebate percentage becomes 1%.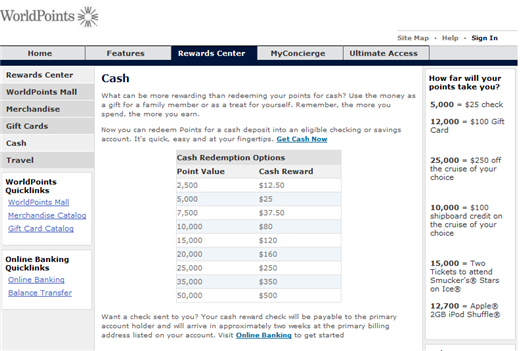 Charity
WorldPoints charity partners include Brighter Planet, Make-A-Wish, Make a Charity Choicer (which has over 100 charities), Ducks Unlimited, The Humane Society, Juinior Achievement, National WildLife Federation, Working Assets.
You will be redeeming points for a monetary value to be donated to charities.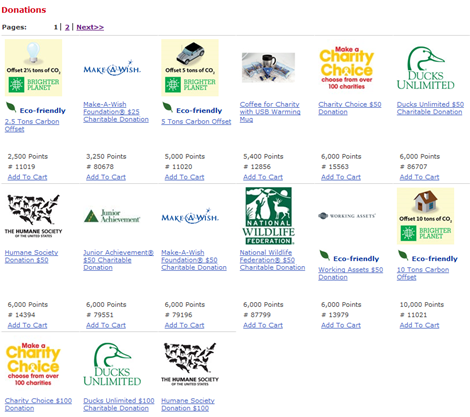 Concierge Service
MyConciergeSM offers many customized services including: dining arrangements and reservations, gifts and personal shopping, your ticket source for sporting events, concerts and shows, unique transportation, and more. They can also arrange access to sporting events, concerts, theater tickets, and other activities of interest. MyConciergeSM also has access to this year's hot events including: Cirque de Soleil's "O" in Las Vegas and The Producers in Los Angeles. I personally have not used this service so I can't say for sure if their service is good or not.
Ultimate Access
Ultimate Access is a category of rewards that is supposed to be very exclusive. They include tickets to high profile events, exclusive memorabilia, and tours. (see screen shots below).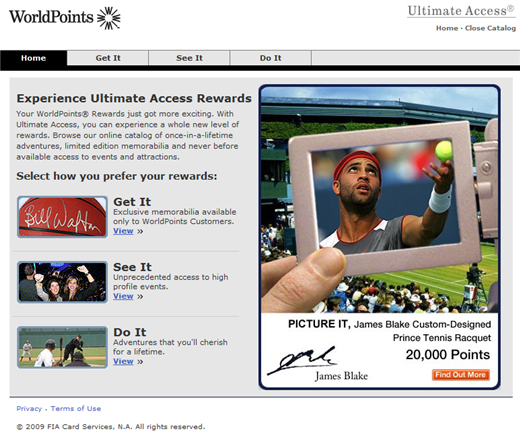 How does WorldPoints Compare to Other Reward Programs?
The way I'm going to look at this is actually to breakdown the different rewards.
Travel – I would say that their travel rewards is pretty typical for most reward programs. You can redeem an airline flight for a fixed amount of points. But you have to use their "in-house" agent and the disadvantage of that is that you may not get the flight that you want. The advantage is that the number of points required may make this option worthwhile. You can also book your own trip (but through worldpoints) with any flights or hotels that you want and use points to redeem or pay for them. In this respect, I like the flexibility of their travel rewards. This system will suit those who
Do not travel frequently but would like to use their points for airline travel once in a while
Are flexible enough to accept WorldPoints flight availability
There are other types of travel rewards to consider as well. For example, if you are the sort of person that does heck of a lot of research and like to get the best bargain, then this reward system may not suit you. A better alternative may be the Discover Miles Card whereby you can book any flights, hotels you want from anywhere and you can get rebates from your points.
If you are a frequent flier with one particular airline, then you are probably better getting a dedicated airline credit card. But if you are are a frequent flier member of several airlines, then you are probably better off than getting a card with a reward program that allows you to transfer points to different airlines. The two better programs are the starwood preferred guest program and the American Express Membership Rewards program.
Merchandise Rewards
If you are looking for merchandise rewards, then I would say that the WorldPoints program is pretty good. It is actually very hard to compare apples to apples in this category because there items are constantly being updated. The only thing that you can realistically look at is the breathe of products and the points required to redeem them (to make sure they are reasonable). However, bear in mind that if you redeem your points for merchandise, the value you get from using your points is less than 1% in most cases, so there is a case to be made for not using points to redeem for merchandise.
Gift Cards
The gift card rewards from MBNA falls short in a few ways. Firstly, they do not have as much partners as say the Membership Rewards and the Discover Card. What I do not like is the fact that you need for points than other programs to redeem for a certain value of gift cards. For example, with the Membership Rewards, you need 5,000 points for a $50 gift card. With the WorldPoints, you need 6,500 points!. If you are a gift card person, then the card that you should consider is the Discover Card. Discover card let's you earn cash rebates and you can exchange your rebates for a higher value if you exchange them for gift cards (double the value for certain merchants).
Ultimate Acess – It's really difficult to judge this one as it is all a matter of taste and preferences. But it is a great feature to have and to know that the folks at WorldPoints are always coming up with novel rewards.
Verdict – I would say that overall, the WorldPoints reward program is a pretty good and decent program. It could be better, but it is generally comprehensive. If you are not picky about rewards, this will be a good program to get.
But if you are interested in travel rewards, you must figure out your preferences in redeeming travel rewards and choose the appropriate program to be in. The WorldPoints may or may not fit the bill. If you are a gift card rewards junkie, then the Discover More Card is probably the card to get.
Personally, I still prefer my American Express Membership Rewards program.
Important Fine Prints – There are a couple of things that you have to take not of. Firstly, WorldPoints Reward Points are valid for 5 years. So make sure you use them within that period. If you are not a disciplined person, this is one factor to consider. Secondly, Bank of America has recently changed their definition of "foreign currency transaction fee". It used to be that you were charged a 3% for processing any transactions that was done in a foreign currency. But now, if you charge a US Dollar transaction that was processed by a foreign merchant, you will be hit with a 3% fee (3% as a percentage of the transaction amount converted back into USD). This could become a problem if you an airline ticket to Europe with a European Airline and if the transaction was "processed" overseas (these are things that you can never find out in advance), you may be charged that 3%.
Related Posts: