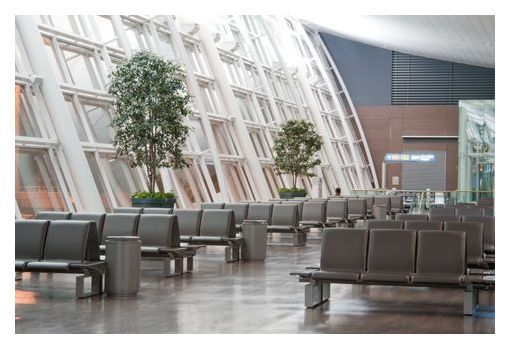 One of the big perks being offered by credit cards is lounge memberships. The Delta Reserve card has their SkyClub access included. The Amex Platinum card has access to American, US Airways, and Delta lounges. Many cards have the Priority Pass membership which is mostly just a discount.
While these offers are tempting, the truth is that I have only been to a handful of business lounges. I have never paid for access and I don't have a credit card that gets me in. At the same time, I can only think of one time that I wanted access but didn't have it. Here is why:
I Am Not A Road Warrior. There are two types of frequent travelers, those who do so regularly for a living, and those who travel often for pleasure. I am part of the latter. I will take about 10 trips a year, some of them with multiple en-route destinations. Therefore, I consider myself a frequent flier, but I am not flying week in and week out. Those road warriors will often find themselves looking for a place to work in an airport. I am more likely to find myself looking at airplanes or trying to find some decent food.
I Live In A Hub City. Actually, my local airport is home to three airline hubs, United, Southwest, and Frontier. This means that I will almost never take a domestic flight where I have to change planes somewhere. Since it is pointless to visit a lounge after you arrive, the only reason I would need to get into a lounge is if I get to the airport early.
I Don't Get To The Airport Early. My house is 20 minutes drive from Denver International Airport. I check the flight online before I leave to make sure there are no delays. I then leave about one and half  to two hours early, depending on if I am checking a bag. If I arrive at the gate with enough time to visit a lounge, I have seriously misjudged my departure. The only reason I would then wish to visit a lounge is if a serious delay has occurred in the hour and a half since I left home.
When Flying Internationally, I Am Usually In Business Or First Class.One of the nice things about being a reward card guru is that I always have en0ugh miles to travel in business or first class when I take an international trip once or twice a year. On those occasions, I will usually have to change planes as Denver is really not an international gateway yet, despite the airport's aspirational title. (Come to think of it, every airport that has a single flight to Toronto calls itself an "International Airport", but I digress.) When flying internationally on a premium ticket, I do get access to the coveted lounges.
I Time My Connections Well. On the rare occasions that I do have a layover, I try to time the connection between one and two hours. In these cases, there is rarely the opportunity to visit the lounge anyways.
I Like To Leave The Airport. If my connection is more than a few hours, I will often leave the airport in search of adventure rather than kill time in a business lounge. The last time I did this was in Frankfurt, where I got to stroll around the city for a few hours.
I Like To Eat A Good Meal. If my connection is long enough to visit a lounge, it is long enough to eat a decent meal. While you might get some snacks in a lounge, nothing beats a good meal, especially if there are local specialties available.
I Fly Southwest And Frontier. Yes, United has lounges, but the I avoid that airline like a bad disease.  For domestic travel, I like Southwest, and to a lesser extent, Frontier, neither of which operates lounges.
There Are Few Lounges In Denver. United and American operate lounges. Oddly, British Airways does too, despite their single flight in and out of Denver. In contrast, Delta offers dozens of flights to all their hubs, but they haven't seen fit to open a lounge in Denver. Even if I did fly Delta more than occasionally, I would have no use for their lounge pass when departing home.
Most Lounges Simply Aren't That Great. The majority of the lounges that I have visited are little better than the gate side waiting area. Some offer free soda or a little stale snack that was put out last year. The best amenity is a shower. Other lounges I have visited were crowded, had no wifi, and were a very far trek from my gate. There are exceptions, but rarely are they as nicely appointed as the lobby of a mid-priced hotel.
The One Time I Wish I Had Lounge Access
It was the rare occasion that I was flying internationally on a coach award. My flight out of Atlanta was cancelled, and their was an excruciatingly slow line to to get "accommodated" on another flight.  At the same time, a reservations agent was twiddling her thumbs just a few feet away in an airport lounge. To make a long story short, even if I had gotten to the lounge, it wouldn't have helped me, but at least I would have saved a few minutes waiting in line. There, that was my sad story about being deprived of an airline lounge. If that is the worst that thing that ever happens to me, it is unlikely that I will spend an extra dime to gain a membership that I will probably never use.
If you enjoyed this post you may also like:
Related Posts: