I recently got this email from a reader.
I'm planning on ing a diamond for my fiance soon. I plan on going through a chain jewelry store, putting the balance on one of their cards, and then transferring the balance onto a credit card after a year. Which credit card do you think would be best for a transaction of this type?
Thank you.

Mr Peter Field
I replied to him to ask for more details.
which store do you intend to your diamond ring from? and what is your fico score?
Here is his answer:
Thinking of going to Zales jewlers. They offer a card the has 0% interest for the first year, but then goes up to 26% interest after the first year is over. My plan is to transfer the balance over to a balance transfer card. My current credit score is in the low 700's.
Answer – Peter – first thing you have to be aware of is that Zales credit card may be dropped by Citi (because it is not really profitable for them) and you may not be able to get one. But here is my suggestion. Get the Discover® More® Card – $50 Cashback Bonus® instead. Here's why.
Discover has a shopping portal called shopdiscover.com, with over 100 merchants. When you log in to your Discover account, you can go to any of these online merchant partners and get between 5% and 20% in cash rebates (which is like getting a discount). Zales is one of their partners and it gives you a 5% rebate. Below are some screen shots I have taken.

Clicking on the Zales icon will take you to the page which shows the fine prints.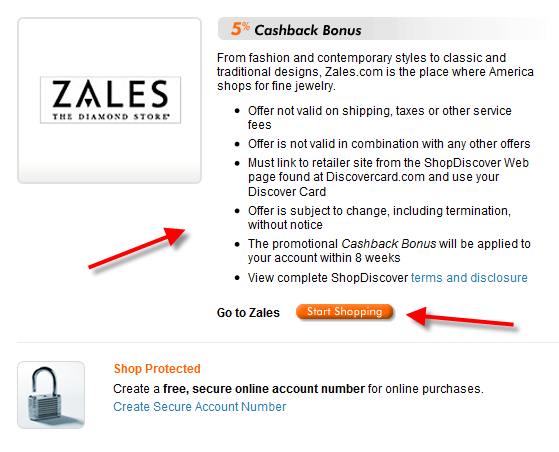 Clicking on the start shopping button will take you to zales.com where any purchase you make with a Discover Card will be tracked and you can get your 5% rebate. Discover also offers a 0% Introductory APR* on purchases for six months. You can also earn $50 in cash back bonus if you spend $599 within the first three months (which you will). If you can pay off your engagement ring within 6 months. that's great. If not, you can transfer your balance to another card.
You might also want to check out other online sites. I just did a writeup on how you can get rebates at ice.com.
And by the way – Congratulations in advance.
Related Posts: