The Wall Street Journal has just publish a post saying that Delta, US Airways and TPG are exploring options to buy AMR Corp – the parent of American Airlines. TPG is the private equity firm that had a stake in America West before they were bought out by US Airways. According the Wall Street Journal, Delta has hired Blackstone to explore the opportunity to buy Delta. Given that American Airlines is not the biggest player and did not go through any bankruptcy like the other airlines in the last few year to get rid of legacy cost, this development should not come as a surprise. What is more interesting if how would their combined hubs look like should a merger happen? What would happen to their frequent flier programs? In this post, I will try to piece a few information together and take a stab at this.
Hubs – First let us take a look at the hubs of Delta, US Airways and American Airlines.
For Delta, their hubs include Minneapolis St Paul, New York, Detroit, Memphis, Atlanta, Mexico City, and Salt Lake City.
American Airlines hub include New York, Chicago, Dallas/Fort Worth, Miami, Los Angeles.
US Airways hubs include Charlotte, Philadelphia and Phoenix.
So as far as domestic hubs go, only New York would be overlapping hub if Delta bought AMR.
On International routes, Delta officially has "more hubs" (in Amsterdam, Paris, Rome, Prague, Tokyo and Seoul). Though American Airlines has international flights, it does not consider itself to have any hubs.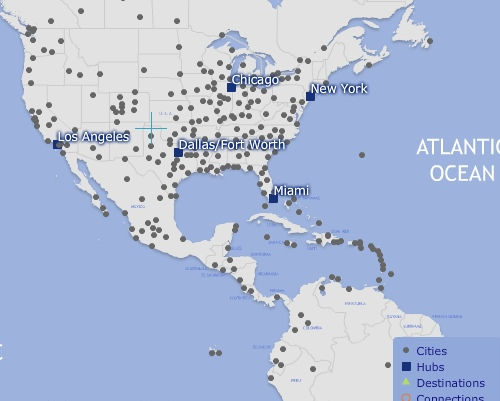 How Will New Frequent Flier Program Work? – Whenever an airline merges, their frequent flier programs will eventually merge as well. And existing members will always be left wondering which program will the combined entity more resemble like. Let us now take a quick look at the Delta Skymiles, Dividend Miles and American Airlines AAdvantage miles program.
The first feature we will have to look at is the elite level qualification levels. At present, skymiles has four levels while AAdvantage has three levels. For Delta Skymiles, the levels are silver (20,000 MQMs required), gold (50,000) and Platinum (75,000) and Diamond (125,000). AAdvantage levels are Gold (25,000), Platinum (50,000) and Executive (100,000). Since the first two levels are identical in terms of miles required, one issue will be how will the upper tier evolve. US Airways, like Delta, has four tiers in their elite program: Silver (25,000), Gold (50,000), Platinum (75,000) and Chairman (100,000).
If AMR is bought by either Delta or US Airways, then there is a good chance that AAdvantage members will now be facing four elite tiers.
Million Miler Benefits – Another issue is their million miler club awards as there are some differences. In my opinion, AAdvantage ha a much better million miler benefits than Skymiles. Here is how the skymiles million miler club works. If you get a million miles, you will get an annual complimentary Silver Elite level. When you reach two million miles, you will get an annual complementary gold membership. When you reach four million miles, you will get an annual Platinum Medallion Status. Previously, the language that Delta site says you get lifetime status when you reach the million mile milestone. And folks still get to keep their status after a year. But with the new language, there is always a fear that it could be yanked away before you know it.
US Airways has the worst million miler benefit among these three airlines. Those who reach a million miles will get lifetime Silver award as long as their account is active within three years (ie you earn miles with them, credit cards or partner airlines).
In contrast, AAdvantages' language on their page has always been that their million milers are given their million miler "lifetime" Gold Status and 35,000 bonus miles. When you reach two million miles, you get lifetime Platinum status and four one-way system wide upgrades. One each additional million miles you earn you will get four one-way system wide upgrades.
American Airlines million milers will not be happy if there would be any changes made to their million miler benefits. But I guess they would be happier with a Delta takeover than a US Airways takeover (especially those who are well on their way to earning two million miles or more).
Award Charts – When we compare the two award charts, it is clear that AA requires fewer points than Delta to similar destinations. After Delta merged with NorthWest (more like they tookover NorthWest), the new Skymiles used the then Delta Award Charts rather than NorthWest charts. It left many Worldperks members fuming because of Delta's three tier award system. US Airways has the worst award chart among the three.
I suspect that American fliers would rather merge with Delta if they are going to lose their award system.
Delta's Award Booking System – Delta's award booking system has been broken forever and many workaround have been documented around the web. If there is a merger between Delta and AMR, then perhaps Delta might just used the AA system as it works and it is easy to book flights on partner airlines.
What happens To Their Credit Cards – As with all airline mergers, there are always opportunities in credit card sign up bonuses. AAdvantage credit cards are issued by Citi while Delta credit cards are issued by American Express. And both these issuers couldn't be more different in terms of how lenient they are to frequent flier card churners. American Express keeps pretty good records about their customer sign ups and you generally cannot sign up for a card, get the sign up bonus, cancel the card and then apply months later for another round.
US Airways has their credit card issued by Barclays. Previously, it was Bank of America who issued them. As I've never had a Barclays card, I'm not too familiar with their credit card policies with regards to folks who churn their cards for miles.
Citi, on the other hand, has been much more lenient. They also offer more "targeted sign up bonuses". There are many folks who have simply been churning Citi AAdvantage credit cards every year. To make things even more interesting, they have a Visa, and Amex, Gold and Platinum version as well as a business version.
If AMR Corp is sold to either Delta or US Airways, chances are that either American Express or US Airways gets to keep their credit card business. And that would spell the end of the Citi churning game.
Ending Thoughts – When American filed for bankruptcy in November, the common assumption was that they are likely to be able to shed and revamp their cost structure and emerge a more competitive company. There is always a risk (though small) that they might be liquidated. Another possibility is that they might be taken over. Regardless, if you have lots of AA miles, use it. Because if they were to be taken over (if we assume Delta or US Airways), their value will erode (miles always devalue and more so in AA's case). Here's a video below on AMR filing for chapter 11.
Related Posts: