Credit Sesame is a new type of personal finance web site that I have not yet encountered.     The closest analogy I have found is a loyalty point tracking site like Award Wallet.  With a service like Award Wallet, you can enter your account information directly into a single site, and that site will then automatically pull data from each company.    You can think of Credit Sesame like Award Wallet, just using accounts with real money as opposed to loyalty points.
Much More Than A Tracker
While a loyalty point tracking site is useful, Credit Sesame is designed to provide far more functionality.   Once you have set up your profile and entered your account information, Credit Sesame will pull your credit score, analyze your financial position, and even offer products and services to improve your finances.    It can even do things like look up your home value and your debt to income ratio.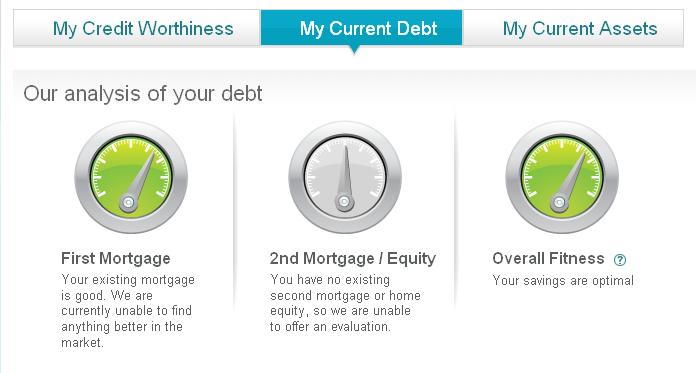 How Did It Work For Me?
I signed up and found that the information input to be very easy.   You have the option of giving them your social security number and account information or manually entering your loan and payment data.    When you have finished, Credit Sesame quickly goes to work populating the remaining data from your account information, generating charts, and producing new advice.
My regular readers know that I am someone who has very little debt.   There is my house, and that's it.   My cars are paid for, and my credit card bills are paid in full every month.    Simply put, I am probably not the target market for a product like Credit Sesame that is geared towards helping people manage their debt.    Nevertheless, Credit Sesame can produce advice on my mortgage as well as offer me new products.
To gain a more thorough understanding of the site, I set about to manually enter some more debts that are typical of the average American.  I was easily able to enter automobile loans, student loans, and credit card payments.  Credit Sesame was then able to offer me various proposals for refinancing my (imaginary) debts.
What Else Is Out There?
Credit Sesame offers "What If" modeling.    Say you are trying to raise your credit score.   With What If modeling, you can find out how a higher credit score would effect your various offers.     Another idea would be to change your income level and see how that changes what offers you might be qualified for.   I can easily imagine a family using this tool to consider if it is worth it for one person get a second job, or to have a second wage earner go to work.   You could also look at this the other way around.   What if someone wants to stop working and go to school.   How would the income loss effect their family's current financial situation.   No matter what you are thinking of doing, it seems that there is a way in Credit Sesame to take that into account and project into the future how your financial situation would change.   Think of it like a giant Excel spreadsheet.   You can change one or more variables and allow the consequences to filter through to your entire financial picture.
You can also set up alerts to let you know when something in your financial picture changes, such as your credit score, your credit usage percentage, and your equity percentage.   In this capacity, it behaves kind of like a credit monitoring tool, but with much more granularity with respect to the user's ability to choose precisely which metrics he or she wishes to be notified regarding.
Who Is This Tool For
With the majority of American households carrying some form of credit card debt, this tool has a broad application.   It is not uncommon for people to have several credit card, automobile, and student loans at the same time.   I can only imagine how difficulty it must be to track it all and make sense of it without a tool like this.     The more sources of debt you have, the more a tool like this can assist you in managing your finances.   Beyond that, this tool can alert you to offers that may be able to help you reduce your payments or retire your debt more quickly.
It is not magic, nor does it claim to be.   There are no promises to make your debt disappear.   Instead, you can think of it as having a CFO in charge of your personal corporation.   Credit Sesame is in charge of presenting all the facts and figures to you, the CEO in an easy to digest format.    Then, this service will present opportunities to you for your consideration.   For millions of Americans who come home every day to a mountain of bills and statements, this could be the single most important financial website they log into.
Related Posts: