We continue our series of PHR reviews with Vitalkey today. VitalKey is another provider of PHR solutions. It is a service that provides up-to-date medical records for you and gives you a USB that can be attached to your keychain which doctors can use to access your medical records in the event of an emergency. Here's a closer look at this service.
Here is how it works – When you enroll for a VitalKey service, a medical specialist will talk to you about your medical records. He or she will essentially help you to organize them. They will first get information about things like your insurance contact number, your emergency contact number, your physicians' contact number and details. He or she will then contact your doctors to get the information. Your records will be reviewed and organized in a simple to understand format.
Information that is recorded include:
Allergies
Medical conditions
Medications
Immunizations
Medical imaging reports
Lab reports
Past medical procedures
Emergency contacts
Family medical history
Insurance information
Medical directives
Making sure your records are up-to-date – There are a couple of ways VitalKey makes sure your records are up to date. Firstly, your Doctor will be provided with a tool on your computer so that your medical records can be updated on VitalKey with just the push of a button. Secondly, you will be called periodically by your VitalKey medical specialist to make sure your records are up to date.
USB Drive – All members of VitalKey are given a small USB drive to carry with them (most likely in a keychain) where doctors can retrieve your records in the event of an emergency.
Fees and Subscription Plans – VitalKey comes in a variety of plans. There are plans for singles, couples, kids and a family plan. They also have plan to breast cancer survivors called "Pink Key". Below is a screen shot of their fees.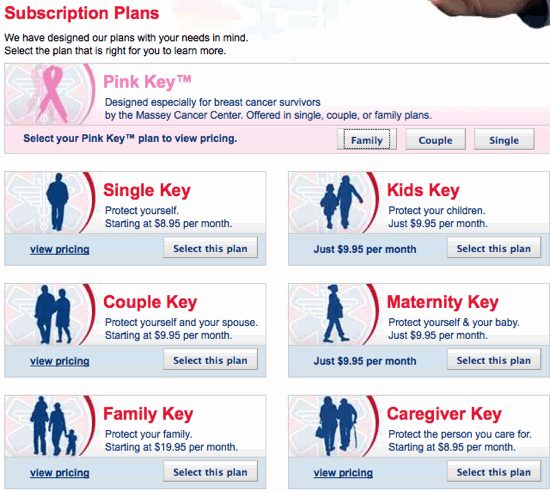 Verdict – Like other PHR, VitalKey provides a pretty good service for those who feel the need to have their medical records with them (especially adventure travelers). Their subscription plan has fees that are typical of other similar services. The thing I like about this service is that you do not need to pay extra for the USB key that carries your information. They are not the cheapest but neither are they the most expensive. This is a service you would want to put on your comparison list.
Related Posts: