Prelude – I did a credit card survey among personal finance bloggers a while back and found out that many of them rate this card pretty highly. Furthermore, I just got an email from a reader requesting a review of this card. Here is the email
How about a review of USAA credit cards. I realize not everyone could get one,
but for those who can get one might find your website helpful, especially if
they did not know they could get one.
Andrew Genovese
So with that out of the way, let's look at this card in greater detail.
Introduction – The USAA credit card is only available to
Active-duty officers and enlisted personnel.
Children whose eligible parents have or had a USAA auto or property insurance product
National Guard and Selected Reserve officers and enlisted personnel.
Officer candidates in commissioning programs (Academy, ROTC, OCS/OTS)
Former military personnel
The USAA credit card has a cash back version and a rewards version. Furthermore, they have a MasterCard version and an American Express Version. The Mastercard and Amex version are essentially identical. What we'll look at is the cash back and reward version.
Cash Rebate Formula – Let's start by looking at the cash back card and it's rebate formula. Turns out it has a tiered system. For the first $2,000 in spending, you will earn 0.35%, for the next $2,000 in spending, you get 0.75% rebates, for the next $11,000 the rebate is 1%. When your spending is over $15,000, the rebate is 1.25%. Rebate checks will be automatically debited or sent to your address every January.

Total Rewards – Rather than choosing cash rebates, you can also choose to earn reward points instead. You can earn one point for every dollar that you spend on the card. You can redeem points for a variety of rewards like airline tickets, merchandise and gift cards.
But how good are the rewards? – That is ultimately what will determine whether this will make a good reward card. Let's look at the different components.
Airline Travel – The USAA rewards program allows you to exchange points for the value of the airline ticket that you . There are some pros and cons to their method. Firstly you have to book the tickets through their partner agent Traveler's Advantage Services (the "Airline Rewards"). They reserve the right to exclude an airline for safety or quality purposes. They also do not guaranty the availability of any flight, airline, or seat. Tickets may be booked online at usaa.com or by calling (800) 980-8722.
The good thing about the program is that tickets can be First Class, Business, or Coach, with no restrictions on dates, times, or seating. They can also be one-way, multi-leg, or round-trip in and out of any airports serviced by the airlines included in the Program. The other plus point is that Reward Value includes any taxes, destination fees, September 11th Security Fee, and any airline-imposed surcharges.
If the cost of the airline ticket is less than the Reward Value for the amount of Points redeemed, USAA will credit one of your USAA Total Rewards Accounts for the difference.
If the cost of the airline ticket is more than the Reward Value for the amount of Points you want to redeem, you will have the option of paying the difference with one of your USAA Total Rewards Cards or other card we accept or choosing another flight within the Reward Value.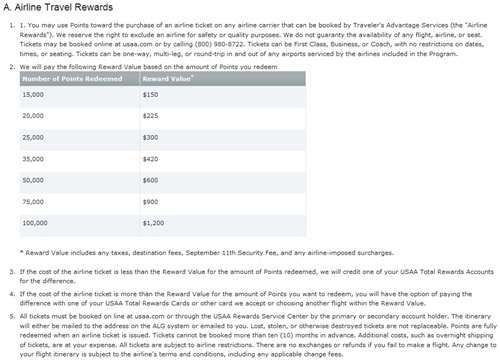 Gift Cards – You can also use points to redeem for gift cards. The number of points required are listed in their program catalog (see below). Their partners are the usual suspects found in most other programs.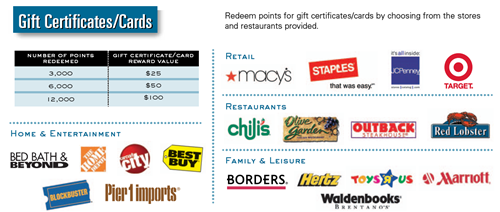 Merchandise – Their website has a "sample catalog" which is where I got all the information for the review. Because it is just a sample, I can't say for sure how great their selection is.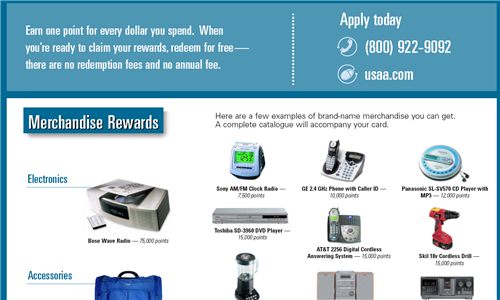 Charity – You can use your points and donate to Habitat for Humanity.
Cash Rebates – You can also exchange your points for cash. But you need to use 10,000 points before you can even get an equivalent of 1%.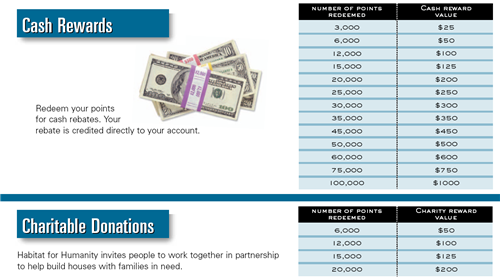 Fees and Rates – There is no annual fee for the USAA card. The APR is varies but could as low as 7.75%.
My Verdict – Here are my thoughts as far as the reward version goes. There are some good things about their travel rewards. Firstly, the points required for the value of the ticket gets more favorable as the ticket prices go up. Sales taxes etc are counted and you can use your reward points for those. You will also be credited if you do not need as many points.
However, this system requires that you book with their own travel agent. Hence, though a flight may be available elsewhere, it may not be available with them. Using this system also means they may or may not have the best price and it means you really cannot shop around for the best deal. If this is important to you, then the Discover Miles Card is a much better alternative.
Because they only show a sample of their merchandise and gift card rewards on the website, I cannot really say how good it is. I suspect though that the American Express Membership Rewards would have a much wider selection of merchandise and that you are also better off with a Discover Card if you are interested in gift card rewards.
If I look at the big picture, I would say that at best, this is a pretty average reward card just strictly looking at the rewards. But folks who love this card always sight their great customer service.
As far as the cash back version goes, I do not recommend it. The rebate formula is nothing to shout about. In fact it is a tiered system where you rebate increases as your annual spending increases. There are much better cash back credit cards out there and I would give this card a miss. To find the best cash rebate card for yourself, you can fill your spending in the table below and it will show you the best card for you based on your spending.
To sum up, strictly on a reward basis, I would say that the USAA credit card is at best an average card. However, given how major issuers like Chase and Bank of America have pissed off their customers by cutting credit lines, jacking rates to ridiculous levels, those who are eligible for this card should at least consider it. I personally do not have this card and so cannot comment on their service and what level of credit you need to get approved. If you have this card, we would appreciate your feedback and comments (especially on the credit score you need to get this card and their travel reward features).
Enter your approximate monthly spending into the calculator below to see how much you can earn per month if you're using the USAA Credit Card versus other cards!
Related Posts: