Summary – The University of Alabama Credit Card is a card for students from Alabama University and its Alumni members. The card allows you to earn reward points and also donates a portion of the amount of money you have spent to the University. Let's find out more about this card.
Rewards and Donation – With this card, you can earn one reward point for every dollar that you spend on the card. The reward program is based on Bank of America's WorldPoints program. The reward points are good for five years. Also, a portion of every dollar that you spend on the card goes to the University of Alabama. BOA will not disclose the exact amount claiming it is an agreement between BOA and the University. Now, let us look at the WorldPoints Reward Program.
WorldPoints Rewards – Like most credit card reward programs, the World Points program has got the usual rewards.
Travel
Gift Cards
Merchandise
Cash Rewards
We'll go into a little bit more detail on the program.
Travel Rewards – The World Points Program has a few ways for you to redeem points for travel and airline tickets in particular. Firstly, you can exchange points for airline tickets. The table below shows the points required for certain destinations.
| | | |
| --- | --- | --- |
| Points | Destination | Max Ticket Value |
| 25,000 | Continental US | $400 |
| 35,000 | Mexico, Canada, Panama | $600 |
| 45,000 | Alaska, Hawaii, Caribbean, Bermuda, Bahamas | $600 |
| 60,000 | Europe | $800 |
| 85,000 | International | $1150 |
| 100,000 additional pts | First Class Upgradel | n.a. |
WorldPoints also allows you to book your own flight with anyone and use your reward points to offset your travel expenses. This feature is called "Flex Air". For every $1 that you spend, you can use 100 points.
Gift Cards – You can also decide to exchange points for gift cards. Like most reward programs, WorldPoints has partnered with familiar merchants so you can get their gift cards.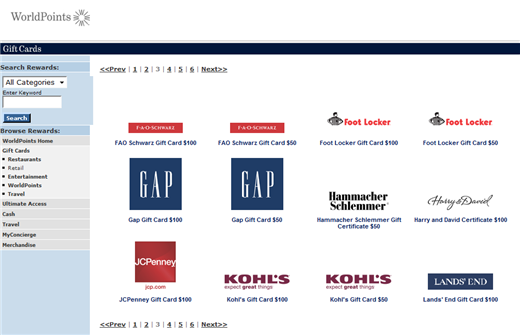 Merchandise – You can also exchange points for various merchandise. The picture below (from WorldPoints site) shows a sample of goodies.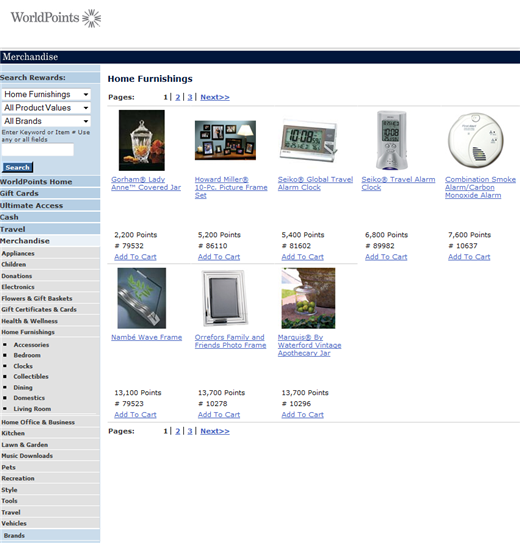 Cash Rewards – WorldPoints also allow you to exchange points for cash rebates. However, the rebate percentages are not good and you are better off not exchanging your points for rebates.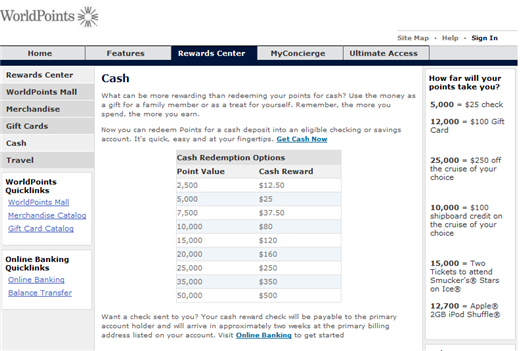 Fees and Rates – There is no annual fee for the Alabama Credit Card. New card members get a 0% introductory APR on balance transfers for 12 months. The APR is prime rate plus 4.99% to 14.99%.
Verdict – If you are a University of Alabama student or Alumni, then this will be a card to consider because a portion of every dollar that you spend goes towards your school. You can also earn points which you can exchange for rewards.
Related Posts: