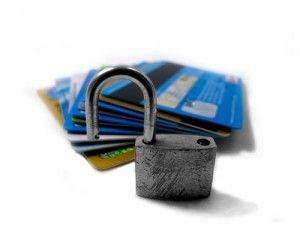 We've all been careless a time or two with our credit, but there are some mistakes that could cost you big.
Whether it's tossing your receipts into the trash, allowing a server to slip out of sight with your debit card, or using the same password for your online accounts, you're needlessly putting yourself and your credit at risk.
Ten Bad Habits That Put You At Risk for Identity Theft

1. Allowing the server to disappear with your card after a meal.
This might seem like no big deal, but it can have major repercussions. A practice known as skimming allows an employee to swipe your card number and security code completely undetected—if he's out of your line of sight.
It's not just restaurants where you need to be watchful, though. If you order things over the phone, those employees have access to your information while you're completing a transaction. As always, monitoring your accounts closely will help in the event that you're a victim of fraud.

2. Choosing not to opt out of pre-approved offers.
Thieves have a field day with the pre-approved credit card offers that come in the mail. Whether they swipe them directly from your box or rummage through your garbage, they're easy pickings for a would-be thief. There are two ways to opt out of credit card offers. You may choose to opt out for a 5-year period, or a permanent end to these offers. The FTC (Federal Trade Commission) recommends calling 1-888-5-OPT-OUT (1-888-567-8688) or visiting www.optoutprescreen.com.
3. Buying with your credit card while using public WiFi
If you're surfing at Starbucks and think you need to buy that new album on iTunes pronto, think again. A public network could spell disaster for your credit rating.
According to the Federal Trade Commission (FTC):
If you use an unsecured network to log in to an unencrypted site – or a site that uses encryption only on the sign-in page – other users on the network can see what you see and what you send. They could hijack your session and log in as you. New hacking tools – available for free online – make this easy, even for users with limited technical know-how. Your personal information, private documents, contacts, family photos, and even your login credentials could be up for grabs.
4. Using your debit card as your exclusive payment method.
When a credit card is stolen or used fraudulently, the cardholder has a maximum of $50 in liability for a lost card, and zero liability if the card is retained but the number used.
The FTC explains the difference with debit cards, stating:
If you report the loss within two business days after you realize your card is missing, you will not be responsible for more than $50 for unauthorized use. However, if you don't report the loss within two business days after you discover the loss, you could lose up to $500 because of an unauthorized transfer. You also risk unlimited loss if you fail to report an unauthorized transfer within 60 days after your bank statement containing unauthorized use is mailed to you. That means you could lose all the money in your bank account and the unused portion of your line of credit established for overdrafts.
5. Never Changing Your Passwords
Change your password often, and don't use the same one across all of your accounts. It's important that it be something long, complex, and seemingly random.US Bank recommends changing all passwords regularly, using a mix of numbers and characters. Memorize your passwords and write them down only in a secure place.
6. Tossing receipts into the trash
Receipts add up fast and create lots of clutter in your wallet or handbag, but that's no reason to chuck them into the nearest trash can. When you find that you don't need a receipt, be sure to shred it. The account information on your ATM, gas station, and sales receipts can be enough to give away your financial security. Shred what you don't need, and keep what you do need secure.
7. Not checking your credit report at least once per year.There's just no excuse for not checking your credit report at least once per year since it's become so simple. Under federal law, every consumer is entitled to a free credit report from each of the three major reporting bureaus.You may obtain your free reports by calling 1-877-322-8228 or visiting annualcreditreport.com
8. Carrying around all of your credit cards.
We all like to feel like Daddy Warbucks, with a platinum card filling every slot in our tri-folds, but it's not smart money management. If your bag or wallet gets stolen, thieves have your entire financial arsenal in their hands.Keep on your person only those cards you use regularly, and keep the rest in a secure place, such as a safe or safety deposit box. The same goes for your social security card. When in doubt, leave it out!

9. Refusing to Go Green / PaperlessJust like you don't want to have credit card offers come through the mail, paper bills can wreak havoc on your financial security. Paper bills, in addition to being bad for the Earth, are bad for your risk level. Everything from credit card statements to gas bills are available in paperless format, so get on the bandwagon!
10. Not having important information at your fingertipsIf you've got multiple credit cards and bank accounts, as many of us do these days, your best bet is to keep a list of all your relevant account information, along with customer service numbers, in a safe place. Having information right where you need it allows you to check balances, look for identity theft, and call if you find fraudulent charges without having to search. It's one less thing to stress about in a very stressful situation.It can be a scary world out there, but following these 10 tips can help you keep your eyes on your credit and your stress level low.
Related Posts: