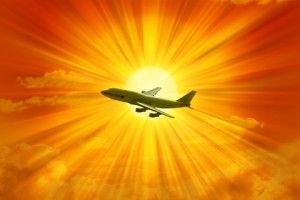 This year has been an incredible year for credit card sign up bonuses, and there are still three months left! One of the better sign up bonuses we have seen this year was the 50,000 Southwest Rapid Rewards points for their Chase credit cards. My wife and I were both fortunate enough to get one of their business cards each, and I have recommended these cards to countless other readers.
While I pride myself on knowing the ins and outs of all the different loyalty programs, I was caught by a pleasant surprise today when I checked my account. As expected, I had received the 50,000 bonus miles, but then came the surprise; there was a small graph that indicated that I was only 24,000 points away from obtaining their companion pass, one of the more valuable statuses obtainable from any airline.
What Is The Companion Pass?
Those who earn 110,000 Rapid Rewards points within a calendar year will be granted companion pass (CP) status. They can then designate any individual to travel with them, nearly for free, on any itinerary, paid or even awarded. The companion only has to pay for taxes. The companion pass is valid until the end of the following calendar year if they fail to re-qualify. CP status holders must designate a single person as their companion, but then they can change that person three times throughout the year.
According to their web site:
Rapid Rewards Members who fly 100 Qualifying Flights1 or earn 110,000 Qualifying Points from flights or Partners within a calendar year will earn Companion Pass status. Companion Pass lets you designate one person of your choice to fly free2 with you as long as you have Companion Pass status and he/she flies with you.
How Did I Get All of the Necessary Points?

I signed up when there was a bonus offer of 50,000 points, nearly half the amount necessary. The rest of the miles were earned through credit card spending and even some occasional paid travel. With 24,000 points needed before the end of the year, I do have some work to do to actually get the pass. In the past, you used to be able to transfer points from Starwood to Southwest, but this option is no longer available. Therefore, I will have to continue to use this card, buy an occasional ticket, or find some good promotions if I want to qualify.
 The Latest Promotion
It just so happens that there is now a promotion where any Southwest Card holder can earn 1,000 bonus points, just for watching a three minute video. According to the site:

You will qualify and receive your bonus after watching the video and completing the registration information at the end of the video. Please allow 6 to 8 weeks after the last day of each month of the promotional period for bonus rewards to post to your account. Credit card product changes during the promotional period will forfeit this bonus offer. This promotional offer is non-transferable. To qualify for this bonus offer, account must be open and not in default at time of fulfillment.
It is unclear whether points from this promotion will count towards Companion Pass status, but it certainly can't hurt to get them – especially when you consider that the 1,000 points are worth $17 towards any ticket purchase in their "Wanna Get Away" fare class.
Conclusions
It is a nifty benefit that credit card bonus and spending can contribute to obtaining an annual companion pass. Depending on how often you and your partner fly, this pass can easily be worth thousands. Frequent fliers and reward card users are all about obtaining a free flight, and the thought of getting unlimited free (companion) flights for an entire year is unbelievably appealing.
Related Posts: