The Stratus Rewards Visa White Card is one of those "elite cards" that seldom gets talked about simply because it really appears to be exclusive. If you troll around forums, they are those who love the card, and those who hate it, saying their websites are not updated. It also comes with a $1,500 annual fee.
The Origins – Stratus Rewards was started in 1999 by a division of Los Angeles-based Pro Sports & Entertainment. It is meant to be a really high end credit card unlike any in the market at that time. The problem with cards like the Amex Centurion Card is that the ultra wealthy seldom travel on commercial airlines and fly private jets instead. Back then, the Amex Centurion Card had no "private jet rewards". In April 2004, Stratus Rewards Visa started marketing their cards through US Bank.
By invitation only – To get the Stratus Rewards, you have to be invited either by existing members or recommended by their merchant partners.
Partners – Their merchant partners consist of luxury high end companies that cater to the ultra wealthy. The only resource that I have to write about them comes from their website. Below is a screen shot of some of their partners. There are probably more, but you will never know unless you are a member.
Marquis Jet
Zino Platinum – Stratus Rewards Members have access to membership of their Crown Club, which give you opportunities to have the finest cigars in the world
Vivre – card members can redeem points for products from Vivre, which sells very exclusive high end products
Marco Polo Club from Abercombie & Kent – card members receive discounts on travel and exclusive invitation tours
Automatic enrollment in Club 360 – you can choose to get quarterly gift bags, which contains stuff that is normally found in celebrity show gift bags or you can choose to be invited to 4 exclusive events each year
10 issues of Nota Bene – cardholders get 10 issues of Nota Bene, which is a magazine that give unbiased reviews of luxury resorts
Sony Cierge and Connect – which is Sony's exclusive VIP shopping service
Concierge Service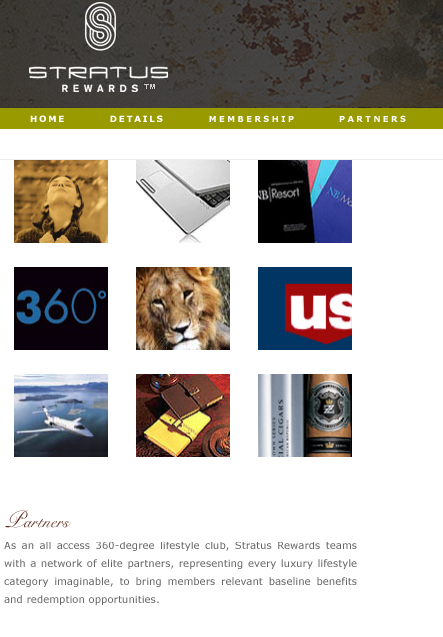 As much as I want to talk more about the card, I really can't. There really isn't much information about this on the web or anywhere. Cardholders are presumably ultra wealthy folks who do not hang around frequent flier forums and talk about this card. As for myself, I'll quietly stick to my Platinum Card from American Express.
If you have this card, we would love to hear from you and would appreciate any comments.
Related Posts: