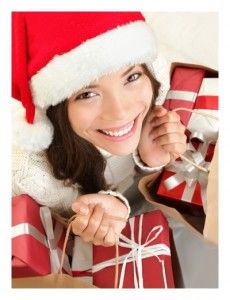 Can you really stack online and offline sales, coupon codes, cash back, and reward points to win the holiday shopping game? We're here to tell you: Yes! You can.
Josh Stevens is a man who committed to living off of Groupon for a whole year. While that probably isn't practical for most of us, a holiday season driven totally by deal sites is not only possible, but a great money saving plan!
Holiday shopping can be an enormous strain on your budget, especially given the uncertain economic climate. There are ways to save big money while also giving amazing gifts. All it takes is a little luck and piggybacking great deals with good credit card rewards strategies.
The smartest way to begin is to make a list of every friend, relative, neighbor, teacher, and service worker you need to buy for. Then, as you scan the deals each day, you can easily match the recipient with a gift that would work perfectly.
With so many deal sites offering amazing discounts on products and experiences, it's easy to get lost in the avalanche of daily emails. If you're pressed for time, as most of us are, consider using Dealery.com. This site, "aggregates daily deals from numerous group buying and deal sites and brings them together in one place" and is available in cities both in and out of the United States."
Now it's time to spend a few minutes reacquainting yourself with the benefits of your cards. While it's easy to get caught up in the cash back and airline miles, some benefits – such as a shopping portal where you obtain additional savings just for using your card – are a great resource for gift giving.
The Citi ThankYou Rewards card has an exclusive site dedicated to getting their cardholders great deals on merchandise and entertainment tickets. In addition to product discounts, there are usually additional perks. All the little perks add up, including things like a discount code or free shipping when you use your card. You're also racking up rewards points good for products, gift cards, airline miles, or cash back using this system, called Citi Specials.
This card also offers Citi Private Pass which, according to the website, offers "discounts on concerts, theater, sporting events, dining experiences and more." These ways to save are a great reminder that a gift of an experience can be just as meaningful as a tangible gift. While some people need a gift they can hold in their hands forever, others on your list may be open to a wine tasting, a pottery class, or a kayaking lesson.
Citibank also boasts a rewards section through Groupon, which is great because these deals can be redeemed online. If you have family who lives out of town, you don't need clutter your inbox with deals from their respective parts of the country. You can buy the Groupon through the shopping portal, redeem it online, and have it shipped directly to the lucky recipient.
Now that you've used your card on a deal site, you can collect the rewards. Gift cards often come at a lower expenditure than cash back, which is wonderful if you're not sure what to buy for a recipient.
For example, you can redeem your Discover Cashback Bonus for gift cards worth 10% all the way to 100% more than their cash equivalents. You can then use that gift card as a gift for someone else on your list, killing two birds with one seriously discounted stone.
If your credit card doesn't have a rewards program and you're not in a position to open a new account, you can still reap rewards. Set up an account with Swagbucks for merchandise and gift cards, Ebates for cash, or MyPoints for gift cards to build more credits.
For the ultimate in dovetailing rewards systems, use all of the above. Use your credit card with a rewards program on one of the rewards sites above, and then apply a pre-purchased deal site bargain to your purchase. It's the best of all worlds; saving money and building rewards in two locations. As always, be sure to read the fine print. You may not be eligible if you're already a customer of a particular business, and you may not be able to use a deal voucher along with a rewards site code in all cases.
There are other expenses of the holiday season that aren't included in general gift giving. Hostess gifts and your own fete can cost some serious coin. Don't limit yourself to one deal site for that holiday dinner.
A wonderful way to spread the cheer (and spare the expense) is to dovetail two or more deals. Use a Restaurant.com code and host your holiday party at a local eatery. Bring a bottle of vino from Wine Woot for the white elephant portion of your soirée.  Heck, you could even use a housecleaning deal from Living Social while you're out and come home to a perfectly tidy space. Doesn't that sound better than picking up beer cans the morning after?
One final way to use deal sites to your advantage is to divert funds to your gift budget when you save big on everyday necessities. Snagged a deal on oil changes? Bank the additional cash in your holiday budget. Got a new haircut on the cheap? Pack some dough into your party planning fund.
There's no reason you shouldn't have a fabulous and affordable holiday season. By combining your rewards credit cards with the many deal sites available, you can finish your shopping early, frugally, and with little stress.
Related Posts: