The Princess Cruise Credit Card is obviously targeted at folks who take Princess Cruise often. Let's look at the details of this card.
Rewards – This card allows you to earn 2 points for every dollar you spend on Princess Cruise tickets. You will receive one point for every dollar that you spend on other regular purchases. As an incentive, new card holders will receive a 5,000 bonus points after their first purchase or balance transfer. In fact, they will pay one point for every $1 of balance that is transferred over!
Below is the redemption of princess awards.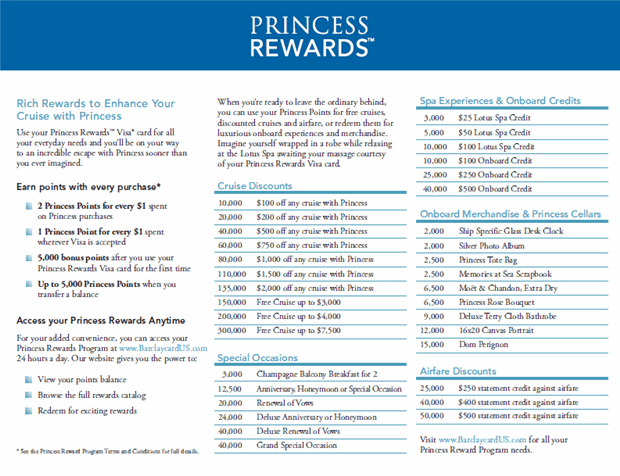 Fees – There is no annual fee for this card.
Verdict – The Princess Cruise Credit Card will appeal and suit those who take a Princess Cruise ever year. If you are such a person, this card will fit like a glove. But if you travel with other cruises or book staterooms, then there are two other cards to consider.
Discover – The first card to consider is Discover. That is because Princess Cruise is a partner of their online shopping portal shopdiscover.com and you can get 5% rebates when you your Princess Cruise tickets and items through your Discover account. They also are partners with other cruises as well.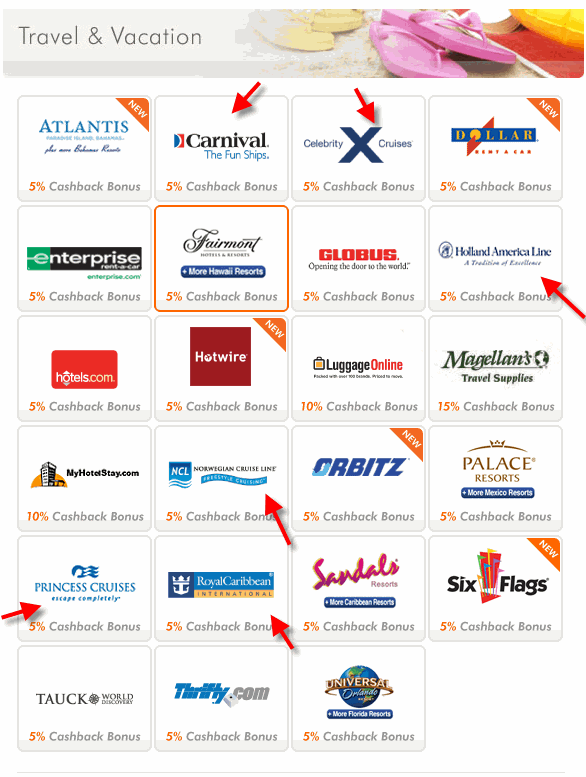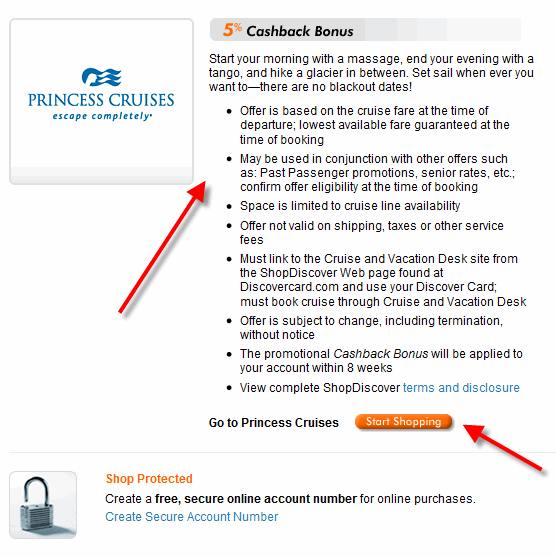 Discover also allows you to redeem any cash rebates you have earned for Princess Cruise gift cards and you can redeem for double the value of your cash rebates on the gift card, and gift cards of other cruises as well.
The advantage of the Discover Card is that you can get rebates with other cruises as well and redeem it for gift cards that are double the value from the rebates you have earned.
American Express Platinum Cruise Privileges – The Platinum Card(R) from American Express also has "cruise privileges" that will appeal to folks who travel via "staterooms". When you book your cruise through American Express, you could earn double points and also get up to $400 in benefits when you book "stateroom". This alone will cover their annual fee.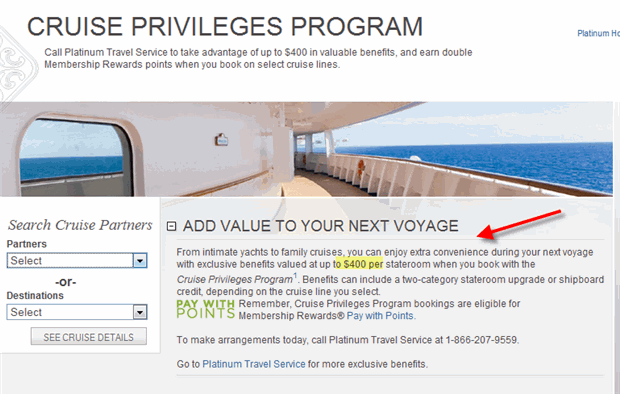 Ending Thoughts – The Princess Cruise Credit Card will appeal to folks who travel just on Princess Cruise. For those who use different cruises, the Discover® More® Card – $50 Cashback Bonus® (you can get a $50 if you spend $599 within the first 3 months) is a great alternative. For those who travel in staterooms, the Platinum Card(R) from American Express is definitely a card to consider because they have partnerships with all major cruises including Princess Cruise.
Related Posts: