To my regular readers, you will have noticed that I have not blogged since late last week from Thursday until yesterday. The reason (or rather lame excuse) was that I was helping Mrs Credit Card with her 40th Birthday Party.
This year, Mrs Credit Card decided to do something (that in my very humble opinion) wonderful. Rather than having a regular birthday party, she decided to hold a charity birthday party instead to help raise funds for a charity.
The charity that she decided to help was the Alex Lemonade Stand. Here is the story behind Alex Lemonade Stand – which I taken wholesale from their about us page.
In 2000, a 4 year old cancer patient named Alexandra "Alex" Scott announced a seemingly simple idea -she was holding a lemonade stand to raise money to help "her doctors" find a cure for kids with cancer. The idea was put into action by Alex and her older brother, Patrick, when they set up the first "Alex's Lemonade Stand for Childhood Cancer" on their front lawn in July of 2000.
For the next four years, despite her deteriorating health, Alex held an annual lemonade stand to raise money for childhood cancer research. Following her inspirational example, thousands of lemonade stands and other fundraising events have been held across the country by children, schools, businesses, and organizations, all to benefit Alex's Lemonade Stand Foundation for childhood cancer. On August 1st, 2004, Alex died peacefully at the age of 8 — she had raised over $1 million for childhood cancer research in her short lifetime.
Alex's spirited determination to raise awareness and money for all childhood cancer while she bravely fought her own deadly battle with cancer has inspired thousands of people, from all walks of life to raise money and give to her cause. Alex's family and supporters are committed to continuing her inspiring legacy through Alex's Lemonade Stand Foundation, a registered 501c3 charity. Alex's Lemonade Stand Foundation has raised over $25 million for childhood cancer research. The result — Alex's Lemonade Stand Foundation has given millions of dollars for childhood cancer research across the country!
What really resonated with Mrs Credit Card was how a little kid could make such a difference in this world. She also lived not too far from us.
Party Preparations – To prepare for the party, Mrs Credit Card decided to engage our friend Ted, who was a sushi chef and chief Japanese chef in one of the premier Chinese restaurants in our town. She also got a couple of friends to prepare a few side dishes.
Alex Lemonade stand is sure a very professionally run organization. They sent us some posters and all the necessary materials.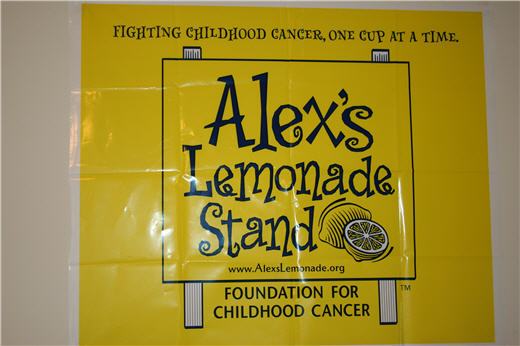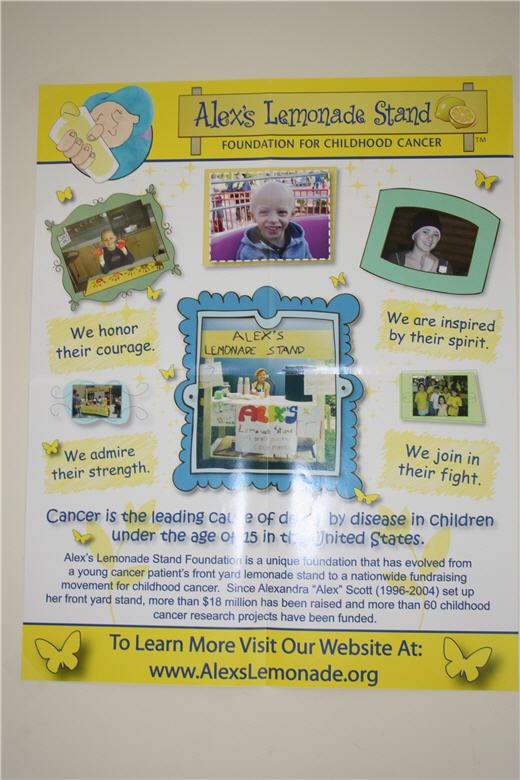 Flower arrangements, lemonades, lemon candies – To aid in the decoration, Mrs Credit Card bought a few flowers and had them specially arranged. The one with the lemons in the water was really nice.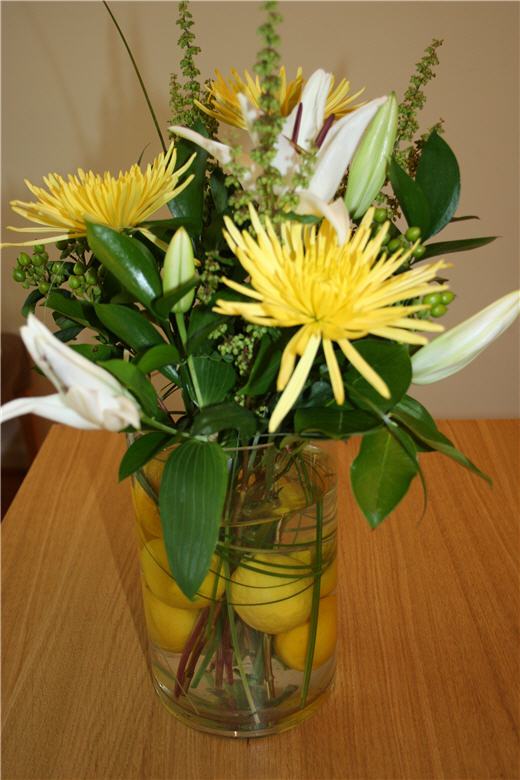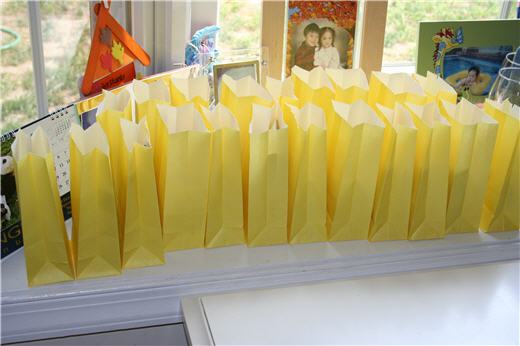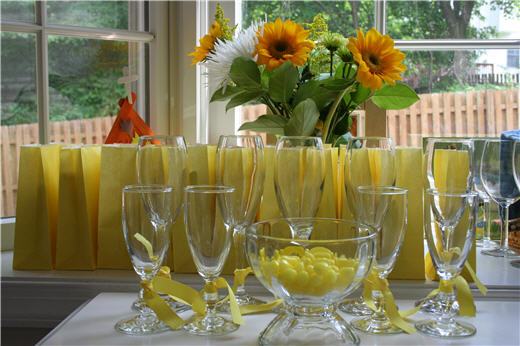 Yellow Theme – For the theme, we asked everybody to come with at least an outfit in yellow. Some did, some said "I do not have anything in yellow!".
Donation Stand – We asked our friend Larry to take records of the donations and collect the checks from our guest.
The Food – As I mentioned earlier, Ted our friend helped us make countless sushi's while other friends helped in making other dishes. Here are some photos of the food (yummy!)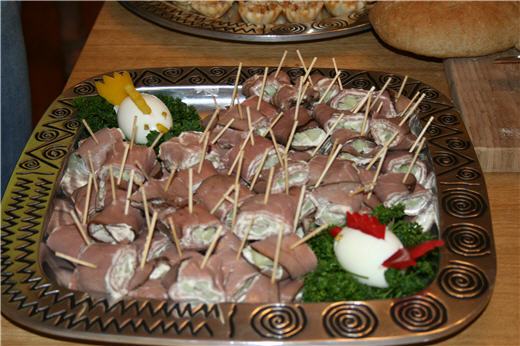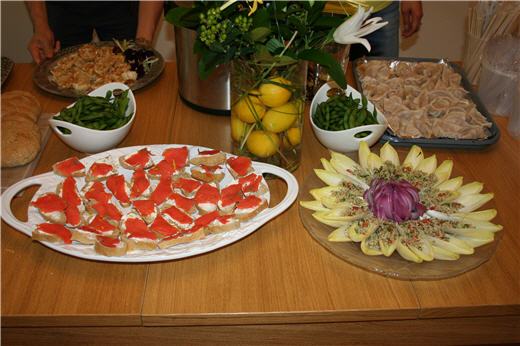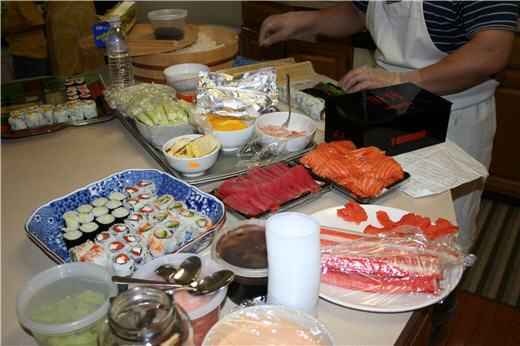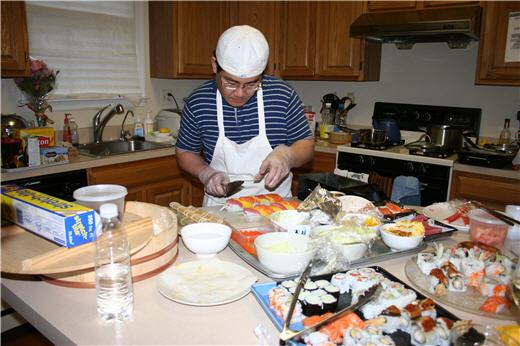 Here are some pictures from the party of our wonderful friends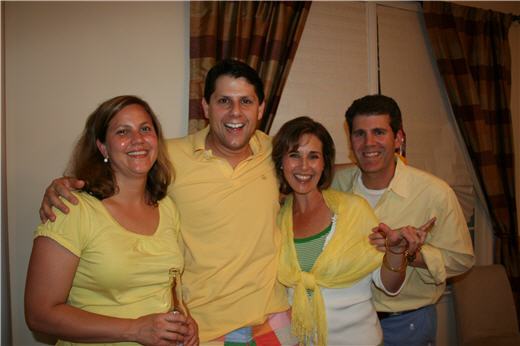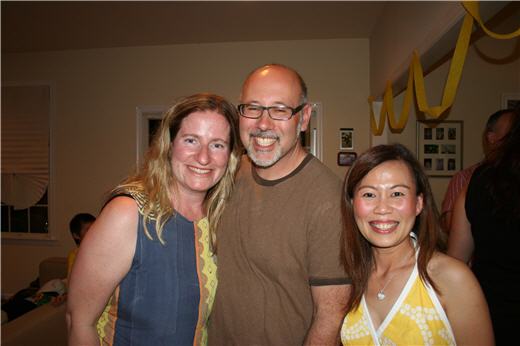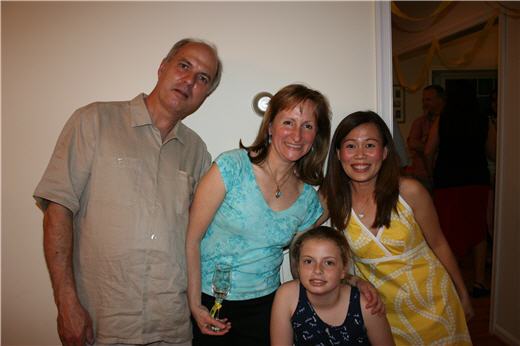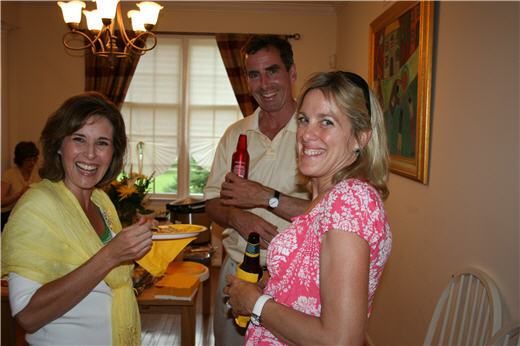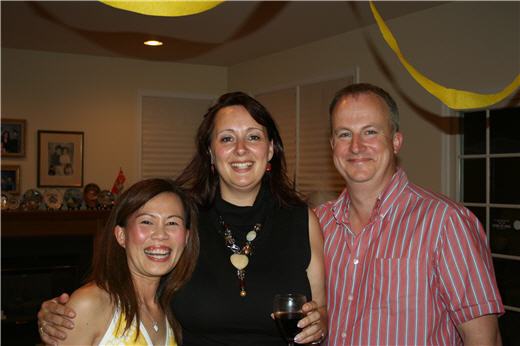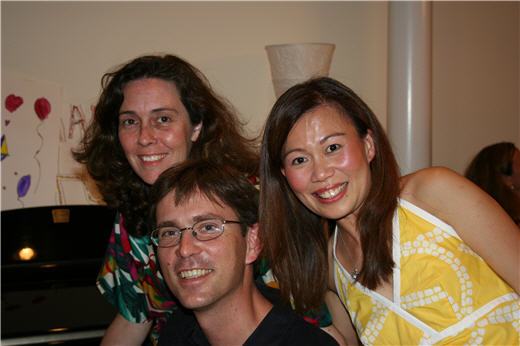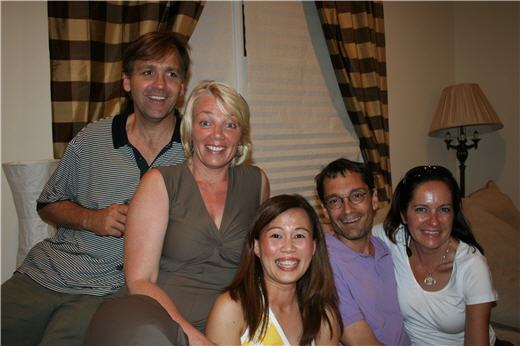 We raised over $800 – At the end of the night, Mrs Credit Card had raised over $800 (in fact, this figure will probably be more since a couple of friends who could not make it will be giving us a couple of checks for Alex Lemonade). We've decided that Ask Mr Credit Card (the site) will make a donation, and we ourselves personally (or rather jointly) will make a personal donation to top it up to at least $1000. Each of our kids also gave $10.
This was perhaps the best party we've had. We certainly felt very good about it think this is a much better way to celebrate our birthday's since we are actually helping a cause and having a good time as well.
I am a very private person (I don't post my real name or photo on this blog) and I was really debating if I should actually write and publish this post since very few bloggers share or talk about their charitable efforts (if I didn't post this, I could be or could have answered another readers credit card question). But I decided to go ahead because of a couple of post by some bloggers. Just recently, Adam Baker posted a video sharing his thoughts about giving while in debt. Bible Money Matters has also written about his charity efforts and his favorite charity. I thought that this post would serve as an inspiration (Mrs Credit Card has certainly inspired me) for others. While most of us have money constraints that do not allow us to give as much we want, we can always help raise funds in other novel ways.
It is also really inspiring to read about a 4 year old battling cancer and yet made such a difference. What she went through, knowing that she had a great chance to not living long pales in comparison with what many of us are going through. I personally frequently worry about our finances (and I hate that mortgage that I have! – feels like credit card debt to me). I receive emails everyday from people asking for my (our) opinion about their financial situation, whether it be credit card debt, bankruptcy, rebuild credit, parents racking up credit card debt, credit card issuers cutting their credit lines, rewards expired, losing jobs and cannot pay credit card, and many other stuff. We read about stories on other blogs about the their 401k blowing up. Yes, these are all important issues and certainly have to be dealt with. But Alex Scott probably faced an issue that makes most of our problems trivial. Perhaps I'm trying to convey the point that while we all have money problems, they can be overcome and we should not let it overwhelm us. And even though we face money problems, we all have families and we can inspire them and others in some way or another.
But I think at the end of the day, this post is also about a public tribute to my wife for 12 years, the mother of my three kids and essentially my high school sweetheart (no prizes for guessing who she is in the photos). Mrs Credit Card, I love you and am so proud of you for what you have done for Alex Lemonade Stand. It has been a privilege to be your husband.
P.S. – OK – tomorrow, we'll go back to answering readers credit card questions (the emails are starting to pile up again!).
Related Posts: