Merrill Lynch has got a few credit cards in their offering. But their Visa Signature Rewards has been considered by some as their "elite credit card". With an annual fee of only $95, it certainly has a lower annual fee than many high end credit cards. But does it have what it takes to compete with the true elites like the Amex Platinum Card? Let's find out.
Rewards – Like I have always said in my review of high end cards, travel rewards are what really set apart is its' travel rewards. The Merrill Lynch reward program is a traditional program where you redeem a set number of points for airline tickets. Redemption starts at 25,000 points for a domestic airline coach class ticket.
But aside from the usual airline ticket redemption, this card has got a couple of other interesting perks.
British Airways Companion Ticket – Cardholders can get a transatlantic companion tickets on British Airways with purchase of full-fare tickets in FIRST, Club WorldSM or World Traveler PlusSM. You could also get a British Airways Complimentary Business to First Class upgrade to London. For folks who fly a lot to London on BA, this could potentially be a good deal though you may get cheaper discounted tickets and BA is known for their hefty surcharges on things like fuel tax!
Private Jet – Marquis Upgrade – Card members get additional flight hour on one-way upgrade on Marquis Jet Card purchase.
Hotel Perks – Merrill Lynch has partnered with a couple of hotels and offer the following deal. You can get a three nights for the price of two at participating Relais and Chateaux properties.
Car Rental Discounts – Cardholders get discounts and free car class upgrades at Hertz.
Double Points for Merrill Cruise Purchases – You can also earn double points for purchases made under the Merrill Cruise Program.
Concierge Service – Like all other high end cards, this one comes with a concierge service.
Other Basic Features
* Zero Liability Fraud Protection
* Early Fraud Warning
* Verified by Visa®
* Extended Warranty Protection
* Purchase Security up to $10,000
* Medical Evacuation Coverage
* $1 Million Worldwide Automatic Travel Accident Insurance
* $3,000 Lost Luggage Reimbursement
* Hotel/Motel Burglary Insurance
* Auto Collision Damage Waiver
Level 1, Level 2 and Level 3 Tier Rewards
The rewards I have just described are just some of the main rewards that you will get. Merrill Lynch offers a higher level of rewards depending on your spending limit. Below is a screen shot of the additional rewards that you will get depending on your spending level.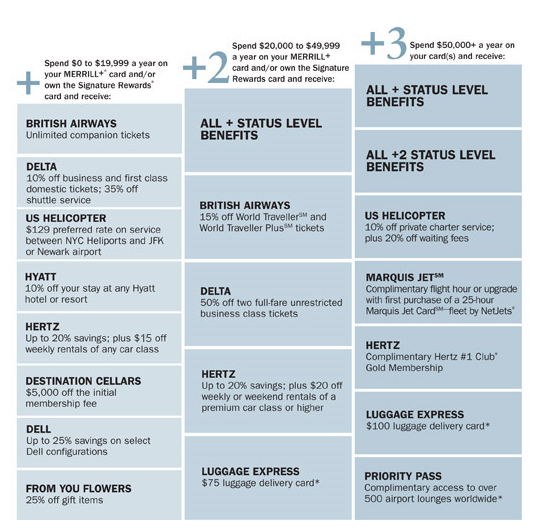 Verdict and Opinon – I actually have the Merrill Lynch Plus Card, which is considered one notch below this card though there are some features that I would think should have been on the card. Regular readers of this blog will also know that I am a Amex Platinum Card holder.
Overall, I think that the Merrill Lynch Signature Rewards Card has some very interesting features which other cards do not have. Firstly, they have different level of perks for different levels of spending (some might argue that the level of spending is "low" for an elite card). And some of their rewards are quite unique. For example, you get discounts on Delta tickets, Hyatt stays, British Airways tickets, hertz, and even get a Herts Gold Membership. You also get Priority Pass Membership if you are a +3 level.
For those who will use these features, then I would say that this is a card worth considering.
Having said that, I still think that the Merrill Cards fall short of the Amex Platinum Card. I think that is a problem with banks who have a private wealth management unit and try to come up with something to compete with Amex or a Diners Club.
Firstly, the BA companion ticket feature may be of interest to folks who fly to London often. But Amex Platinum has 17 partners (at this time) for their international airline partner program (though they do not give discounts for business class tickets).
For me, the inability to transfer points to miles is a big hindrance for anyone who wants to be considered an "elite" credit card. You also have to use Merrill's system to redeem points for flights. Even cards like the Citi Chairman Card or the Carte Blanche allow you to book your own travel and redeem it with points later on. Also, they do not offer perks like elite status hotel memberships (gold level for starwood in the case of Amex Platinum and gold level for Hilton HHonors in the case of Citi Chairman Card).
The annual fee is low for a so-called elite credit card. The "usual elite card" features are lacking, though they make it up very nicely with their discounts at places like Hyatt Hotels, on Delta Airlines and British Airways. For those looking for a high end card, I still consider my Amex Platinum to be a benchmark (the Centurion Card is obviously a different story). But as I have a Merrill Lynch Card (the Plus Card with no annual fee), I can see how this card can be a great supplement to my Amex Platinum. For example, if I book a Hyatt Hotel, I would definitely use this card over the Amex Platinum Card. Or if I want a business class Delta ticket, then the Merrill Card will be the one that I use.
Related Posts: