MedKey is another provider of PHR services with their EMR on a Key which stands for Electronic Medical Records on a Key. All of your medical records and medical history is stored on a key that can be shared with doctors and medical facilities that need your information. MedKey offers one of the first ever portable USB flash drives to embed EMR software.
How it Works
You will receive the MedKey which you insert into a USB port on a Windows PC that is connected to the internet. Then, the MedBytes Software is installed from the key and stored on the MedKey USB Drive. You are then ready after installation, to start exchanging medical records with physicians, hospitals and healthcare providers. All records are stored on the MedKey USB Drive.
The MedBytes embedded software on the MedKey USB Flash Drive enables synchronization of all medical records with the User's Healthvault account. CCD Medical Records stored on the user's Healthvault account by health care providers or physicians can also be sync'd with the MedKey's latest medical records to keep them updated.
The information that you can store on the MedKey includes the following:
• Emergency Medical Information
• Emergency Family Email Alerts
• Personal Health Information
• Add Family Members
• Medical Conditions/Visits
• Pre-Visit Questionnaire
• Medical/Personal Allergies
• Family Medical History
• Prescription Medications
• Non-Prescription Medications
• Complete Physician Records
• Continuity of Care Document
• Microsoft Healthvault® Sync
• Medical/Dental Insurance
• Surgical Procedures
• X-ray, MRI, EKG Clinical Links
Features of the MedKey
Some of the MedKey features include the ability to create, edit and store individual or multiple family members' information on one flash drive. You are also able to update Medications, Allergies, Family History, Vital Signs, Medical Visits, Surgeries, Medical and Dental Insurance and ALL components of an EMR.
You also have the option of emailing family contacts in the event of an emergency and utilizing the Emergency Button for user-controlled medical data that may be needed by Ambulatory personnel
Fees and Subscription Plans
MedKey has three keys to choose from which are the Emergency MedKey, Individual MedKey and the Family MedKey. Below is a screen shot of the details of the three different keys and the fees involved.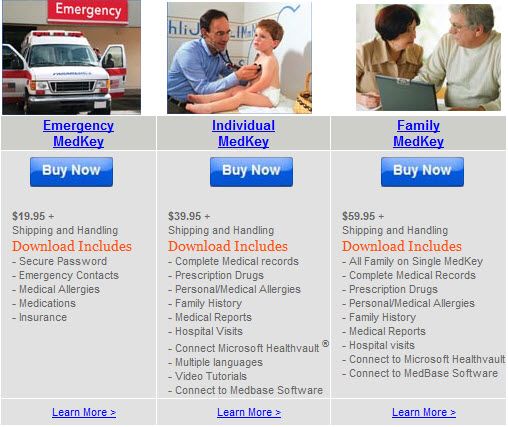 Verdict
MedKey appears to be pretty straightforward for PHR services. You simply download and install and you have all of the medical information you would ever need in case of an emergency. The three different keys to choose from are not complicated either; you would merely choose whichever works for you and/or your family.
Related Posts: