Yesterday, I reviewed the Asiana/Bank of America Amex. In the review, I noted that they give you three miles for every dollar spent at grocery stores.   I also mentioned that you could take advantage of these higher reward levels in non grocery stores by purchasing gift cards at your grocer.
Buy Everything At the Grocery Store?
Later I received a question from a reader asking if this would work for other cards.   The answer is yes, it sure would.     My local grocery stores have practically an entire aisle devoted to gift cards from seemingly ever brand name in the world.    When I purchase a gift card at the grocery store, it is still a grocery store purchase.    I have seen gift cards from American Airlines, department stores, and all sorts of other companies.
That said, there is a little risk in this strategy.    First of all, stores sell gift cards to lock you into spending at a certain retailer.    If you American Airlines gift cards, and then later find a better deal on another airline,  you are out of luck.    On the other hand, if you live in Dallas and know that you will fly American every week, it is a no brainer.    Another reason gift cards are offered everywhere is that it is well known that a certain percentage of them will never be used.   They are lost, stolen, or simply forgotten.    In some instances, customers make a $90 charge on a $100 gift card, and then the remaining $10 never gets spent.   In other instances, gift cards have monthly "services fees" or expiration dates that cut into their balances.
This strategy is not for everyone, but if your spending with a particular merchant is assured, and there is a major bonus for grocery stores, it seems like it would be a good way to go.     Of course, if your store will sell you generic Amex gift cards, that would be an almost foolproof way to go.   Your only concerns would be keeping track of the cards, and not giving your credit card company a loan by ing too many too early.
Rants
I am getting really annoyed by ever credit card company calling me back with some kind of survey after every single contact.   Like telemarketers of old, these calls come at the worst time, during diner or when I am trying to put my toddler to sleep.    Frankly, there is no good time.   Clearly, I am not shy with my opinions, yet I just don't want to do this work for them for free on my time.
If they want my opinion so badly, they should have a research company pay me to participate in an interview or a focus group.   I have done these before, and I usually get about $50 an hour or more for my time.
Online Statements Bad
I recently signed up for a new credit card from CitiBank, largely, if not exclusively for the sign up bonus.    To simplify matters, I chose to get my statements online.     Bad idea.   I merely get a notice that my statement is ready, then I have to go their website and create a login.   When I have completed that ordeal, I have to parse through their website to determine the only two pieces of information that I care about:   What was the entire balance of my last statement, and when is it due.    Worse, with some of the cards that I have signed up for online statements, I have not been consistent in sending me the notification!
These days, snail mail is still more reliable than email.   Furthermore, anyone in the entire world can send you a phishing attempt in an email that is almost indistinguishable from the real deal.    On the other hand, a fake bill sent through the United States Postal Service would easily recognized if sent from outside of the country, not to mention being a Federal Crime.
In a perfect world, a complete copy of the bill would be emailed to me when my statement closes, with a paper copy on it's way if I do not acknowledge the electronic copy within a few days.  Until then, I am sticking to paper statements from now on, even though I can still view them online.
Cartoon
Mike Luckovich is the Pulitzer Prize winning political cartoonist over of the Atlanta Journal-Constitution.    The other day, he came up with this humdinger of a cartoon about credit card fees.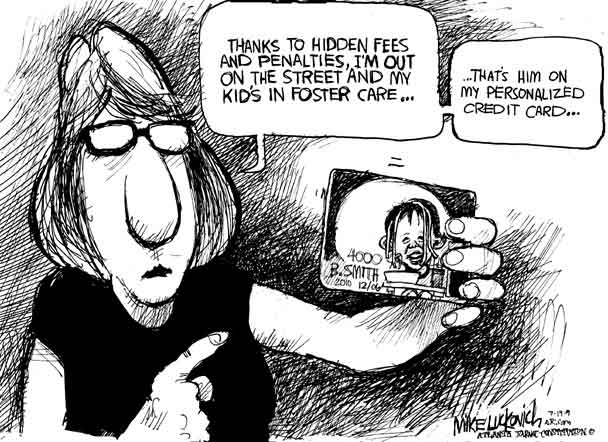 The cartoon is great, but I am not sure about the timing, considering the Credit Card Bill of Rights has already past.    Perhaps there was a case in Atlanta where a mother had to put her child in foster care due to credit card debt.
Related Posts: