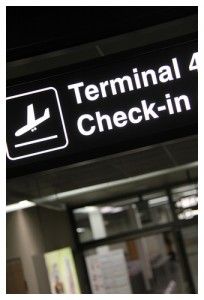 Last week, I exposed what I feel is one of the biggest issues with the TSA's new PreClear system. In general, it is always a good thing when the normally obtuse TSA decides to take a more common sense approach to aviation security. The only problem I had was that they were rolling out this program based on an arbitrary requirement; status in an airline's frequent flier program.
A Report From The Field
Even though I travel very often, I don't hold status due to my heavy reliance on frequent flier awards and my interest in finding the best deal for each flight. Nevertheless, I was able to speak with Burton Strauss who was kind enough to share his experiences as one of the first members of the TSA's new PreClear pilot program
JS:  Burton, first, thank you for helping me out with this, I really appreciate it. Where are you based?
B. Strauss:  Dallas-Fort Worth International Airport
JS:  How often do you travel?
B. Strauss: Every week – one way or the other
JS: What is your current status with American Airlines?
B. Strauss: Executive Platinum
JS: Are you a member of Global Entry?
B. Strauss: No
JS: Do you know how you were selected for the PreClear program?
B. Strauss: AAdvantage status
JS: What did you have to do to qualify?
B. Strauss: AA invited me to apply. First email just described the program:
The Transportation Security Administration (TSA) has announced it will be trial testing this fall a new pre-screening program that could offer some airline passengers expedited screening through U.S. security checkpoints.

American Airlines is pleased to announce our partnership with the TSA in testing this new concept at our hubs in Dallas/Fort Worth and Miami. Because of your current status as an AAdvantage® member, you may be eligible to participate and potentially be cleared through the TSA pre-vetting process, resulting in some screening benefits at the checkpoint. During the first phase of testing, certain frequent flyers and members of Customs and Border Protection's Global Entry, NEXUS, and SENTRI programs, who are United States citizens, will be eligible to participate in this pilot program which could qualify them for expedited screening.

The TSA will determine who participates in the trial on a per-flight segment basis. Please be aware that AAdvantage membership itself does not guarantee that you would receive expedited screening. To be considered for participation in the trial, you will be required to opt-in and give us your consent to share your AAdvantage status with the TSA. The details and instructions regarding the opt-in for this program will be sent to you at a later date. Your consent will add you to the subset of flyers that may be considered for the TSA's expedited screening procedures at our Dallas/Fort Worth and Miami hubs.
The second message had a link to enable the exchange of information:
Due to your status in the AAdvantage® program, you may be eligible to participate in a screening pilot program being tested by the Transportation Security Administration (TSA) this fall. The goal of this pilot program is to evaluate expedited screening processes for selected American Airlines travelers through designated security checkpoints at the Dallas/Fort Worth International Airport (DFW) and the Miami International Airport (MIA).

Some important things to note about participating in the screening pilot program:
·         You must be a United States citizen
·         There is no charge
·         Your eligibility and participation will not necessarily ensure an expedited screening for every flight
·         When you opt-in, you give American Airlines permission to share your AAdvantage status and passenger reservation information with the TSA's Secure Flight system
·         At time of opt-in, although not required, you will also have the option to share information about your enrollment in U.S. Customs and Border Protection Trusted Traveler Programs such as Global Entry, NEXUS and SENTRI

More details about the expedited screening pilot is available on the TSA's website. Please note that if you wish to participate, you must opt-in no later than September 23, 2011, 12:00 midnight, CT.  Ready to register now?  Just click below.
If they ever sent a message beyond this, some spam-trap caught it and I didn't see it.
JS:  How many times have you gone through the new preclear process?
B. Strauss: Once, it just started on the day of my 1st flight according to the TSA suits.
JS: What are the differences between this and the traditional process?
B. Strauss: They scanned my BP, it was validated (green light just like the mobile BP), and apparently told the TDC to direct me to the special line.  Once there I was able to keep my shoes on, there was no need to remove my laptop from the bag (I'm not sure about the 3-1-1 baggie – I don't travel with one – but my escort didn't ask and when I started to unzip the checkpoint friendly laptop bag he told me I didn't need to). Less traffic so it might go faster?
JS: Thanks again Burton, and safe travels.
Conclusions
Burton's experience shows us a few things. First, eligibility seems only to be dependent on airline frequent flier program status, not Global Entry membership. Second, the advantages of participation are significant, but limited to keeping shoes on and laptops in their bag. Think of it as a pre-9/11 screening option. There is also a shorter line, which people with airline status already get.Perhaps this new program will have an even shorter line at first, but in the end, it will probably be the same as the normal priority line.
In short, it would be nice if they rolled this out further, and I renew my objection to letting private companies; the airlines, determine our eligibility for obtaining government services. It is not to blame people like Burton in any way, but until I can use my Starbucks card to cut in line at the DMV, this just seems out of place.
Related Posts: