My eldest son wanted an Xbox for his Christmas present. Mrs Credit Card and myself were initially hesitant because we already have a Wii! However, he has been doing well in school, doing his homework on his own, and basically being very independent. So we decided we were going to get him the Xbox. But to Mrs Credit Card's horror, the full blown holiday bundle cost $399 and we were not willing to spend so that much. Then I remembered that we had over 60k Ultimate Reward Points and Membership Reward Points and so I proceeded to check to see if it was worth redeeming it.
Xbox 360 250GB with Kinect Holiday Bundle with – If you go to Xboxs' site and other retailers, the 250GB holiday bundle cost $399. That means to achieve 1% rebates equivalent from reward points, I should only be using 39900 points (or close to that). So I started checking the number of points required. Here is the list.
Chase Ultimate Rewards – 40,800 points
Membership Rewards – 66,640 points (down from 78,400!)
Citi ThankYou – 49,400 points
WorldPoints – They had the bundle without Kinect for 48,100 points
So if I used my Ultimate Reward Points, I got slightly less than 1%. But the points required for the Xbox I wanted were too high and it was not worthwhile to use the other programs. I could actually have bought it online or in a store, and then used my points for a statement credit (exactly 1% cash back). But in the end, I decided to just use the points on Ultimate Rewards. And I am glad I did because it was so convenient. I'll now run through the exact steps you have to take (with screen shots).
Step 1: Log into Your Chase Account and Go To The Ultimate Rewards Merchandise Page – After logging into your Chase account, just go to the Ultimate Rewards page (there will be a link close to your card that has Ultimate Rewards – in my case it was the Chase Freedom.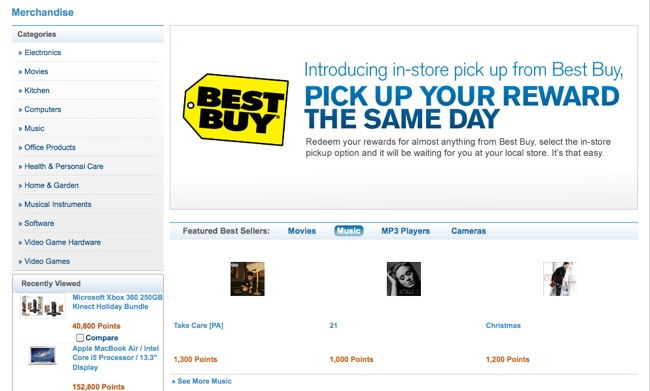 Step 2: Find The Product You Want – The next step is obviously to look for what you want. You can either click the relevant category on the left navigation bar or type in the product in their search box. In this case, I was looking for the Xbox. Once you have found the item, simply click on the "check store" link (if you want to pick it up from a store and save on shipping cost).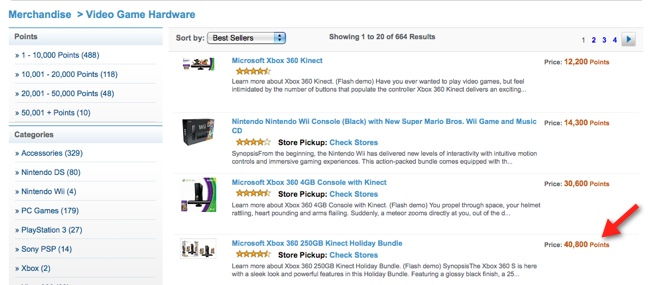 Step 3: Find Nearest PickUp Store – After clicking on "check store" link, you will be taken to a screen where you have to enter your zip code to find the nearest pickup store. In my case, it was the King of Prussia Mall.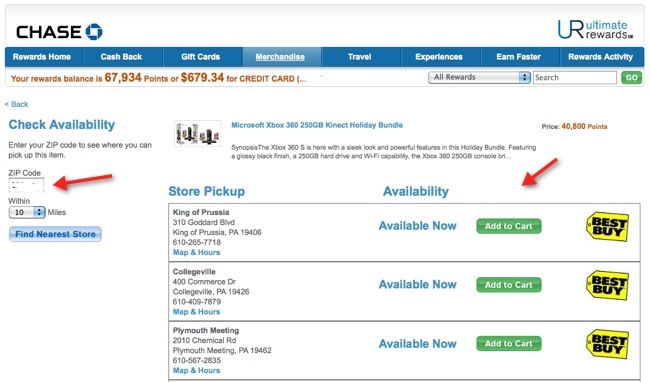 Step 4: Check Details On Shopping Cart And Click CheckOut Button – The next step is to check the details on your shopping cart to make sure that it is correct. As you can see from the screen shots, you can choose to have it delivered to your home or have it picked up at a store. The bottom of the page shows the points you have, the points you will use (in my case the Xbox) and the number of points that will be left in your account. Once you are happy that everything is in order, simply click the "check out" button.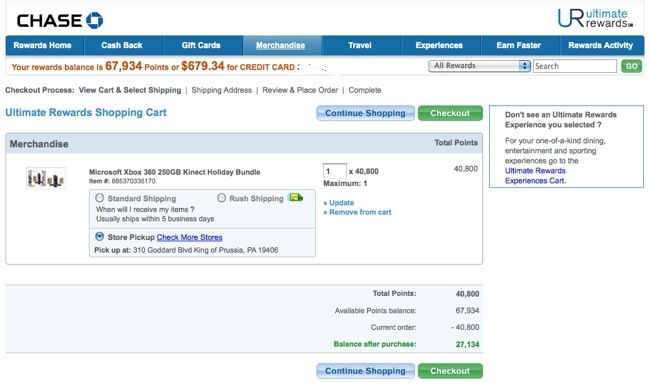 Step 5: Place Your Order – Then finally, you can "place your order".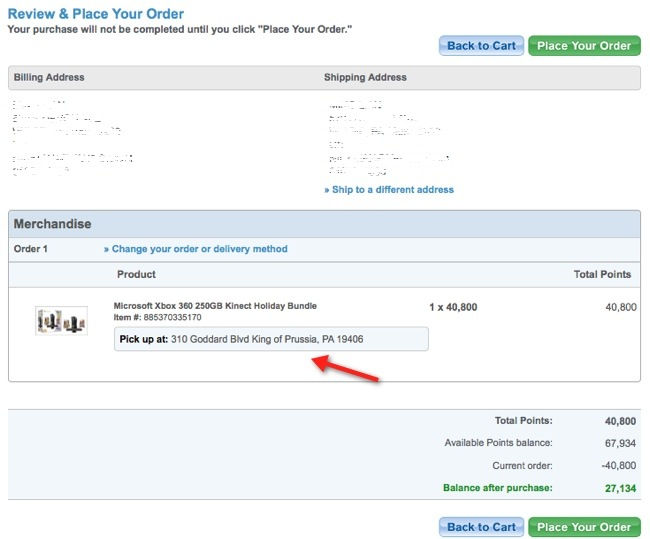 Step 6: Receive Confirmation Number – After you have "placed your order", you will get a screen on your computer thanking you for the order and showing your confirmation number.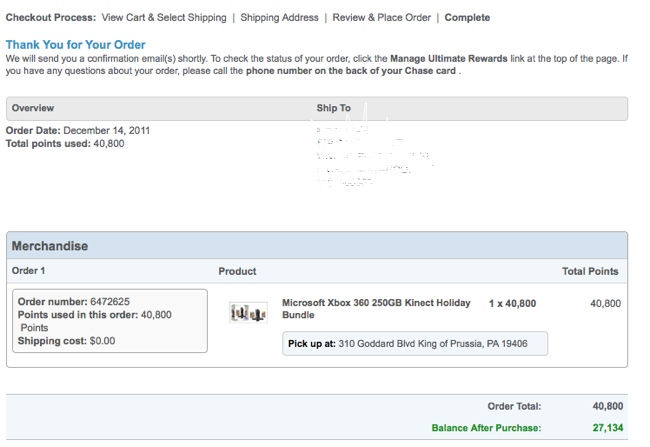 Step 7: Check Your Email – The next step you have to do is to check your email. Chase will send you an email confirming your order. However, on that email, you will be told to expect another email when the store has your item ready for pickup.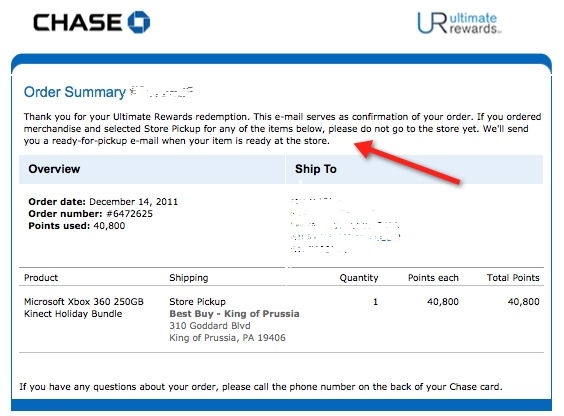 Step 8: Ready For PickUp Email – After about two minutes after receiving the first email, I got another email saying that my Xbox is ready for pickup. The email said to print a copy of it and bring it to the store. I did not pick it up the same day but instead went to Best Buy the next morning and picked it up from the customer service counter. You would have to bring your drivers license along as they will check for ID.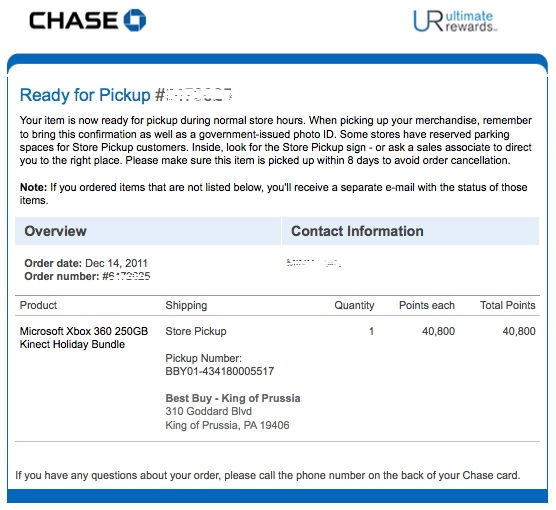 Step 9: Email Confirmation That Item Has Been Picked Up – After I got home from picking up the Xbox, I saw another email from Chase confirming that the Xbox has been picked up.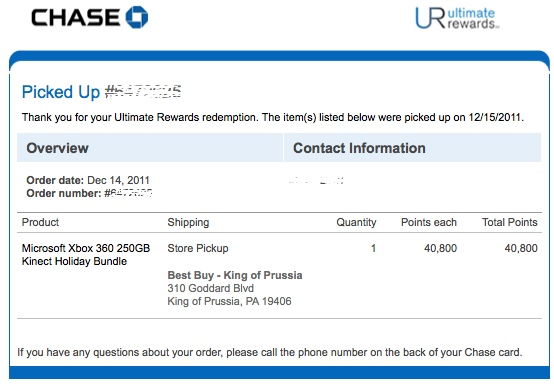 So there you have it. The entire process of redeeming a merchandise with your Ultimate Reward Points. I must say that the process went extremely smooth and the number of points required for the Xbox was pretty reasonable as well. I got about 1% worth from my reward points which I am happy considering it was for an Xbox and not some hacked out international business class ticket.
If you are interested in earning ultimate reward points, the Chase Freedom, Chase Sapphire and the Chase Sapphire Preferred Card will be the cards to check out.
Related Posts: