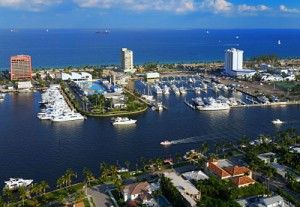 I just returned from a particularly well timed trip to Ft. Lauderdale Florida.    While most of the country was snowbound, Florida remained the only snow-free state in the country (there are some snow capped peaks in Hawaii).     Just as my neighbors in Denver were experiencing below zero temperatures, and my family in Atlanta was snowed in, we were enjoying 80 degree days at the beach.
The primary purpose of the trip was to visit family, but we took the opportunity to see some of the sights the area has to offer.   Others fly in and out of Ft. Lauderdale on their way to take a cruise, but never stick around to see the area.
Here are my recommendations for your next visit to South Florida:
1. The Ft. Lauderdale area has great food. We were able to find authentic cuisine from two of our family's favorite places, Brazil and Israel.    At 843 W Sample Rd in nearby Pompano Beach is a fantastic Brazilian grill and buffet called Restaurante Brazil.   Unlike the expensive, all you can eat style places, this one sells food the way most restaurants in Brazil do, by the pound.   At a mere $5.99 a pound, their sirloin is cheaper off the grill than it is in the supermarket!   Don't forget to visit the Brazilian bakery next door for desert.
We also found Sunrise Pita at 2680 N University Dr in Sunrise.    This was the best Israeli and middle eastern food I have ever had this side of Tel Aviv.   Chicken Kabobs were amazingly tender and I could watch the turkey schwarma spin on the rotisserie all day.   Ultimately, it was the salads they add that made this place a real find. Aside from those two specialties,  look for great seafood, Asian food, and New York style delis.
2. Take the Duck Tour We had a lot of fun on the amphibious bus tour of Ft. Lauderdale.  Unbeknown to us, Ft. Lauderdale is said to be the Venice of the United States, with series of canals connecting miles of intercoastal waterfront.    There are also regularly running water taxis as well as dinner and lunch cruises.
3. Go To Miami Your family in Ft. Lauderdale might consider Miami to be a million miles away and only willing to venture there under armed escorted.    Don't be dissuaded.   Miami has a lot to offer tourists.    We have had fun watching dolphins and killer whales at the Miami Seaquarium, and touring the magnificent Vizcaya estate and gardens. Other great sites down there include the Miami Duck tour, the Jungle Island park, and the amazing Coral Castle.
4. See Some Gardens There are several botanic gardens in both Ft. Lauderdale and in Miami.   One spot we have to visit next is the Butterfly World gardens in Ft. Lauderdale.
5. Visit The Everglades The Everglades are a unique environment just to the west of Ft. Lauderdale.  Take a ride on a swamp boat or even a swamp buggy.     You are guaranteed to see all sorts of alligators, crocodiles and other native wildlife.
So whether you are catching a boat, or just visiting your grandmother, keep in mind that there is plenty of worthwhile things to do and to eat in the area.
Related Posts: