The GreenDot Prepaid Card is one of the most popular prepaid cards around and you will have probably seen them in TV ads. We are going to look at this card in greater detail. So let's get going.
Fees – The most important factor in judging whether a prepaid card is good is whether they are loaded with fees. Fortunately, the GreenDot is great is this respect. There is a $4.95 activation fee (but it is waived when you apply here). Deposits via direct deposit are free. There is also no fee for ATM withdrawals at their network. There is also no overdraft or penalty fee.
There is also a monthly fee of $5.95, which is waived if you load at least $1000 in your card or have 30 monthly transactions.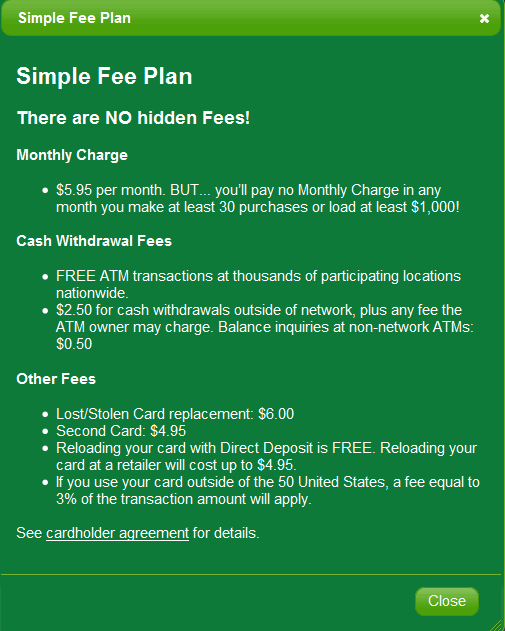 Opinion and Verdict – The GreenDot Prepaid Card is will appeal to those who do not wish to have a bank account, but want the convenience of an ATM card. The great feature about this card is that there is no ATM fees if you use one in their network. He or she would preferably have a direct deposit of $1000 or more each month and use the card often (30 times a month) to avoid the monthly fee. If this description fits your usage pattern (or potential usage pattern), the this would be a great prepaid card to get. It is available as a MasterCard (Green Dot® Prepaid MasterCard® or a Visa (Green Dot® Gold Prepaid Visa Card).
Related Posts: