GoFreeCredit.com is a credit monitoring service provided by Privacy Matters. In this review, I will slice and dice this service and even have a very funny story to tell. Read on!
Another Credit Monitoring Service? – GoFreeCredit.com is really another credit monitoring service. You obviously get your credit reports every month and a credit score. The reason anyone wants to get such monitoring service is that you will be alerted if there are any changes to your credit reports.
What type of score do you get – In addition to getting your credit reports and having it monitored, you will also get your "credit score", or so they claim. But exactly, what credit score? I tried to find out. But nowhere on the site was there any phone number to call. So I decided to enter a bogus email address bullshit@yahoo.com into the form and it took me to another page where there were more details about the fees and the terms and conditions. (See screenshot below).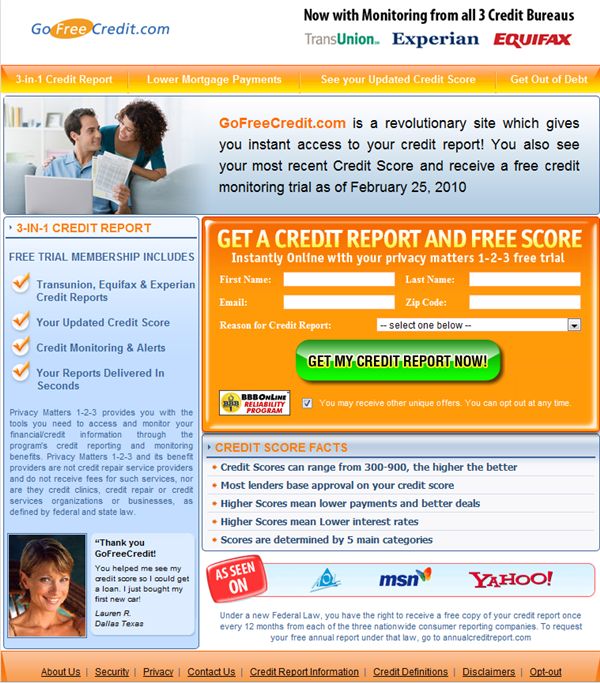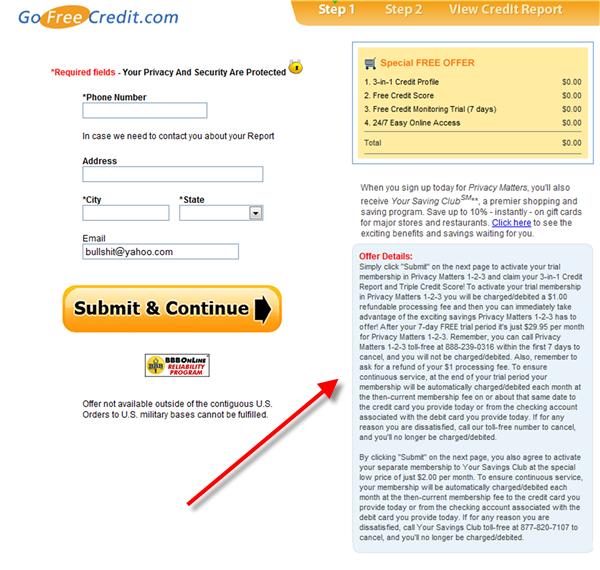 The Phone Call – I managed to reach a customer service rep who sounded like they did not come from this country! (sounded Mexican). I asked her what sort of score do I get. She did not understand at all. So I had to explain to her that you can either get the FICO score, Vantage Score or a score that is developed by themselves. She put me on hold and spoke to a supervisor. She came back and told me that we will get a "score" that is given by all three bureaus. But it is not three scores, but just one score (so it could potentially be a Vantage score since they claim it should be the same across the board). But she did not know, and I could not be bothered to probe further cos I suspect it will get me nowhere.
Fees – You are given a 7-day "free trial" and if you choose to continue the service, you will be billed $29.95 a month. In addition, you will be billed an extra $2 a month for a membership to a "savings club", which is absolutely ridiculous and a blatant upsell. You actually have to call a toll free number to opt-out of this "savings club" membership!
Verdict and Opinion – Let's face it, $29.95 a month is an expensive fee to pay a month to get access to your credit report when you can get it free once a year and furthermore, you do not even get your FICO scores! And they even automatically enroll you in some savings club! Avoid this deal. Most of the better ID theft protection services provide the same service for much cheaper (about $15 a month) with much more benefits. This is simply an overpriced offering!
Related Posts: