Update – Finally, the FTC has cracked down on the "deceptive" freecreditreport.com ads that Experian has been running for ages! And Experian is now changing their product name to freecreditscore.com! And incidentally, the FTC have also required sites that "advertise for them" to put up the following disclaimer. I would say that I'm actually not advertising for them, but rather am simply reviewing a product (and I'm not actually recommending it). But to be doubly safe, here is the disclaimer (and also be aware that Experian is no longer allowed to market their product under freecreditreport.com.
Disclaimer: – THIS NOTICE IS REQUIRED BY LAW. Read more at FTC.GOV. You have the right to a free credit report from AnnualCreditReport.com or 877-322-8228, the ONLY authorized source under federal law.
Perhaps this is the most famous of all credit monitoring service of all. It appears on TV and cable with that famous guy and the song telling us how his credit got ruined. But nothing has irked many consumers advocates more because the website is registered as freecreditreport.com, but it's credit monitoring service is actually not free. But that aside, how good is this service? Let's find out.
Basic Monitoring Service – FreeCreditReport.com from Experian provides basic credit monitoring service. It monitors your credit report from the three main credit bureaus and gives you alerts if there are any changes. It also has tools to tell you when is the best time to apply for credit.
Free Credit Score – To be honest, basic credit monitoring service is such a commodity now that I'm more interested if a company claims to let you monitor your credit score. But what score do you get? Most run of the mill credit monitoring service offer you a score that is derived from their own proprietary models and not the FICO score (because FICO does not want to sell it to them!). But this is Experian. So what do we get?
Unfortunately, the credit score that you get is not the FICO score (in fact, you can't really get Experian's FICO score any more). What you get instead is the PLUS score, which is a proprietary score that as Experian admits, "is not sold to lenders"! So while the score may approximate your FICO score, it is not the score that lenders see. Which kind of makes it useless in my opinion!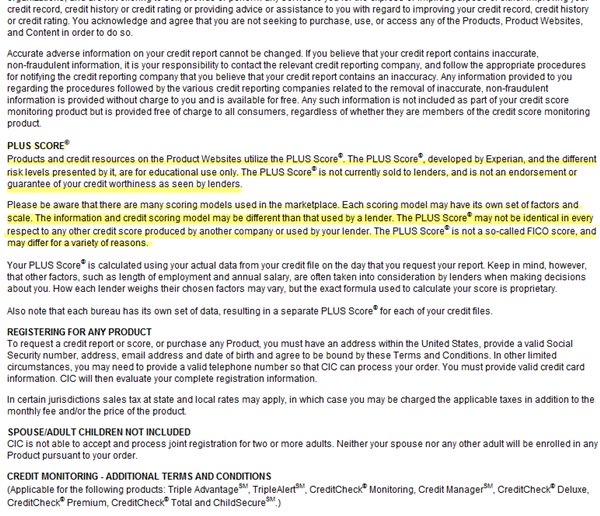 Assistance if your ID is stolen – freecreditreport.com also provides help and assistance if your ID is ever stolen.
Fees and Free Trial – If you sign up for this service, you will be given a 7 day free trial. But experian says that while it is a snap to get your Experian credit report, it may take up to 4 days to get your credit reports from TransUnion and Equifax and in fact, you may not get them during your free trial. Thereafter, you will be billed $14.95 a month if you do not cancel the service.
Website Ease of Use – As part of this review, I had to figure out which credit score do they actually give you. And they do not actually tell you right off the bat. In fact, I had to put in a bogus name and email to get to the second page where there was a terms and conditions button! That was where I got the necessary details. Below are screenshots.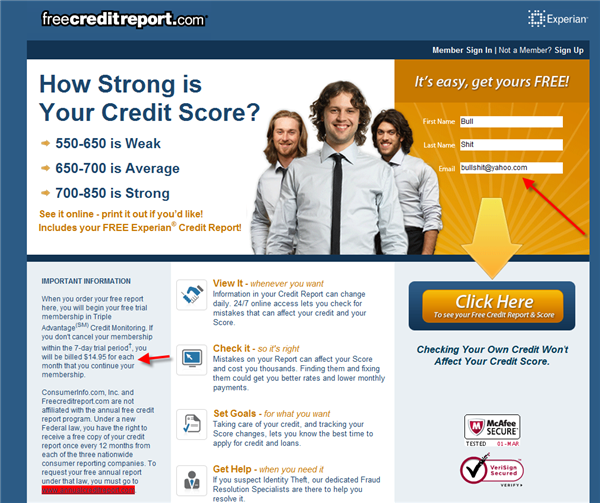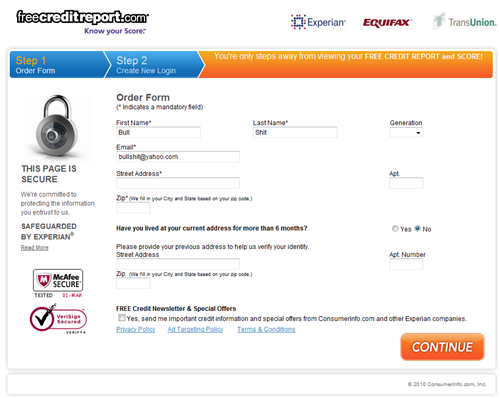 Verdict – Lots of folks have signed up with this service and it is a very profitable one for Experian! But would I sign up for such a service? To be honest probably not. I think in terms of credit monitoring, it does not really matter which service you sign up for. They are all mostly the same. But if I were to pay a monthly fee, I would at least like to know my FICO score and not any other score. From this perspective, I would rather go with a myFICO service as they give you the real FICO score from either Equifax or TransUnion. You can either get the FICO&#174 Quarterly Monitoring, which monitors your TransUnion score for only $4.95 a month or the FICO Standard, which a a one-time purchase of either you TransUnion or Equifax score.
Related Posts: