Today, Mrs Credit Card got an email from Chase that they have rejected a recent transaction on our card. Here is the screenshot of the email.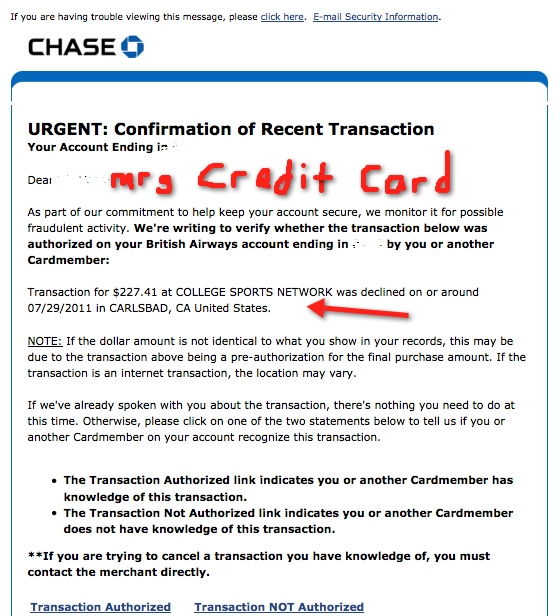 Mrs Credit Card immediately called Chase. We found out that the Merchant was CBS Sports Network but we did not make any purchase today or recently from them. We did buy a couple of Boston Red Sox tickets, but that was not from CBS! While she was on the phone with Chase, the rep told her that there were also several attempts by Google (or google co – who knows) that tried to charge her over four hundred bucks.
Meanwhile, I logged into Mrs Credit Card Chase account and found 2 fraudulent charges during the last cycle. Thankfully, it did not amount to much. One of the charges was to this site called girlsdateforfree.com!
We immediately confirmed the fraudulent charges with the rep and got her card canceled. She will be getting a new card in the mail soon.
I then tried to take a screen shot of the fraudulent charges for you, but since Chase has technically "canceled" the card, all information was taken down from Mrs Credit Card account. This is what she saw when she logged in! (BLANK).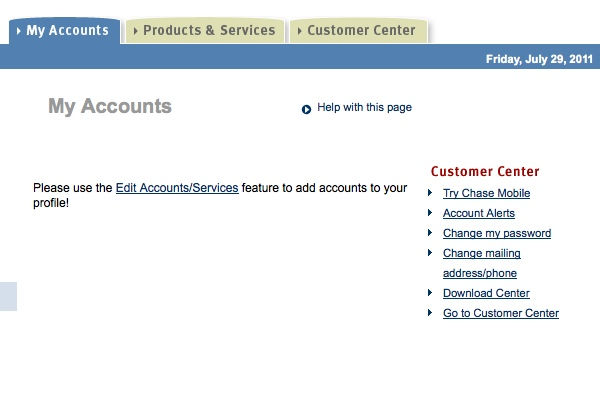 When we heard that there were a few fraudulent attempts prior to this email alert, we were puzzled as to why we did not get any email from Chase. The rep couldn't really answer. But I guess there is a lesson to be learned here.
Always check your bills – Those of you regular readers will know that I'm a stickler for using the auto-pay. I pay the full amount every month (ie carry no balance) and am never late as a result. But on this occasion, I did not go through that BA Visa bill. And that was our bad. So the moral of the story is always check your bills (especially if you are on auto pay).
Thankfully, the fraudulent charges will be reversed and all will be OK. But I can't help but wonder how did Mrs Credit Card BA account number got stolen. We just recently got this card from the British Airways 100,000 bonus miles offer (and yes, together we have 200,000 miles in our new BA account). We do not use it often (though we did put $3,000 each to get the 100,000 miles).
Have you had any fraudulent charges in your credit card before. Please share your story below if you have.
Related Posts: