Summary – The Facecard prepaid MasterCard® is a prepaid credit card that will actually appeal to the folks looking for a prepaid card for their teenage kids and also those who want a "low cost" prepaid card. Let's find out more about this card.
Fees – As with any prepaid credit card, always watch out for fees. Well, for the Face Card, there is no activation fee or monthly fee. There is also not transaction fee (if you use your card in the US). The fee for international transactions is $0.50.
The fee for getting cash from ATM is $1.50. If you have a negative balance, you will be accessed a fee of $9.95.
Load Fees – For the Face Card, loading your card from a bank account via ACH and transferring funds from another face card is free. There is no direct deposit for this card.
Fee Table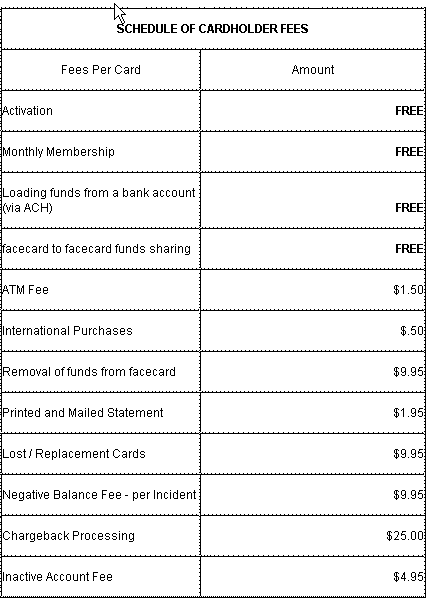 Verdict – The Facecard prepaid MasterCard® will appeal to parents who want to give a prepaid card to their teenage kids and also to those who simply want a prepaid credit card. The thing I like about this card is that there is no activation or monthly fees and no transaction fees. Hence, it is a very cost effective card.
The only issue I have with this card is that there is no direct deposit feature. Hence, for those who do not have a bank account and who wish to use a direct deposit feature, this card is not for you.
Also, bear in mind that for those with poor credit, a prepaid card does not help to rebuild your credit. If that is an objective, you should consider a secured credit card.
Face Card Application Page
This is how the application page looks like :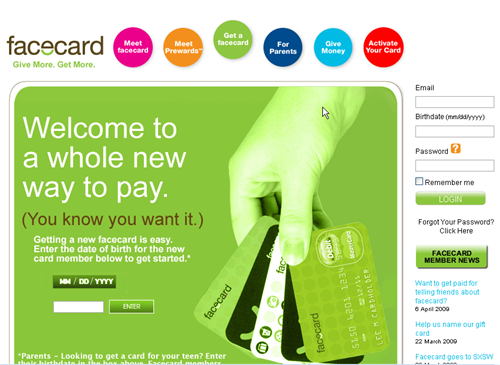 Related Posts: