– Update – Discover is no longer offering the the card that is mentioned in this post.
Ah Discover, a credit card that the late, great Rodney Dangerfield would have loved as it is the payment network that gets no  respect. Devotees of Discover love the card, while others like myself have never really seen any compelling reason to give it a try. I just recently read up on the Discover VentureRewards Escape card. It is a very similar card to another highly advertised product from Capital One. Like the Venture Rewards card, it offers "double miles" that are really just a stand in for two cents per dollar spent as a cash back reward. With the Capital One product, you must log in and select specific  travel purchases to be reimbursed for.  At least Discover Escape drops that charade by offering cash back in addition to the travel credits.
What Else Is New?
The Discover Escape has a $60 annual fee to Capital One's $59, but Capital One will waive it the first year. To make up for that, Discover is also offering 25,000 miles as a sign up bonus, but are granting them slowly as 1,000 miles a month for 25 months. Maybe I am still giddy over the $1,000 I took home from the Capital One Match Your Miles promotion, but the Discover card certainly takes all the excitement out of a generous sign up bonus. $10 is not anything to jump up for joy over.
Discover does sweeten the pot in a few ways. They are offering 0% introductory APRs on purchases and balance transfers.
Discover's Web Site Fail
I am starting to like the Discover Escape card. The problem I am having is that their web site is less than clear about the annual fee. Take a look at this screen shot highlighting the advantages of the Discover card: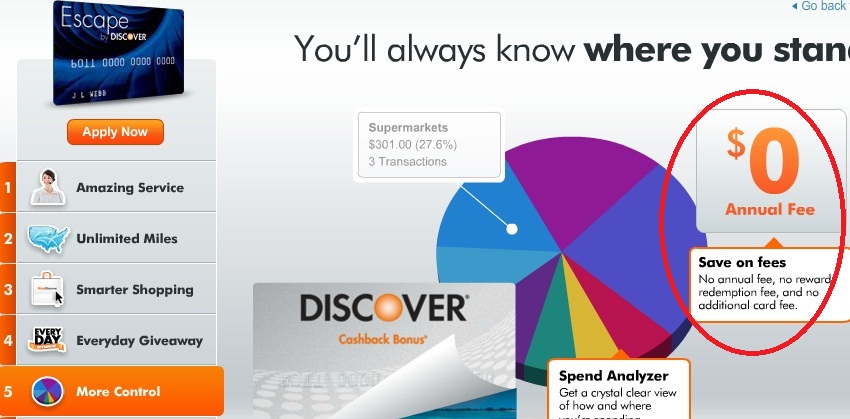 Wow, that's great, no annual fees on the Escape card that appears right in the picture. Next, I visit the page for the Escape card only to learn that there is indeed a $60 annual fee. So much for trustworthy advertisements!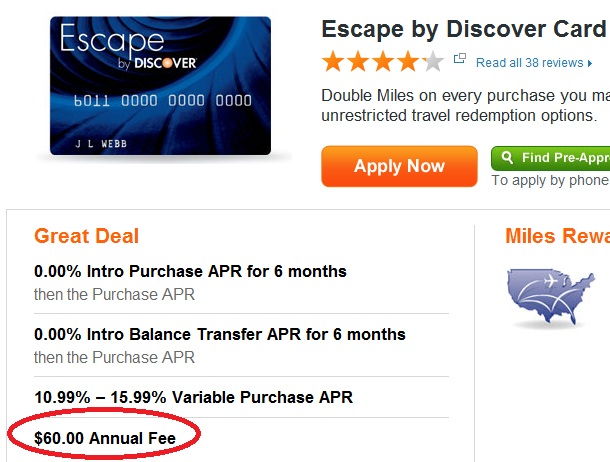 Conclusions
I have a degree in history, and I am an expert in credit cards, but that's not to say I am an expert in the history of credit cards. Therefore, I can't really tell you which came first, the Discover Escape Card or the Capital One Venture Rewards card. What I can tell you is that the market seems to be demanding travel cards to such an extent that at least two major banks are offering cash back cards that are marketed at travel cards. In the end, it doesn't really matter much as both cards deliver the equivalent of 2% cash back.  This is a great rate of return from a cash back card no matter what you want to call it.
Related Posts: