The Celebrity X Cruises Credit Card is obviously a credit card targeted for those who would like to earn reward points on Celebrity X Cruises. We will now take a more detailed look at this card.
Rewards – With this card, you will double points for every dollar that you spend on all Celebrity Cruise purchases. You will earn one point for every dollar you spend on other regular purchases. Points can be redeemed for the following:
Redeem Points for air travel with no blackout dates
Redeem Points for unlimited cash certificates for extra spending on your vacation
Redeem Points Can Also Be Redeemed For Rewarding Cruise Values*
Stateroom upgrades
Onboard credits
Cruise discounts
Free companion fares
7-10 night Caribbean sailing for two
The reward program (for non cruise redemption) is actually based on the WorldPoints program.
Other Benefits – You also get other benefits like :
Exclusive memorabilia available only to WorldPoints® customers
Access to personal concierge service for hard to find tickets
Redeem Points for quality merchandise like Sony®, Coach® and Callaway® – which is essentially WorldPoints reward program
Fees – There is no annual fee for this card.
Verdict – The Celebrity X Cruise Credit Card will suit those who take a cruise with them every year. If you take other cruises as well, perhaps this is not the right card to get. Another card you may want to consider is the Discover More Card. The reason is that they have partnerships with Celebrity X Cruise and when you book at ticket at their website via accessing your Discover Card, you will earn 5% rebates. The screen shots below show you how.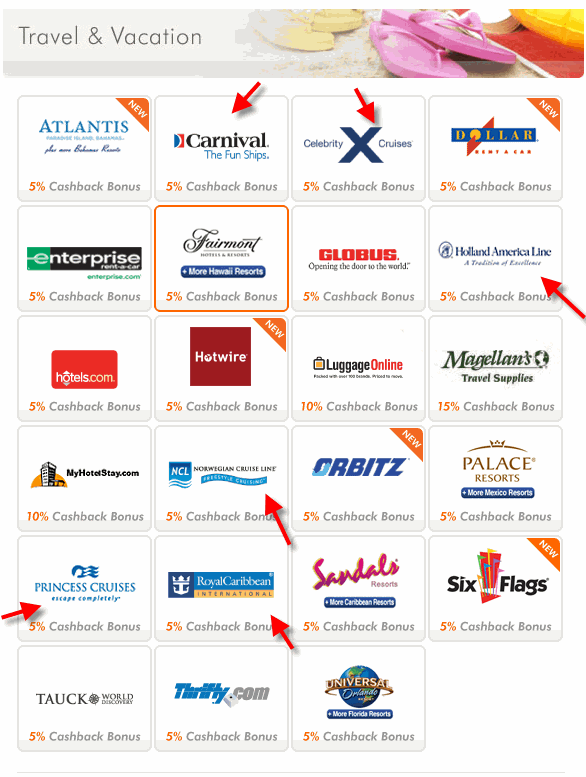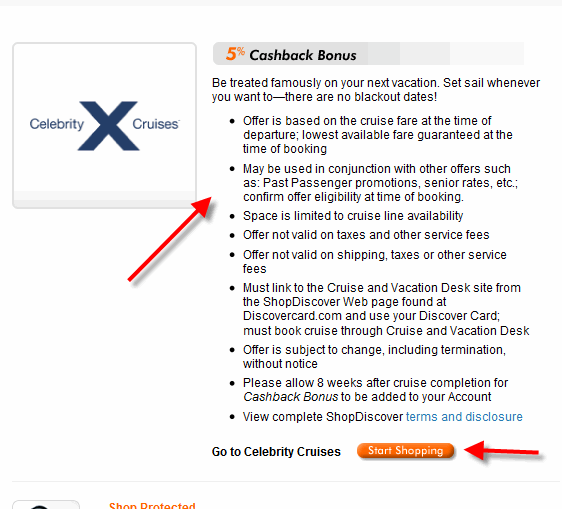 Discover also allows you to redeem any cash rebates you have earned for Celebrity Cruise X gift cards and you can redeem for double the value of your cash rebates on the gift card, and gift cards of other cruises as well.
The advantage of the Discover Card is that you can get rebates with other cruises as well and redeem it for gift cards that are double the value from the rebates you have earned.
American Express Platinum Cruise Privileges – The Platinum Card(R) from American Express also has "cruise privileges" that will appeal to folks who travel via "staterooms". When you book your cruise through American Express, you could earn double points and also get up to $400 in benefits when you book "stateroom". This alone will cover their annual fee.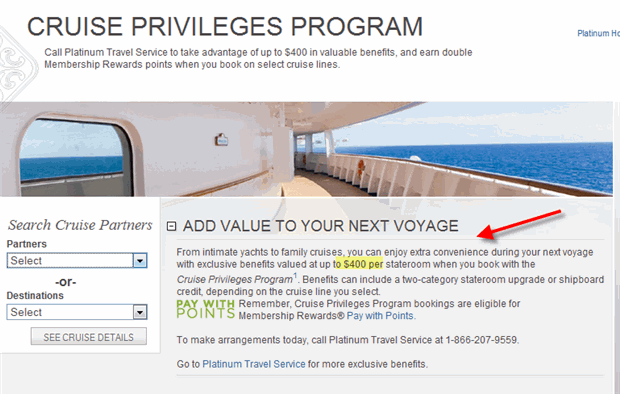 So to sum up, the Celebrity Cruise X Credit Card will appeal to folks who travel just on Celebrity Cruise. For those who use different cruises, the Discover® More® Card – $50 Cashback Bonus® (you can get a $50 if you spend $599 within the first 3 months) is a great alternative. For those who travel in staterooms, the Platinum Card(R) from American Express is definitely a card to consider because they have partnerships with all major cruises including Celebrity Cruise X.
Related Posts: