The Carte Blanche is Diners Club elite card that is a notch above their regular Diners Card Charge Card. One can say that it is a direct competitor to the American Express Platinum Card. How does this card stack up in the high end luxury credit card sector. Well, let's find out.
Diners Club Rewards – One of the main issues with many wannabes in the high end space is that despite their best intentions, their reward program simply isn't up to scratch. One certainly cannot make this accusation at Diners Club. Their reward program is one of best can many folks have tried to dissect it versus the Amex Membership Rewards. As I have mentioned in previous reviews of "elite credit cards", travel rewards is one of the key features that I look out for. In this regard, the Diners Club Rewards is every bit as good and comparable with the Membership Rewards.
Firstly, you can transfer points into air miles with their airline partners. Below is a screen shot of the list.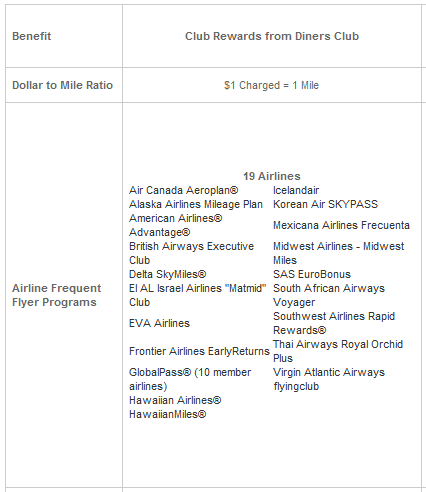 Tailored Travel – Diners Club Rewards also allows you to book your own travel. You can book with any travel agents you want – online or off line and even with discounters. You have to use your Diners Club Card to book it. Once your booking appears on your bill, all you have to do is to call Diners Club Rewards at 1-800-234-4034 and tell them you wish to pay for these charges with your points. 100 points gets you $1.00 worth in travel expenses. This is a nice flexible feature to have as it allows you to book any airlines and hotels you want with any travel agent or site that offers the best prices.
Hotel Rewards – Diners Club Rewards also allows you to transfer points to frequent guest programs. Below are their partners.

Merchandise and Gift Cards – Like most other reward programs, Diners Club Rewards has a wide variety of merchandise and gift card rewars which you could exchange your reward points for.
Other Extra Features
Being an elite card, the Carte Blanche has to offer other special features. Below are a list of these "extra features".
Unlimited International Companion Ticket on British Airways – Carte Blanche allows cardholders to get companion tickets with British Airways each time they book a full fare premium economy, business or first class unrestricted ticket for an international flight. There are no restrictions on the amount of times you can make use of this feature. (one thing to note is that you are still subject to any additional surcharges like fuel tax etc).
Travel Service – Carte Blanche card members also have access to travel consultants to plan their travel.
Golf Access – Card members will also have access to many prestigious golf clubs. You also get perks like 10% Green Fee discounts, 10% Golfing Cart discounts, Pro Shop discounts, complimentary range balls, complimentary storage & cleaning of CM's and their guests' golf clubs and complimentary same day second round of golf or cart rental.
Worldwide Hotel Privileges – Carte Blanche has partnered up with high end hotels world to provide card members with certain perks. These are listed below.
Automatic upgrade at check in: Stay in a better suite for the same price (if available).
Spa treatment: Pampering service for you and a guest.
Afternoon high tea for two: Refresh your energy levels mid-day.
Exercise with a personal trainer: Get professional advice for your workout routine.
Dinner for two: Fine dining is on the house.
Continental breakfast: Start your day out right with fresh foods.
Bottle of Champagne or welcome cocktail: Relax from the very minute you arrive
Private Jet Access – Carte Blanche card members also have access to Private Jet Access, which doesn't require a large upfront commitment like other flight services. You simply choose a SkyJet Premier Fleet Membership hourly flight plan and jet size that fits your needs. There are no repositioning charges, your plane can be ready in as little as 12 hours, and all flights are billed at the lowest SkyJet rate (guaranteed), with no hidden fees30.
Using your Carte Blanche card to pay for your private jet membership also earns you tons of points.
Concierge Service – Like all other high end credit cards, the Carte Blanche offers a concierge service for their card members.
Foreign Currency Delivery – Card holders can request foreign currency and it will be delivered to you at home, in your office, in the US and in 15 other countries. Fees are also waived.
International cell phone rental – Carte Blanche members can rent for free international cell phones (but they obviously have to pay for the minutes they use on the phone).
Other more basic benefits and features
The Carte Blanche also obviously comes with the standard features that are found in the basic Diners Charge Card and other reward credit cards. Below is a list of their features.
Access to International Airport Lounges
Club Assistance – offers emergency medical, legal and travel referrals 24 hours a day, 7 days a week.12 Cardmembers can replace passports, airline tickets or Cards; find doctors and pharmacies; arrange medical transportation; and access travel and health advisories. It's kind of like having a concierge service
No preset spending limit
Travel Accident Insurance
Value Added Tax Reclaim – Diners Club can help Cardmembers reclaim the Value Added Tax (VAT) paid on purchases in the European Union. They will help determine which expenses are eligible and process the necessary paperwork.
Annual Fee – OK, so before I tell you my views on this card, let's get this out of the way. The annual fee for the Carte Blanche is $300.
Verdict – First, let me say again that I am a holder of the Amex Platinum Card. I do not have the Carte Blanche card. But I think the American Express Platinum is a pretty good comparison with the Carte Blanche. So here is my take on the card.
When I review high end cards, the travel rewards are pretty important to me. That's because I feel that many cardholders will value these more than other rewards. In this regard, the Diners Club Rewards is pretty similar to the Membership Rewards. You can transfer points to miles mostly for one to one ratio. Diners Club Rewards has slightly more airline partners. Most of the airline partners are similar, though there are some partners which each one has that the other does not. For example, Membership Rewards has Singapore Airlines as a partner while Diners Club Rewards has Thai Airways. Folks who intend to use points to transfer to airmiles should just check out their airline partners side by side just to compare.
For folks looking to transfer points to hotel frequent guest programs, the Club Rewards has a couple more partnerships. Once again, check the table above to see if you frequent guest program is part of the program.
The other unique thing that Diners Club has going for them is the Golf Rewards where you can get discounts at many prestigious golf clubs. If you are an avid golfer, perhaps this is one card to consider.
The international partner program falls short compared to the Amex Platinum Card. Carte Blanche only has British Airways as their international airline partner whereas Membership Rewards has got a lot more partners (at present, the number is 17). Furthermore, BA gas hefty surcharges on fuel tax which makes it costly even for a "free companion ticket".
I also feel that the Platinum Card gives a lot more other benefits which the Carte Blanche does not offer. Firstly, you get a Gold Level Membership with the Starwood Preferred Guest program. You also get cruise shipboard credits, access to great seats for great events, even shopping privileges with retailers like Saks 5th Avenue and Neiman Marcus. I also love getting their departure magazine!
I think Diners Club used to be the leader in the high end card sector. But I feel that Amex has caught up and even surpassed them a bit. Since Diners Club was taken over by Citi a few years ago, it is essentially now a MasterCard and is accepted at places where MasterCard is accepted. But many card members have felt that service has declined since. I am not a cardholder, so I cannot say for sure.
But if you are in considering this card, then I would also suggest that you also consider the Amex Platinum. Feature for feature, I think the Amex Platinum is the better card. But the Diners Club Rewards has some airline and hotel partners that Amex does not have (and vice versa), so a little research would not hurt. They also have features like their "Golf Perks" and "BA copanion ticket" that might possible be useful if you would actually use it.
As for me, after looking at the details of this card, I'll still be sticking to my Amex Platinum.
Related Posts: