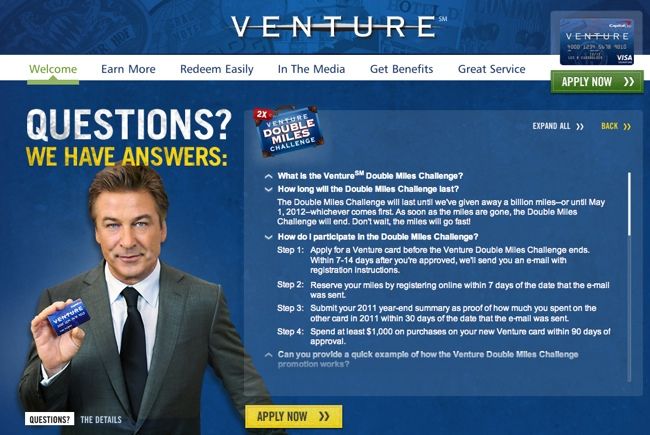 Last year, Capital One Venture had a 100,000 match my miles promotion and they just announced that they are having another go at it this year. The rules are slightly different from last year. But here is how it works (this applies to new applicants and cardholders of the Capital One Venture Rewards Card).
There are two criteria that you need meet to get their bonus miles.
The first criteria is that after getting your card, you need to spend $1,000 within three months. If you had participated in last year's 100,000 bonus miles promotion, you are not eligible to participate this year.
The second criteria is that you have to send Capital One your annual statement on a travel rewards credit card you have used last year (ie 2011). Capital One will match one dollar that you spend with two "Venture Miles". They will match up to $50,000 in annual spend. That means that if you did spend $50,000 on one of your reward cards, you will get 100,000 "Miles" in your account. It has to be $50,000 of spending on one card and not multiple cards. And you have to be the main account holder.
But even after you apply and get approved of the card, there is a little hoop you have to jump to ensure you "participate in this promotion". After you get approved for your card, you will receive an email that will have the registration link within 7 to 10 business days. You must register within 7 business days of receiving the email.
This promotion is good until 1st May 2012 or when they have given out one billion miles, whichever occurs first.
You can apply for the Venture Card and see the promotion details here.
What Are The "Miles" Worth? – The "miles" that you earn (or rather the bonus miles you get) can be used to redeem product on Capital One's reward program catalog. If you decide to redeem for travel, 100,000 miles gets you $1,000 in value. You can book your travel expense through Capital One's online portal.
Details of the 2011 100k Bonus Miles Promotion
Capital One also had a 110,000 bonus miles promotion last year. After getting the new Venture Rewards Card, you had to submit a statement from an airline showing that you have 100,000 miles in your account.  Their web sites list the airlines that they are accepting statements from, basically the major US carriers or discount airline, including Southwest, Frontier, Jetblue, Alaska, Spirit, Airtran, Hawaiian, and Virgin America. You also had to spend $1,000 within 90 days
They also had the same expiration policy. They ended the offer once they have given out 1 billion miles or by May 13th 2011, whichever came first. 
How Is This Deal Different From Last Year's? – This year, Capital One has made it slightly more difficult to get the 100,000 bonus miles. If you had spent $50,000 last year on the card that is not a problem.
Last year's criteria did not require any spending. All you have to do was to show you had 100,000 miles in your frequent flier account. And you could have earned those miles from years ago. Or you could have earned them through signing up for one of the mega bonus miles card!
If they had used the same criteria as last year, then folks who have signed up for the Chase Saphhire Preferred 50,000 bonus miles offer and the Chase Ink Bold 50,000 bonus miles offer (both are still going on BTW) would have 100,000 Ultimate Reward points which they could have transferred to say their United Mileage Plus account. Or I could have easily met last ear's criteria because I got 100,000 British Airways Avios miles from their 100,000 sign up bonus!
But Capital One has gotten a little smarter about this because many frequent flier card churners would have gotten their bonuses without being big spenders. But since they want proof of spending, by giving away a billion miles, it means they would have gotten new cardholders on their Venture Card who collective have spent $500 million! So they will be getting new cardholders who have a track record of spending at least $50,000 on one card and hoping that a decent enough percentage will switch to using their new Venture Card.
Related Posts: