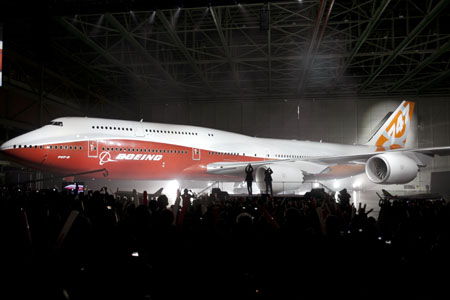 I am a bit biased, as I used to work for Boeing, but I do have a thing for their airplanes.   Just about anyone who loves Boeings thinks that their most beautiful aircraft is the iconic 747.   While the 747 has undergone a major revision since it's introduction over 40 years ago, Boeing just rolled out the second major redo of its queen of the skies.  To the surprise of the world, it featured a striking orange paint job.
What's New
Those of you who follow aviation just a little, know that the next Boeing passenger plane to enter service will be the twin engine 787.   The 787 is a revolutionary design made almost entirely of carbon fiber.  It features two, highly efficient, next generation engines.   The 747 features four of these same engines.   The 747 also shares the new "Sky Interior" that is being seen on newer 737s. The new 747 features a new wing and is over 18 feet longer than the existing model.
What Will It Take To Get You Into One Of These?
Sadly, the passenger version of new 747 has not sold nearly as well as previous versions.  The cargo version, which is already in the air, has sold moderately well, but there has only been two airlines that have committed to the passenger version, the 747-8 Intercontinental.   Those airlines are Lufthansa and Korean who have ordered 20 and 5 aircraft respectively.   Interestingly, eight aircraft have been ordered in VIP configuration for the use of heads of state and other billionaires.  It must be nice.
Why hasn't Boeing sold more of these?  Certainly, they are competing with the all new, Airbus A380 which is significantly larger. The 747-8i has the advantage of commonality with existing passenger and cargo fleets, yet the Airbus has captured most of the market above 400 seats leaving Boeing with the only aircraft in the 4-500 seat market.   Many analysts believe that the 747's greatest competition is the existing Boeing 777-300ER.  It offers comparable range, great cargo capacity, and it seats just under 400.   The aircraft does this with only two engines and is available today.
The days are gone when you could look out among the gates at JFK, Heathrow, or Narita and see virtually nothing but 747s.   Time will tell if more airlines come around and choose the 747-8i, but for airplane buffs like me, nothing would delight us more than seeing the queen of the skies grace airports around the globe for one more generation.
Related Posts: