Dr Robin Conwit wrote:
Currently I have Marriott Visa for personal expenses and United Visa for business. I travel at least 20 trips per year, 2-3 international. My work pays directly for my flights and I pay for hotels. Do you recommend BA visa or Starwood amex personal or business for me? I already have gold status on Marriott and premier on United but starwood hotels are better internationally and BA is only direct international carrier to europe from BWI. Thanks.
I then asked him how much is going to be spent on the card? And this was the reply I got.
about $50K per year and I pay in full
Answer – Robin, I am inclined towards a Starwood business card. But first, let's explore your alternatives.
Starwood Business – This is actually the card I recommend for two reasons. Firstly, if you use Starpoints for Starwood Hotels, you'll get back at least 3 cents or 3% equivalent in rebates most of the time. Secondly, Starwood also has partnerships with over 30 airlines where you can transfer Starpoints (mostly on a one for one ratio). British Airways is one of the partners. You can transfer points on a one for one ratio and furthermore, if you transfer 20,000 points into BA miles, you will get 5,000 bonus miles as well!.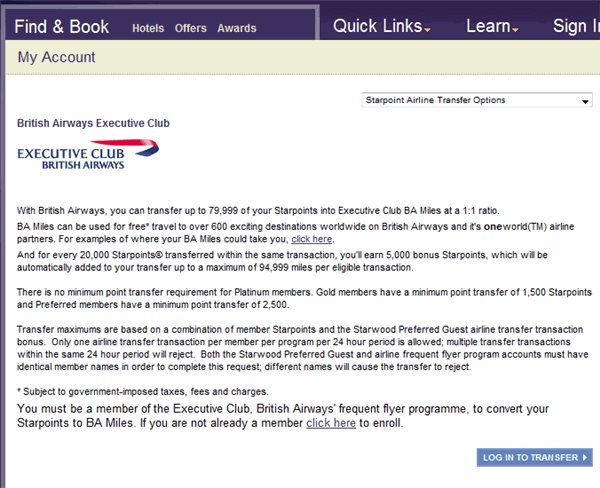 Another reason why I like the Starwood Business Card is because as part of Amex OPENSavings network, you can get a 5% discount when you stay at various lower tier Marriot Hotels like Courtyard, Residence Inn, Fairfields, SpringHill.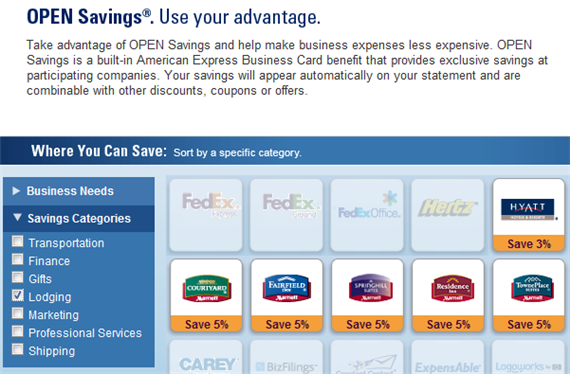 At present, the Starwood Business Card gives you a 10,000 sign up bonus. Since you spend about $50,000 on the card, you will have 60,000 miles. If you transfer them on separate days of 20,000 points, you will get a total of 15,000 bonus miles (5,000 X 3). That means in the first year, you would have 75,000 BA miles if you are savvy about converting them. From the second year onwards, you will have 60,000 BA miles (if you convert 50,000 in two chunks 20,000 and 30,000 and getting the 10,000 bonus miles – 2 X 5,000). This will be enough for flight to Europe.
BA Visa – The British Airways Visa allows you to earn 2.5 miles for every dollar you spend on their products (ie tickets). The advantage of the BA Visa is that you can get companion ticket (once every year) if you spend $30,000 in a year. You can earn total of 30,000 in sign up bonus (20,000 after first use of card and 10,000 miles after spending $750). So in the first year, you would have 80,000 miles.
The BA Visa would be appealing if you had a companion fly with you. But otherwise, after the first year, Starwood appears to be the better bet. The other issue you have to be aware of is that BA is notorious for charging obscene fuel surcharge (that is some instances costs as much as their tickets if you use miles to redeem for flights!).
My Thoughts – I would go for the Starwood because you have the flexibility of using points for Starwood Hotel stays (IMO you get much more value from that) and if you feel like using it for your BA flights, you can transfer points (you need only 40,000 points because if you transfer 20,000, you get 5,000 bonus BA miles) into your BA account. I would also go for the business version (Starwood Preferred Guest&#174 Business Credit Card from American Express OPEN)because you can get 5% discounts at various Marriott hotels. I am more inclined to use Starwood points for their hotels than to earn BA points for flights since your company pays for flights and also because BA is notorious for their high fuel surcharge fees.
Related Posts: